These days it is pretty popular for car enthusiasts to code their cars themselves. But where can you learn how to do this if you're a novice? On the internet, there are many courses and forums on how to learn about car coding.
Or, if you want more professional assistance you can ask at car garages. They might offer help, but they'll usually charge you for this service. So this can turn out to be both time-consuming and expensive. 
Luckily, there is a good alternative — the Carly app! It allows you to easily code your car without having to search for hours for the right methods on the internet. The complete coding equipment (Carly app + Carly OBD2 scanner) is available for around $150.
We're here to help you code your car using the Carly app!  And we'll go into the illegal modifications you should avoid when coding.
How to learn car coding from your phone?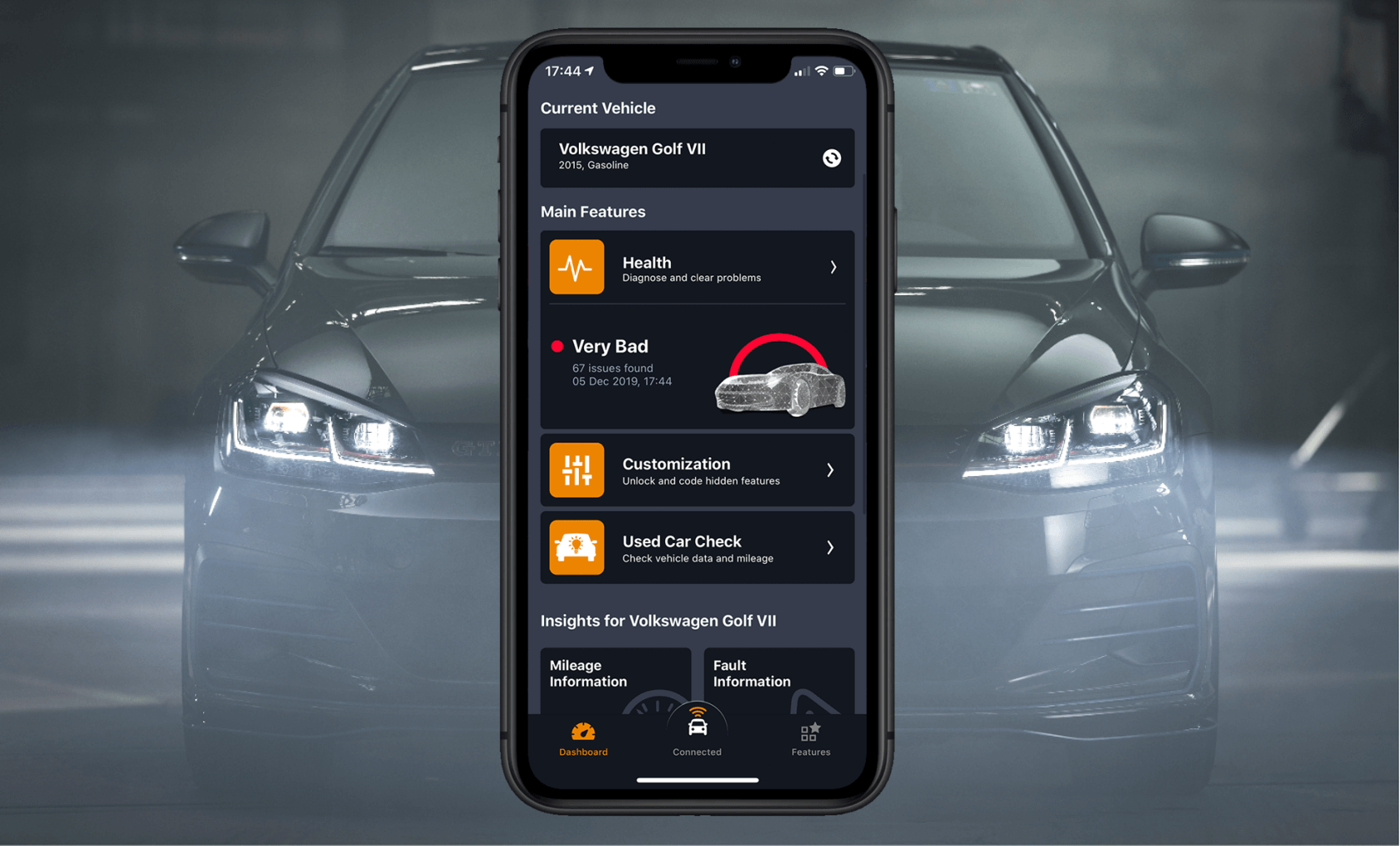 For car coding, you don't need a university degree or programming courses to learn enough about coding to customize your vehicle.
With the Carly app, you can do it easily from your phone since it does the coding for you. The very simple and clear menu structure in the Carly app guides you through the various options. All you have to do is select the desired setting. 
The Carly app then essentially translates your selection into a language your car understands, without you having to speak that language yourself. Simple, right?
How to learn car coding like a pro
Because it's so easy to use, anyone can make codings on their car themselves — just like a professional.  
The term "coding" is actually misleading. Perhaps we should rather say "setting", "selecting" or "individualizing", because that is exactly what it is. It is about activating or deactivating functions in the menu of the Carly app. The app then does the actual coding for you.
To code your car, you first need to connect the OBD2 adapter to your vehicle's OBD2 port. Next, open the Carly app and select your vehicle model. Afterward, the available coding options for your car model will be displayed. 
For coding, the Carly app supports almost all models of BMW, Volkswagen, Mini, Audi, Skoda, Renault, Porsche, Opel, and others.
Every car model has different available codings, for example: customizing the speedometer, seat settings, warnings, or driving assistants. 
Once you have entered your car model in the app, select the category for each coding and you will get the individual options for it. For the speedometer, one example would be: show digital speedometer -— yes or no? 
If you would like to show your speedometer digitally, just select "yes" and confirm the selection. Done! 
Is it possible to do something wrong when car coding?
Because of the clear menu, this is almost impossible. However, sometimes it can happen that you activate mutually exclusive functions, which can lead to errors. 
Theoretically, you can also use functions that violate traffic regulations, such as turning off the seatbelt warning. Obviously, this is not recommended under any circumstances. In this example, it would be much better to set the warning so that it only sounds after a while, giving you enough opportunity to fasten your seatbelt before the warning starts.
Other, really sensitive systems like brakes or safety systems cannot be coded without the manufacturer's password anyway. If you ever do something wrong and the car doesn't react the way you intended, you can also reset all settings to factory defaults with just one click. 
Avoid illegal hacks before learning car coding!
Coding on your own, without the help of an app such as Carly, can potentially be dangerous. Many websites offer so-called tips and tricks on how you can hack the system and settings. 
However, these types of coding methods entail having some sort of programming skills and understanding your car's language. This can lead to mistakes that may be illegal, damage your car, or even be life-threatening. 
For example, an illegal modification to a car is changing the speedometer reading. This is a criminal offense and can be punished with a prison sentence of up to one year or a fine. So please don't even attempt this! 
An automatic report may go to the manufacturer if hacks are noticed. Or it may be picked up during the next workshop visit. This kind of modification will inevitably lead to the loss of the warranty! 
Fortunately, with Carly, all the available codings are safe and approved by the car manufacturers. Therefore, you don't have to worry about altering your car's settings and getting in trouble. 
Here are some coding examples for a BMW 3 series G2x
Once you learn how to car code there are many features that you can customize about your car! Below are some examples of popular codings that you can learn.
Active Sound Design
This is a very cool feature that you can code very easily! Active Sound Design creates an amplified engine sound in the interior through the speakers. You can turn this off or set it to M5/M6 mode. The available options are: very quiet, quiet, medium, loud, or very loud.
Audio
What should be the maximum volume for the radio or music when you turn on the car: quiet, medium, or loud? You can also choose between different warning and menu sounds. For example, you can choose the sound profile of a BMW, a Mini, a BMW i, or a Rolls Royce. 
Additionally, you can also select your iPhone as the audio source, which can be connected to the car via USB. 
Tailgate
You can specify whether you want to have visual confirmation when closing the tailgate or not. In addition, you can decide if you'd like to close the tailgate using the remote key or the footwell switch in the interior. 
iDrive menu
In the iDrive menu, there are a lot of settings you can change. For example, when you receive an SMS, it can be displayed in various ways: without details, with only one page, with up to three lines, or as a whole message.
Furthermore, you can also choose if you would like to have the sport display for the current power and torque shown in the iDrive. Additionally, you can also change the units of the sport display or even the color to red or orange.
What about the temperature of the tires? You can choose whether it should be displayed together with the tire pressure or whether you don't need this information. Of course, the vehicle must have the appropriate sensors for this. 
Lastly, should messages be displayed while driving or only in certain situations? Your choices are when: A) the handbrake is applied, B) it's in "P" position, C) only with the handbrake and "P" position, or C) one of the two is activated.
Instrument cluster
The instrument cluster also offers a whole range of customization options. Some popular features are:
Digital speedometer
Should this be on or off?
Correction of the speedometer
Would you like to have the "corrected" or the "actual" speed displayed? The corrected speed is the display of a speed that has been changed upwards by about 10%. 
According to an EU directive, speedometers must never show less than is actually being driven. Therefore, we recommend the "corrected" speed setting, so that you have a little more of a margin when driving and are less likely to inadvertently speed. 
Date, time, and GPS
Would you like the date, time, and GPS clock to be displayed on the on-board computer? These items can be activated individually.
Start logo
Which start logo should be displayed on the onboard computer? On the larger models of the instrument cluster (display from the center to below the tachometer), you can choose whether the BMW logo or M-Performance logo should be displayed when the ignition is switched on.
Navigation
Which settings do you prefer for the navigation system? Should suggestions for fuel stops be made? Should the route info be displayed with a step-by-step overview? 
Do you want the current position to be displayed in the navigation menu? Would you like to see the geo-coordinates in longitude and latitude in the menu? 
Maybe you want the navigation to be available during a map update? Should the option for a range map be available in the main window? Would you like it to be possible to select a router magnet or display route previews (with and without add-ons)? The navigation system really offers a wide range of functions. 
Think carefully about what you really need as the more information you display, the more confusing it may become. One way to start is by activating everything that is possible for your car model and then gradually deactivates the items that you don't need.
Diagnostic Values and Error Codes
With the Carly app, you can do much more than just coding your car! Other features are available, including performing a health check and your own maintenance to save money. 
For example, you can access all of your car's data via the diagnostic function to see its fault codes and ensure that your car is healthy. When you run the health check, Carly will tell you the general health of your car. This is possible since vehicles have up to 80 sensors that constantly check their condition and record any deviations. 
Our tip: Take a look at the error messages and diagnostic results once a month to ensure that you detect problems in good time and can take countermeasures before they become an expensive car repair. 
Tip when learning how to car code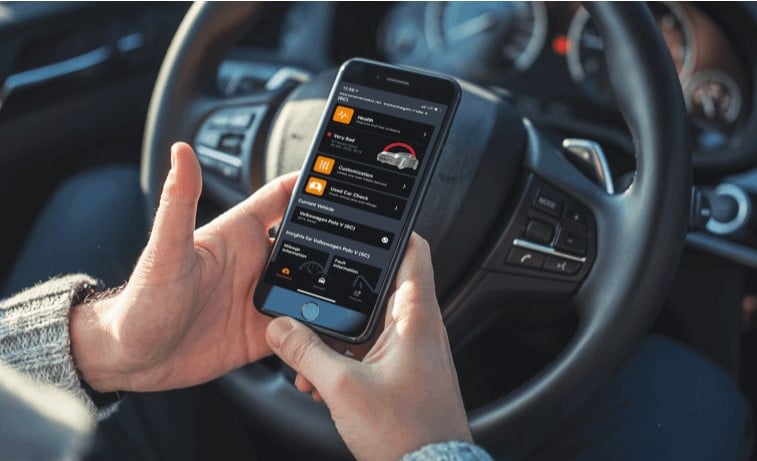 You might be able to find "hidden" functions for your car model. Many car manufacturers install the same hardware components in all their models, such as a rearview camera. 
In more expensive models, these are activated, while in cheaper models they are simply deactivated. With Carly, you can find such features and activate them! 
Now you know how to learn car coding!
To answer the initial question, if you are using a coding app such as Carly, you don't really need to learn how to code cars! This is because the Carly software does it for you! 
All you have to do is simply select the desired options and enjoy a completely personalized vehicle. Are you ready to start customizing your car?
OBD2 Reader
Like having your own mechanic!