Nowadays, it's so easy to freshen up your car with just a few small tweaks in its system through car coding! This is very simple when you have the right car coding device. With coding, you can change many features of your car, allowing you to customize it to how you like. 
While newer cars may look different on the outside, oftentimes, the internal workings are fairly similar to older generations, where the "new" features are just updated versions of existing ones. Still, who doesn't want the new features?
For example, a new design of the navigation system or the digital speedometer display, which is now standard, can convince buyers to update their car model. However, what many people don't know is that you don't have to change cars in order to get some of these updates!
With car coding, you can activate a head-up display, customize the interior lighting, and upgrade the navigation system's design on your current car.
Car coding on your own!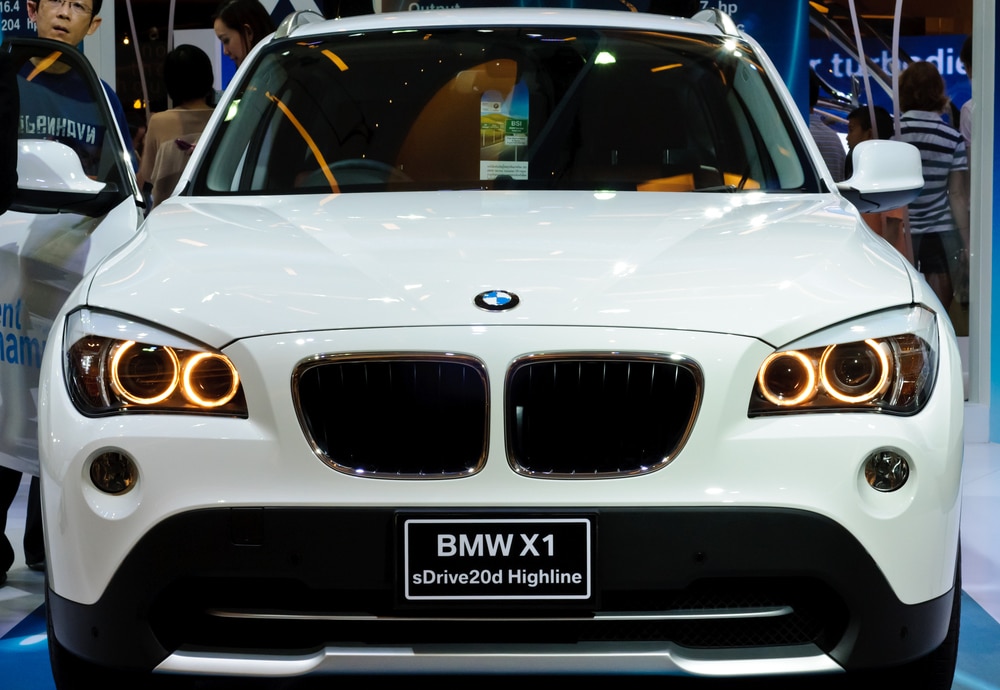 The best part of car coding is that you don't even have to take your car to the mechanic's workshop. With the right car coding device and a little practice, you can do it all from your home.
So, what device do you need for car coding? If you want to code your car, you need the appropriate software plus a smartphone, handheld device, or computer. Additionally,  to establish a connection between your phone/computer and your car's ECU, you will also need an OBD dongle or an interface with an OBD connector. Once you have your OBD tools, you can start coding as many features as you want on your car.
A lot of people think that coding a car is complicated and requires programming skills. If you own a computer or a cell phone, you have already coded at some point. Not necessarily on a car, but on your laptop or phone. For example, you might have programmed a ringtone or replaced the logo on the screen with a photo. 
Car coding is the same as changing a ringtone or wallpaper on your devices! The difference between your phone and your car, is that you will intervene in the programming of your car's ECUs. With car coding, you can make your car more unique by activating or deactivating features that are already available for your car model! And it only takes a few minutes.
What exactly is car coding, how does it work?
Think of your car as a computer with a chassis and engine. There are many control units in the computer which are in charge of controlling different functions of the car. 
For example, when you lock your car doors from the outside you might notice that the rearview mirrors fold in, and at the same time all four turn signals brighten up. This happens because the control units in charge of these areas of the car are programmed to perform an action when a command is given. (ex. Fold mirrors when the button for locking the doors is pressed).
In the same way, hundreds of other features about your car are executed and controlled by the control units. These are: the color and brightness of the instrument lights, the rearview camera, the seat belt warning, and more! Even the engine's injectors and exhaust gas purification are directed and monitored by an ECU located inside of your car. 
How a control unit works
A control unit is part of your car's on-board computer and ensures that the assigned functions run smoothly, as the example with the folding mirrors when locking your car doors. However, a control unit also performs many other tasks.
Additionally, besides performing functions, control units also store data about your car's health. This valuable information is collected using many sensors that are distributed throughout the car. 
Error messages are an example of information stored in the control units. These errors (also called OBD2 codes or fault codes) are stored in the control unit's memory as a precautionary measure and are of particular importance. 
With the Carly OBD2 scanner, you can view the error analysis data and get information about your car.
With this function, car manufacturers want to prevent the demonstration effect. If your car has a defect and you take it to the workshop, the following can happen. You want to demonstrate the defect to the technicians, but your car works perfectly. So, how can they look for a defect in a working car?
Let's assume that the error occurs the next day or as soon as you leave the workshop. Since every error message is stored in the control unit, with the error analysis, you can find out or show the mechanic what is happening with your car. The car mechanic only needs to read out the data of the error analysis with a diagnostic device to start correcting or repairing it.
Development of control units: engine management system as an example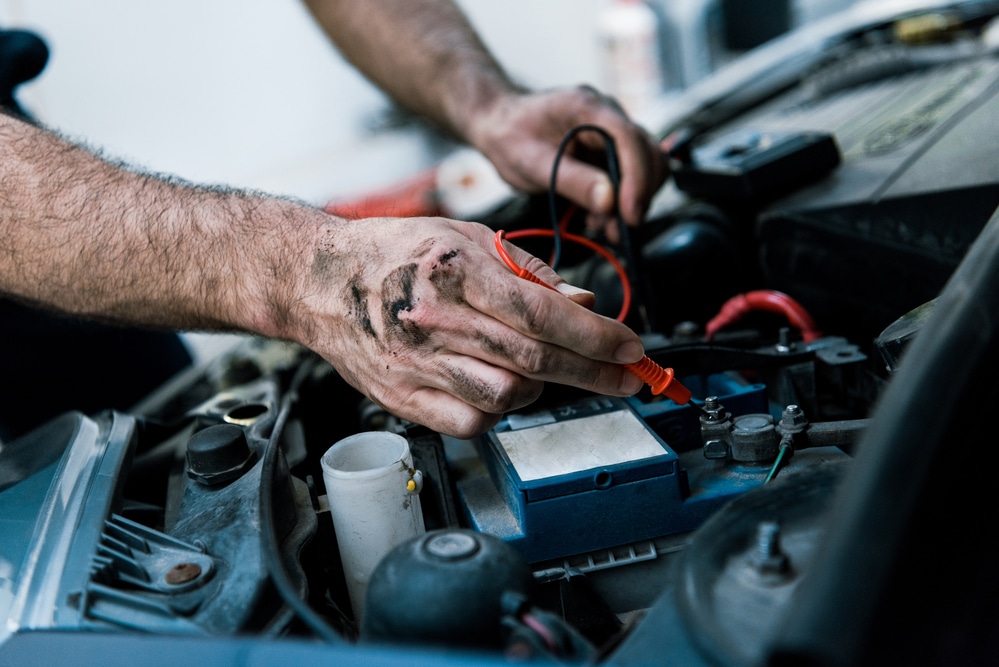 ECUs of modern cars are complex and perform numerous functions and tasks. This was not always the case. 
In the beginning, ECUs were simple and regulated the flow of simple functions. The ignition of a gasoline engine required spark plugs and a distributor's head. The first engine control unit replaced the distributor's head and took control of ignition from that point onwards. 
In the late 1980s, engine control was also used in diesel engines. From the mid-1990s, the mechanical control concept of engines began to be gradually replaced by electric control units. 
Nowadays, electric control units are located all over your car. For example, in the electric window regulator, speedometer, tachometer, electric sliding doors, and many other places in the car. Additionally, sensors such as fuel level gauges, oil pressure gauges, and oil warning indicator lights, are used for long-term monitoring and provide important data.
Car coding is affordable and fun!
Over the decades the mechanical control concept in cars has been replaced by electrical control units and sensors. Many functions on the car are controlled and monitored by chips and programs. 
If you want to change certain features of your car, all you have to do is reprogram the control system. Thus, car coding is nothing more than reprogramming functions. 
Auto coding has become a special form of car tuning in recent years. This allows you to turn on functions that are not activated and make the car more individual, for example by activating a built-in and unused rearview camera. 
You can code all of these features of your car by going to a mechanic's workshop or on your own!
Usually, workshops and car tuners will charge you for each time you code your car. Depending on the function, this can cost several hundred or even over a thousand euros. 
In view of the high prices that are charged for car coding, more and more car owners are interested in car coding. Especially beginners ask themselves, with which car coding device can I code my car?
What is the most suitable car coding device?
If you want to code your own car, you will need a car coding device. However, finding the right device is not so easy. Besides, the car coding device kit consists of various parts: A computer or phone along with suitable software and appropriate equipment that allows the connection to the car.
The software alternatives that you can find on the internet are very large. However, the choice of software is also limited, since some offers are of dubious origin and you can damage your car with them. 
Thus, we recommend you only consider reputable providers for choosing the software.
When looking for a car coding device, you can distinguish between two groups:
Laptop with suitable software

Smartphone with a suitable app
In both groups, you have a wide choice.
Option 1) Laptop with suitable software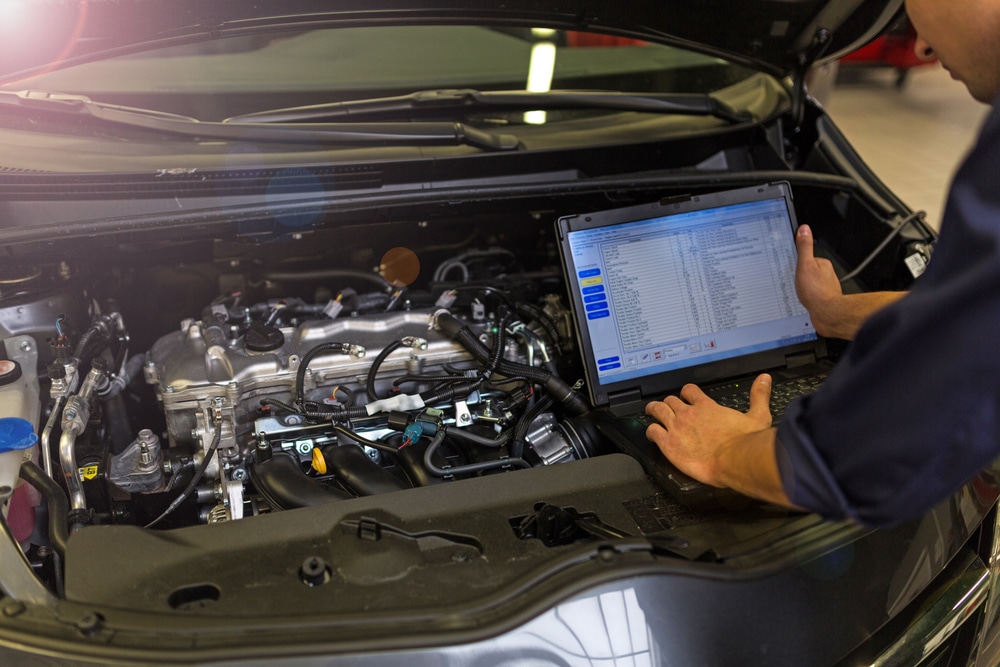 When purchasing new car models, it can happen that new generations of cars have different software. So, if you purchase a new car and you have coding software that is only compatible with a certain car model, you will have to get a new coding software. (We recommend you to keep this in mind when deciding the type of coding tools to purchase.)
Over time, each car manufacturer has accumulated some software for the car coding.
Here you can find a few examples. 
If you want to get into the control of your BMW, you can find different programs for it, for example, Ediabas, Tool32, NCS Expert, NCS Dummy, INPA, WinKFP, and E-SYS. Each program offers different possibilities and cannot be used for every model series.

There are other programs that are specific to car brands. Another example is the Windows-based VCDS program used by the Volkswagen group. 
However, some of these programs have no protective restrictions. This is especially true for the programs used by car manufacturers. With them, you can get deep into your car's ECUs and cause a lot of damage. 
These programs are intended for trained professionals. Those who do not have knowledge or experience will probably damage or even immobilize their car.
The probability of beginners making a mistake when coding a car is very high. Because even one wrong command is enough and your car will not move a meter. If you damage your car by coding it, you will have to pay for the damage yourself. 
There is another reason why you should not use the car manufacturer's software. This software is not available legally. The offers from the Internet are often pirated. You could be liable to prosecution, for example for receiving stolen goods.
Therefore, if you are a beginner, we recommend you to go with an easy-to-use car coding device such as an OBD2 scanner, that prevents you from immobilizing your car
If you decide to take your car to the mechanic's workshop for coding we advise you the following. Make sure that the company gives you a guarantee for the coding, should there be any errors caused by the car coding later on. 
Option 2) Your smartphone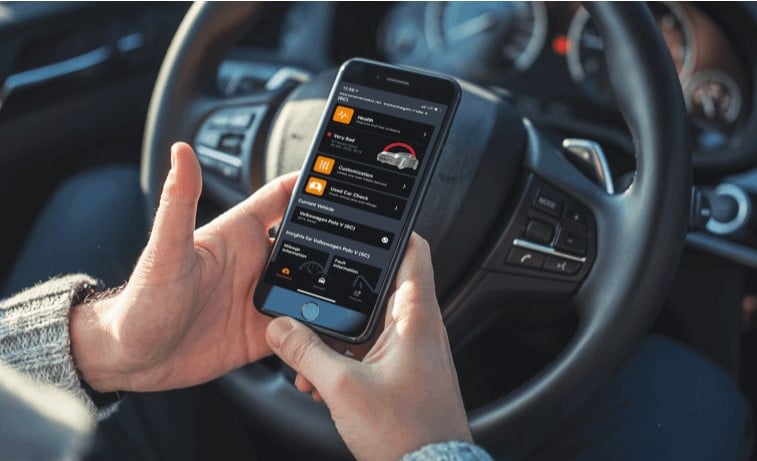 Coding your car with your smartphone by using an OBD2 scanner and a mobile app is the easiest way to customize your car! And it's the most affordable option since you pay a one-time fee for the OBD tools and can then use them as often as you want.
There are many mobile apps that you can find on the internet. However, not all apps offered are easy to use. Beginners in particular should be careful here.
With some apps, you can read out the error analysis of the control unit. With others, you can code the engine control unit. And this is where the danger lies. Just like with laptop programs, with some apps, you can damage your car. With many apps, there is neither a guarantee nor any assistance from the provider. You should therefore be careful when it comes to your car.
However, there are apps that offer you security. In addition, these apps have restrictions on car coding. This means that you cannot access the sensitive areas of the control units.
This limits the possibilities for car coding but saves you a lot of trouble. The restrictions prevent you from changing sensitive programs and damaging the car. Nevertheless, you might still have hundreds of available features to code on your car model.
If you are a beginner or an expert but don't want to use unsafe or complex coding equipment you can opt for Carly! With Carly, you can get the OBD2 scanner and the Carly app.   
Car coding can be fun
Who doesn't want to read out their car's fault analysis, recode functions on the car and experience the feeling of sitting in a new car? And the best part is that you don't have to be a trained IT specialist or auto technician to do it.
With the right car coding device, you access all of your car's information and health state from your smartphone. The important thing is to find the provider that offers the right app for you. After all, it's all about the app.
The right app makes car coding easy
The operation of a coding app can be so easy when the app guides you through the many functions and options. It is important that the app has a user-friendly interface and menu design.
If you are looking for an app with an interface that is easy to navigate and understand you can get the Carly app! Our app has intuitive icons and clear labels guide you safely through the menu with the various functions. 
Our user-friendly app is designed in such a way that you don't have to take a course or read a thick manual. Additionally, you don't have to worry about doing any dangerous car coding. So, your car will be safe and you can freely code all the available features for your car. 
Other car features that you can access!
Besides coding, with the Carly app you can also access many other functions of your car. The available features will depend on your car model. Some of the features include:
Diagnostic Check

Info memory

Used car check

Car code

Car maintenance

Engine parameters

Automatic transmission functions

Diesel Particle Filter

Exhaust valve control

OBD Functions

Digital garage
So you can do many other things with Carly besides coding. For example, under the Engine Parameters item, you can register the car battery after you have bought a new one and installed it yourself. 
Additionally, the 'used car check'  feature helps you to check if your car's mileage has been manipulated in case you have bought a used car.
Examples of what features to code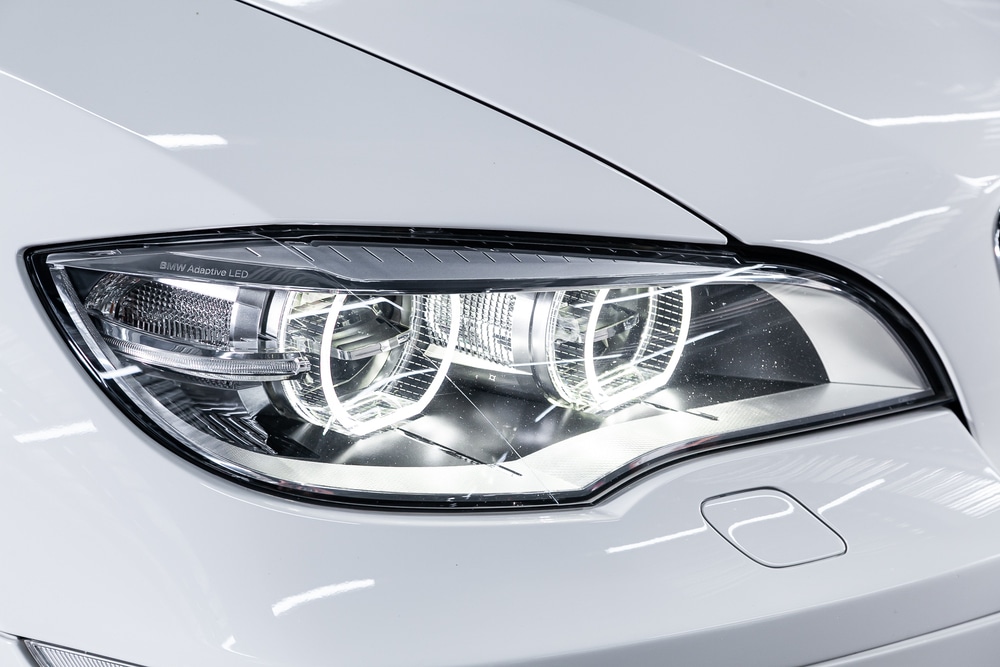 The most interesting functions that let you customize your car can be found under the 'car coding' feature. These are some of the features of your car that you can code with Carly:
Active Sound Design

Parking assistance

Driving assistant

Head-Up Display

Tailgate

IDrive start logo, warnings, menus

Climate

Instrument cluster

Start-stop function

Doors open/close

Side View cameras

Seat/seat heating

Sports displays

Speedometer

Daytime running lights

Tank

Phone

Warnings 

etc. 
The app offers you many functions to code the individual points according to your ideas. For example, you can not only activate the head-up display but also determine which data is shown in the head-up display. Videos are not played from the USB stick? Just code the function and it works. 
Criteria to consider while searching for a car coding device
Our tips are mainly aimed at beginners since professional car tuners have their own sources anyway. Especially for beginners, it is difficult to decide on the right program or app.
When looking for the right car coding device, you must never lose sight of the most important thing: your car. Especially beginners can cause damage with programs or apps without restrictions, which means an expensive repair. Then you need a replacement car, which also costs money.
Nevertheless, you don't need to be deterred from coding your car. If you don't want to do tuning for higher speeds, you should find more than enough options with the car coding device smartphone and an app with function restrictions. 
Car coding – what is not advisable, what is forbidden?
A car coding device does not cost much money. With Carly, you can get all the tools (the OBD2 scanner and app) for around €100 euros and you are ready to go!
Nevertheless, once you start coding you should consider the limiting aspect of coding. These include:
legal problems and 

technical problems.
Car coding and legal limits
If you want to use your car coding device to read out the fault memory or reprogram various functions on your car, you can do that without any problem.
Additionally, knowing the content of the error analysis is completely legal. You will have an advantage when it comes to car maintenance and repairs since you can know what it's actually happening with your car. Having this information means that you don't have to blindly trust the car mechanics and you can save money in repairs by knowing the cause of the problem. 
It is also no problem if you install a self-bought car battery and register it with your device. Moreover, activating the turn signals as a visual signal when opening and locking the doors also has no legal repercussions.
However, the above functions have nothing to do with coding and can only be done with a few devices.
Regarding car coding, some modifications to the car must be approved by the authorities. In order for you to drive legally on the road, they must be entered in the vehicle registration document. Only then you may move the car in public traffic. Here you can find the full legal aspect of car coding!
Furthermore, since car tuning through car coding is becoming popular, the police are reacting with appropriate measures. For this purpose, vehicles are examined with a focus on car tuning by car coding. In the worst case, you can get fined and the car can be confiscated.
It is not so easy to say what is forbidden in-car coding. Basically, everything that violates the law is prohibited.
Here are a few examples
Coding on the headlights: Other road users must be able to see you clearly in the dark and in poor visibility conditions. Even if the car looks sportier with a change in the lighting, you should rather do without it.

More engine power: More horsepower is particularly in demand. In principle, you can get more horsepower out of your car's engine. However, this must be approved by the authorities and registered in the documents. Otherwise, there are consequences.
Technology has its limits even for car coding
Auto tuners 2.0 advertise more horsepower and higher speed with chip tuning. In addition to a possible violation of the law and the associated consequences, you must also consider technical problems.
It doesn't matter if you increase the engine power yourself with a tuning device or if you let a car tuner do it. Because engine tuning is risky in any case.
You can increase the speed with tuning devices, but this can damage the engine. The reason is that the engine is not built for higher revs and will be damaged in the long run. For example, because of the higher RPMs, the piston rings can deform and break. Then the piston rings have to be replaced, which costs several thousand euros.
Defective piston rings can also result in severe engine damage. In this case, the pistons seize up in the cylinder. The engine can then no longer be repaired and must be replaced.
Ready to customize your car?
After reading this article you should be equipped with the most important things to know about car coding. If you get the right device and software from a legitimate provider such as Carly, your car will be safe and all you have to do is start coding!
OBD2 Reader
Like having your own mechanic!