There are many cases when knowing how to read and clear car fault codes can be extremely useful! For example, many of us have no idea what's going on with our cars when the indicator lights on the dashboard are flashing like crazy. In that case, most of us might think that we need to take our car to the dealership. However, if you are stuck in traffic, don't have time for it, or want to avoid expensive repair fees, what can you do? 
Well, any person can read out and delete OBD2 codes (also known as fault codes or trouble codes). These fault codes are stores in your car's fault memory and you can access all of its information using a diagnostic device, a laptop, or a smartphone. The vehicle must have an OBD2 interface so that the device can be connected to the car. These devices can range from basic 20 euro ones to the expensive tools used at car workshops that allow an even deeper technical analysis.
We'll tell you how you can read out and delete the fault memory in the car yourself and when a visit to the workshop can still be worthwhile.
When should you read and delete your car's fault codes?
The technology of a modern vehicle is now as complex as the inner workings of an entire computer. You can basically think of it as a computer on four wheels. 
One of the components that make up its system is fault memory. Its task is to record mechanical defects or electrical faults that occur in the vehicle. This information can then be read out by car owners or technicians and evaluated as needed.
There is no prescribed, regular interval for reading out and clearing the OBD2 codes stored in the fault memory. This is because, under normal circumstances, there is little need to pay attention to the fault memory. 
However, when warning lights start to appear on the dashboard, it is time for a thorough check. An example of a warning light is the check engine light. We advise you to occasionally read out the fault memory. This way you will prevent unexpected repair bills by finding out about issues before real damage occurs. 
What is OBD2?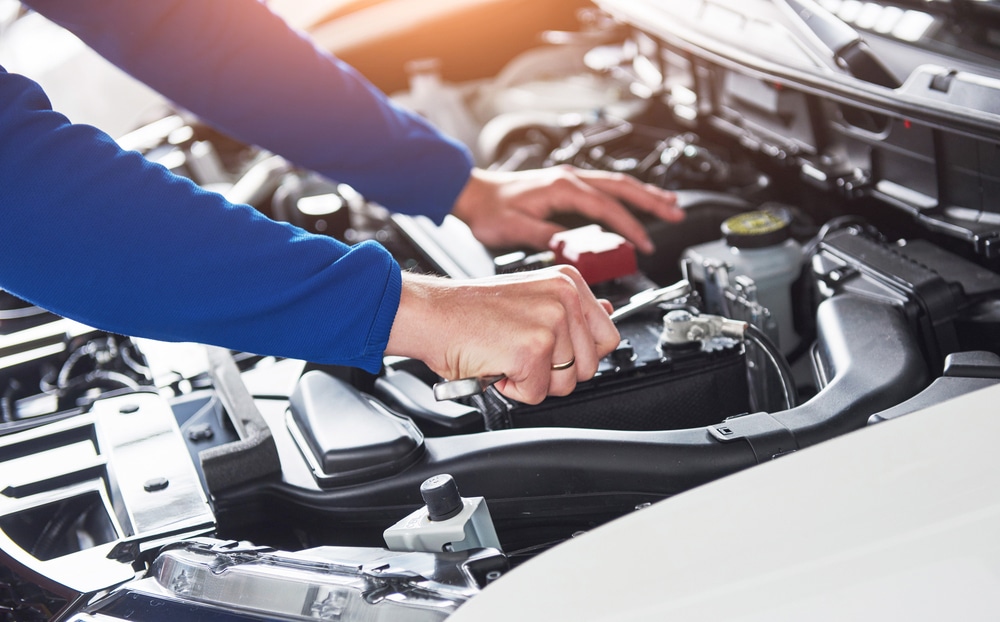 If you want to access your vehicle's fault memory to read and clear car fault codes, you no longer necessarily need the expertise of a specialist.
Gasoline vehicles built 2001 or later in the EU (and 1996 or later in the USA) and diesel vehicles built after 2004 in the EU have a standardized OBD2 interface. OBD is the abbreviation for "On-Board-Diagnostics" and it refers to the diagnostic system built into the car.
Before all vehicles were equipped with an OBD2 interface, the respective car manufacturers had their own connections and different systems to collect and evaluate the data. This made reading out and clearing fault memories a really complicated business, even in the workshops, as they often couldn't work with all the different connections.
Owners of older models often still have to go through this painful process of searching for workshops that have the right connection for their car model. However, for vehicles with an OBD2 interface, maintenance and error detection became easier and can be done by anyone with an OBD2 device relatively quickly.
How to read and clear car fault codes on your own
If you don't feel like going to the workshop, there are 3 options for reading out and clearing the fault memory yourself. You can use:
A standalone diagnostic device

: recommended if you have advanced car knowledge

Your laptop:

recommended if you are using OBD cables and will keep your car parked in the same place

Your smartphone:

recommended for both beginners and experts, and if you want to perform diagnostics anywhere you go
Whichever option you use you must connect it to the car through a suitable OBD2 scanner or cables. As soon as the connection is established, the error codes will be displayed on your screen. Afterward, depending on the device you use, you will easily be able to read and clear car fault codes.
1) Using a standalone diagnostic device to read and clear car fault codes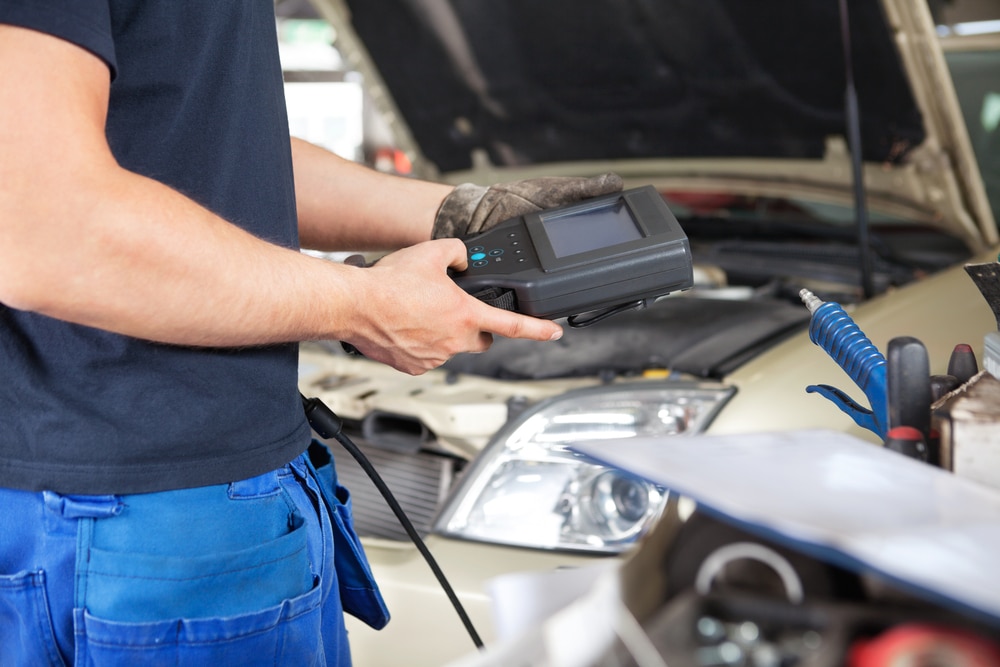 Depending on whether you want to use a standalone diagnostic device for sporadic checks or for continuous use, the options range from simple and inexpensive devices to pricey models for hundreds of dollars. 
However, we want to warn you about purchasing extremely cheap devices, since these could be counterfeits. These cheap alternatives often do not work properly or later require an overpriced special software that they don't tell you about online. Therefore, we recommend you to purchase OBD2 devices only from specialized shops or directly from the brand manufacturers (who usually have the best price).
2) Using your laptop to read and clear car faults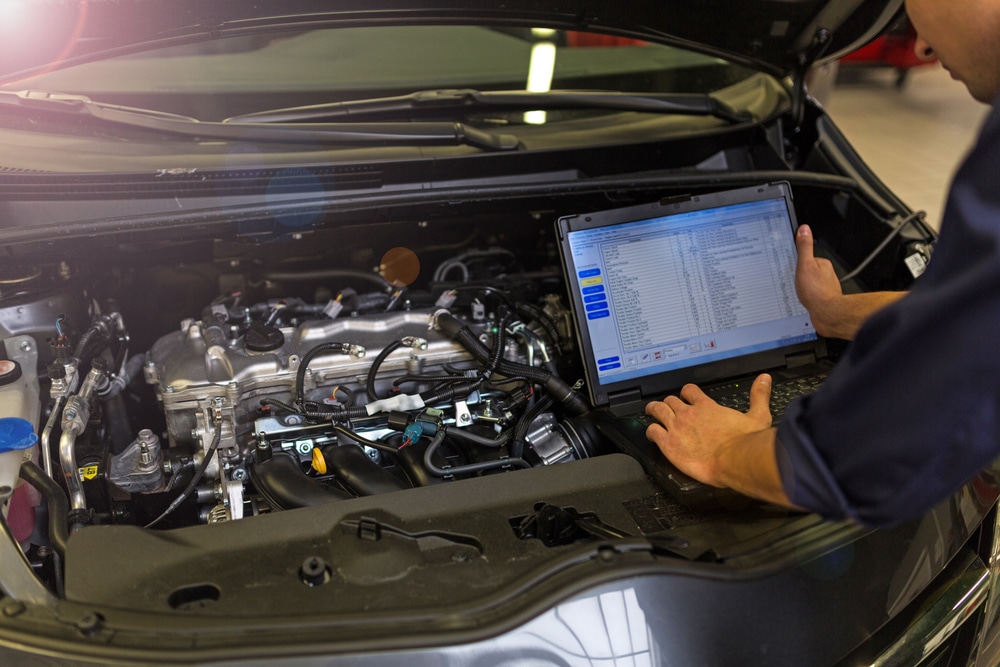 If you use a laptop, you will need an OBD2 diagnostic scanner or cables. Additionally, you will also need suitable software to install on your computer. Moreover, depending on your car model you might also need an additional adapter that lets you connect the OBD2 scanner or cables into your car's OBD port.  
This option is popular amongst car garages since they usually keep their diagnostics equipment in the same place. Carrying your computer and long cables around can be inconvenient if you don't want to rely on so much equipment.
3) Using your smartphone to read and clear fault codes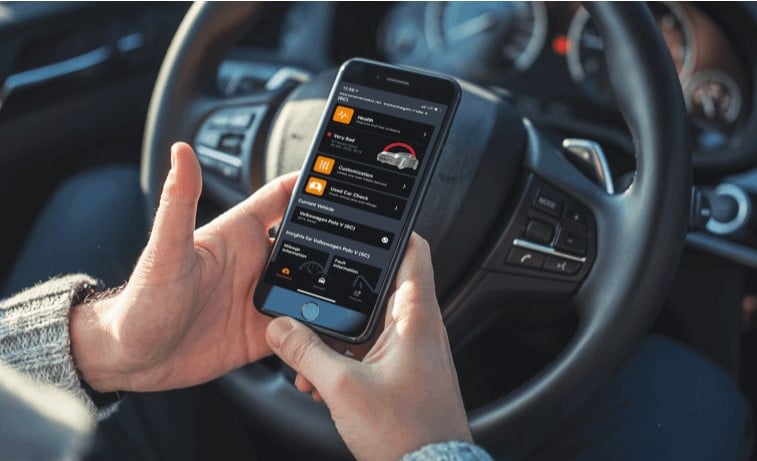 If you decide to use your cell phone as a tool, you will only need an OBD2 scanner and its respective mobile app. This is often the most practical option as there are already countless apps available, and sometimes they are even completely free.
When deciding on which device to pair with your phone, we recommend you get an OBD2 scanner that has Bluetooth available so that you can easily access all of your car's data from your phone without additional wires. 
Additionally, with this option, you can carry the pocket-sized scanner with you or keep it connected to your car permanently. Thus, whenever you want to diagnose your car all you will need is to open the respective mobile app. As with the standalone devices, beware of cheap counterfeit scanners. Doing a bit of research can save you from buying an unreliable scanner.
Reading and clearing car fault codes with your phone
The Carly OBD2 scanner is extremely useful for running diagnostics on your car from your from. The small but powerful scanner provides all kinds of information about the vehicle in conjunction with its smartphone app. Thus, it's very quick and easy to read and clear car fault codes with the Carly OBD2 scanner.
The Carly scanner works on iOS as well as on Android operating systems and it's compatible with many car brands including VW, Audi, BMW, and Mercedes.
Moreover, the Carly scanner offers numerous additional functions that can help you save a lot of time and money when it comes to your car. For example, the "used car check"  can help you find out whether you are purchasing a good used car. Additionally, the car coding features can help you customize your car and make it more unique!
Since every car brand is built differently, the available Carly features depend on your car model. You can check what features are supported by your car model here.
Getting started with your OBD2 scanner
The devices to read and clear car fault codes (such as the check engine light) are relatively easy to use whether you are a beginner or a professional.
In order to start using the OBD2 scanner, you must first connect it to your car's OBD port. Typically, you can find your car's OBD port located in the driver's area around or under the steering wheel. Sometimes, you might even find it on the left side of the pedals. If you can't find it, just check the car's manual.  Once the scanner is plugged in, just connect it as needed. With Carly, that means just pairing via Bluetooth, and then you can run diagnostics. 
Reading out and clearing the fault memory at the workshop
With the right tools, anyone can read out the fault memory of their own vehicle. However, many people ask for this service at the workshop.
Costs and Duration
The costs for an error code reading at the workshop lies between 25 and 60 euros depending on the vehicle model, though sometimes an authorized dealer offers this service free of charge. The procedure usually takes between 15 and 30 minutes, plus 5 minutes to clear the fault memory.
When does a visit to the workshop become necessary?
In the workshop, scans are taken with more professional devices that allow a deeper technical analysis. Professional devices can also be purchased for private use, but the cost-benefit is not great if they are only used occasionally. 
And while the kind of devices you might use yourself can be very useful, many of them just state the code of the error and you then have to research it on your own. While it's easy to conduct this research, without car expertise, it might be difficult to judge whether a fault code is a minor issue or a serious defect that requires immediate repair. If you're unsure, it's good to check in with a professional. 
Tip: Reading fault codes without a device!
There is another possibility that allows you to read and delete car fault codes without having to spend money on tools. This only works for vehicles with an electronic gas pedal, but newer vehicles should already have this. 
Since the electronic accelerator pedal is connected to the car's control units through a sensor, the built-in fault memory can be displayed using this method.
The engine control light plays an important role here. A four-digit numerical code is made visible by repeated light signals that show the numbers from one to nine. So one flash stands for the number one and flashing ten times stands for the number zero.
This is how it works
When the car is not in operation, press the brake and gas pedal pedals hard once. For vehicles with automatic transmission, the lever must also be positioned on D. Next, turn the ignition key to the "ignition" position.
The engine control light should now flash after a short time and display the numbers at short intervals. It is best to write down the numbers on a notepad. If the check engine light flashes without stopping, this means that there is no data in the error memory.
If you are unsure about using this method, we recommend you do it with the help of an OBD2 scanner. You should also not rely entirely on this "Morse" method, because a misinterpreted number can have serious consequences in extreme cases.
OBD2 Reader
Like having your own mechanic!