With the BMW F30, you can code a whole host of useful hidden functions. So if you want to know what you can code on your BMW F30, you've come to the right place.
[lwptoc numerationSuffix="none" title="Content"]
GAIN MORE CONTROL OF YOUR CAR WITH THE CARLY FEATURES
Check the exact pricing of Carly for your car brand!
---
Fast International Shipping with DHL
14 days adaptor return policy
Excellent customer support
Lifetime warranty in the hardware
BMW f30 Coding List
What can you unlock or change on the sixth-generation 3 Series? We know of over 50 different areas with well over 100 coding possibilities. The following list applies to the models F30, F31, F34, F35, and the BMW M3 F80:
Active Sound Design

Air conditioning

Alarm system

Ambient lighting

Angel eyes

Audio

Brake lights

Cleaning (windows/lights)

Clock/date

Comfort functions

Coming home

Daytime running lights

Door lights

Drive Assistant

Driving Dynamics Control

Easy Entry 

Engine Start-Stop

Gear shift indicator

Headlight cleaning

Head-Up display

High beam

iDrive logo

iDrive menus

Instrument cluster

Interior lights

Legal disclaimer

Locking (door/trunk)

Mirrors

Navigation

Opening the car

Park Distance Control (PDC)

Parking light

Power windows

Rain light sensor

Seat

Seating heater

Side marker

Side view cameras

Speedometer

Spoiler

Sport display

Tailgate/rear lid

Tank (fuel)

Telephone

Tires

Turn signals

Video in Motion

Voltage monitoring

Warnings

Welcome light
All of the codes listed can be implemented quickly, safely, and economically with the help of the Carly app and the Carly adapter.Let's take a look at the codes in more detail!
Rear View Camera
We've all found a parking space that was very small where you could only squeez in thanks to the rear view camera. The rear view camera is one of the many cool features you can code on your BMW F30. The camera itself is a great help, but there are also some things you can code or personalize to make it even better. 
First of all, you need to understand some of the terms that will be used in this explanation. For example, "REM" stands for Road Experience Management. The REM is responsible for the rear view camera as well as various rear lights. It is also becoming more and more important for autonomous driving, because it recognizes the environment through the data it collects and thus guides you safely and quickly to your destination. The REM is a built-in chip, which is located on the right side of the trunk. 
For example, here you can set when the rear view camera switches on and after how many meters, after engaging forward gear, it switches off again. You can also code at what speed it turns on and off. 
Another important term is the Car Information Computer (CIC). It is responsible for storing all navigation data on the hard drive of the BMW and is the successor of the Car Communication Computer (CCC). To find the separate menu, you have to go to the main menu of your board computer. Then press the round controller (wheel) located at the right side of the gear lever for about 10 seconds forward, i.e. in the direction of the board computer. When this is done, turn the controller three times to the right and then three times to the left. After that turn it once to the right and once to the left and finally turn right again. If you now go to the menu item "Settings", you will see several options that were not there before. For example you can code the view of the rear camera to be horizontal or vertical.
The last term you should know is Park Distance Control (PDC), which is the electronic parking assistance or in other words the sensors located at the rear of the car.
You can also code the volume of the warning sound in your board computer to a volume that works for you.
Ambient Lighting
The ambient lighting is very cool and definitely catches your eye. But did you know that you can code the brightness of the light on your BMW F30? 
Ambient lighting is an absolute must for every BMW enthusiast. But often you have the problem that it's just not strong enough to really look good, because the ambient lighting is automatically adjusted to the brightness of the speedometer illumination. We took a closer look at this and found a simple solution. With the help of Carly you simply have to turn on the "own brightness" function in your Front Electronic Module (FEM), which is a combination of several control units. After that you can easily change the brightness as you like.  
Navigation system
Want to spice up your navigation system and add some features that make your life a little bit easier? Let's take a look at a couple of interesting navigation system features that your F30 offers.
When you're driving, often there is no preview of a route you have entered. This can be really annoying if you get stuck in a mile-long traffic jam that you could have avoided. This can be avoided in the future by coding the preview option for the route on your F30. 
The coding can be easily done in your board computer and is a piece of cake for every BMW enthusiast. You don't need to be a mechanic to make this change and can save yourself an expensive visit to the workshop.
Another thing you can do is enable the fuel stop feature in your navigation system. This option shows you possible filling stations on your route so that you don't run out of gas. 
Next we have a coding function that can be very helpful when you need to update your navi. You've probably done an update of your navigation system before and have noticed that during the time when the map update is downloading, the navigation system is not usable. But with this coding the navigation system is still functional, even while the update is happening. 
In order to use this code, you have to activate the code "Navigation on update" in your Car Information Computer (CIC). 
Another useful function is the display of menu items for the route info. With this coding you can view the entered route step by step and don't have to be afraid of getting lost.
One function that plenty of BMW F30 drivers don't know, but which can be quite useful, is the Route Magnet. This function helps you choose your preferred route to get to your destination. For example, you can decide whether you want to go via Nuremberg or Stuttgart when driving from Munich to Frankfurt.
With these simple yet helpful codes you can make your life a bit easier and personalize your BMW F30.
Start-Stop System
Many BMW drivers are familiar with this: you stop at a traffic light and the engine shuts off. But you know that this is not so great for your engine and has several other disadvantages. Of course you can deactivate the system every time before you start driving, however there is no setting in the board computer to turn it off in the long run. So what can you do?
As mentioned before, you actually can switch off the automatic start-stop function on your BMW F30 by default. You can easily do this coding in the Front Electronic Module (FEM) which is responsible for linking different areas.
Another helpful function that you can code is the automatic start in Eco/Eco Pro mode. Here you can set that as soon as the engine is started you are in Eco mode. This function is especially useful for environmentally conscious drivers. Unfortunately you can't code to start in the Sport/Sport+ mode. Therefore all racers among you have to set this function manually.
If you don't want to switch off the automatic Start-Stop system forever (or until you code it again), you can do the following: your BMW F30 has a "Start-Stop Memory" function. This function allows you to save the last used configuration before switching off the engine for the next time you use the car. So you can easily switch the system on and off before you finally decide on switching it completely off. To illustrate it a bit, here is a short example: You turn off the start-stop system, and a few seconds later you turn off the engine. When you come back the next day, you will notice that the start-stop system is still off.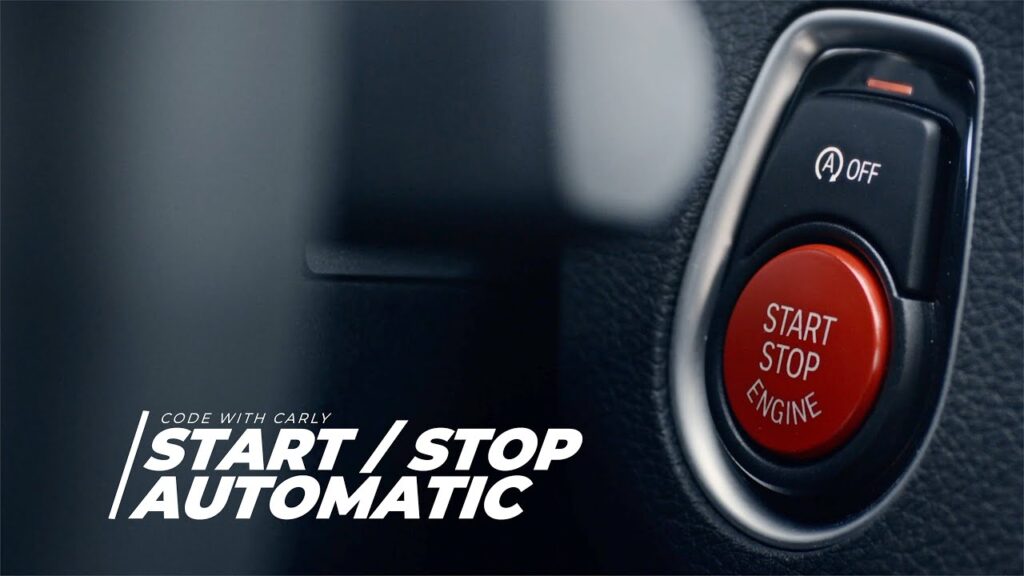 Lane Departure Warning (Lane Assistant)
Consistently paying good attention to the whole road is very important while driving. But sometimes we need a little help. That's why you have the option of coding your lane departure warning system, also known as lane assistant, on your BMW F30. 
You probably know the fear of the curb. Where exactly is it? Do I have some space left or is my rim about to get scratched? You won't have to worry about that in the future. You can add curb detection and grass detection to your BMW F30. These features are available separately, but can also be used together.This makes the fear of a scratched rim a thing of the past. It is also possible to switch both off completely if you like living life on the edge. 
Digital Speedometer
Do you sometimes get distracted from the traffic by looking at the analog speedometer? Making one simple change can help. Thanks to the digital speedometer, a glance is enough to read the speed and it's more accurate. You can also easily display the digital speedometer below the analog speedometer. 
Another thing you can do is disable the "speed correction". Because normally speedometers are corrected "upwards", you are actually driving slower than it is displayed. Usually this is a few km/h. To some that can be annoying, since they don't know how fast they are driving, but beware if you are speeding a little bit, now you are really in the zone of getting a speeding ticket.  
Mirror Folding
There are definitely situations in which you as a car owner worry about your rearview mirrors. Tight parking spaces where the cars are too close to each other are certainly familiar to everyone. But even for this problem there is a solution! 
With an integrated LIN bus (often only if the outside mirror heating is installed) it is possible to fold the outside mirrors in or out with the key of your BMW F30. You only have to press the locking button longer to fold the mirrors in. When you unlock them, they can then either fold out again automatically or not, depending on the settings. You may have to code the CAS module (= immobiliser) for this. This is also done quickly.
Another advantage of the codable outside mirrors will make smaller drivers in particular sit up and take notice. We have made it possible for the mirrors to tilt down in reverse so you can better see the area by the rear tires. To do this you have to activate the mirror tilt functions 1 and 2 in the control system. There you can also adjust how much the mirrors should tilt down. Here you can choose between the settings weak, medium, and strong.
If you have not selected the option to automatically fold out the mirrors when the car is unlocked, there is a handy additional function. This allows you to choose the speed at which the mirrors fold out by themselves. The options range from 1 km/h to 40 km/h. You can also set the maximum speed at which the mirrors fold in. The range here goes from 10 km/h up to 60 km/h. Practical, isn't it?
Turn Signals
It is often the little things that make life beautiful. That's the way it is with turn signals. Every car has them and they are nothing special, but you can make your F30 a real eye-catcher. 
Before you even get in, you can let your car greet you. If you have chosen to have a visual signal when unlocking, you can choose how long the indicators should stay lit up. 
But there is another function that is visible from the outside. In the event of an alarm, you can turn on your blinkers to draw even more attention to the possible break-in. 
There is also a possibility to change settings of the one-touch turn signal feature. In other words you can decide how many flashing signals you are going to send by pressing or pulling the flashing lever once. Default settings are set to 3 flashes, but if that is not enough for you, you can also set it to 5 or 7 flashes. It is also possible to let it blink once.
You can easily do all of this yourself without spending time and money at a garage. 
Tailgate — Rear Lid
One of the coolest features on modern cars is the automatic trunk opening/closing. It makes it easy to put luggage or groceries in the trunk and the automatic closing function means you no longer have to get your hands dirty to close the tailgate of the BMW F30. 
The Comfort Access allows you to open the tailgate with the key. A visual signal is emitted if you wish to do so. If you use the Comfort Access frequently when shopping and want to open the tailgate from a distance so that you don't have to wait for the tailgate to open with heavy bags in your hands, you have the option of having the tailgate open with a delay. This is especially helpful if you don't want to have the trunk of your BMW F30 open too long before you arrive.
The tailgate can then be closed again with the keyfob. To do this you have to deactivate the "Panic Alarm Remote Control" in the "CAS Module". If possible you should also activate "Close tailgate with keyfob" addition. This way you can leave the trunk unlocked for your passenger and then simply lock it from wherever you are standing. (Note that the HKL module is only available, if the car has a button to electronically close the tailgate/trunk lid). If you are already in the car and someone forgets to close the tailgate, you can use the footwell switch to easily close the tailgate from the driver's seat. This is codable in the tailgate module and is only possible if an automatically closing tailgate is installed. 
Head-Up Display
In recent years, the Head-Up Display has become more and more fashionable. This is mainly due to the many different possibilities it offers. There is a long list of coding possibilities that you can integrate into your BMW F30 Head-Up Display. Today we'll list our favorite options. 
Before we get to the possibilities of the HUD (short for Head-Up Display), let's talk about the tools that affect driving itself. Cruise control can be activated by making changes in the iDrive control unit under "Cruise control in Head-Up Display". It is also possible to move the turn signal indicator to the Head-Up Display. This also includes the warning indicators. This coding only works for models up to 2013, and to achieve this you will need to re-enable the "indicators in Head-Up Display" option in your KOMBI/CIC control unit. 
Now let's delve into what you can show on the display. When you start the Head-Up Display, the start screen menu is also shown there.Entertainment services like radio stations or the music list can also be imported into the HUD without any problems. The frequently used call list can also be projected directly in front of the driver in addition to the display in the center console. In addition to the call list, your contacts list can also be added to the other menu items already listed in the Head-Up Display. 
For all those who often use the voice command service, there is the possibility to have confirmations of the given commands shown in the Head-Up Display. You can also use the voice recognition function to find out where the next highway exits are. This makes it possible to determine new routes while driving and to get information about route changes in the HUD as quickly as possible. These features can also be found in the CIC control unit.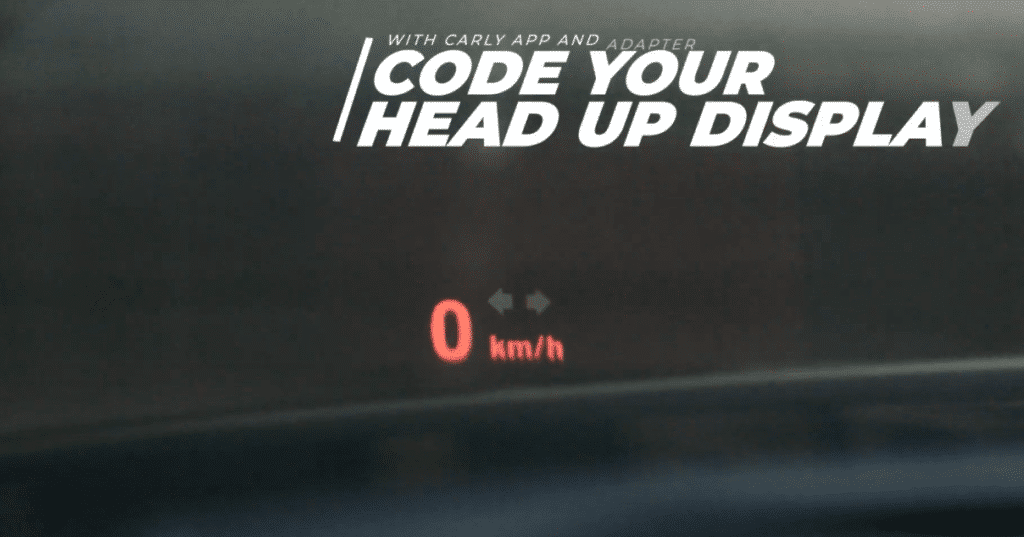 Video in Motion
We assume that you as a driver are super excited about every road trip and love to look at what is going outside of your car, but not every passenger shares this enthusiasm and some would rather watch a movie during the trip. Unfortunately, video in motion is not standard on the BMW F30. Here is where Carly comes in handy, as it gives you the possibility to easily code your BMW F30 to change this.
With this feature your passengers can enjoy watching movies while you are driving. However, hopefully it goes without saying that you as a driver still need to concentrate on the road and not endanger your own safety and the safety of others. This function is only possible if your BMW F30 supports DVDs while stationary.
Often this function is blocked by the coding "Video only with handbrake". To play the video while driving, you have to deactivate the above mentioned coding.  It is also possible to set it to play videos only when you're in park mode
Do you want to play a video on your iOS device or do you prefer to use a USB stick? With your BMW F30 you can decide how you want to play your videos. The video format support gives you the choice between playback via a USB stick or an iOS device. Unfortunately playback through an Android device is not possible. So you have to switch to a USB stick to play your video files. To play videos with the iPhone, you need to connect your phone with a snap-in adapter and not with the standard USB cable.
Another cool coding is to customize the iDrive menu. With this setting you have the possibility to replace the normal title menu with the menu of the inserted DVD. This not only looks much better, but is also much more practical. The menu is then displayed just like on a conventional DVD player. 
We hope this article has given you some ideas for how to make the most out of your BMW F30! Coding really can be this simple when you use your Carly device.