Having your own car diagnosed can save you a lot of money, time, and nerves over time. Over the past few years, more and more options for this have come onto the market, and the selection is also growing steadily. Be it the diagnostic device, the diagnostic software or the mobile phone app, you can find offers everywhere. In order to keep a cool head, it is important to know what you are looking for and what suits you. Today we will take a special look at the diagnostic software and compare it with the other variants. We also have a table for you with an exact list of the brand and price, with a short description of the respective product. But first the basics.
So what is diagnostic software anyway? Basically you can read out the data of the car with diagnostic software, for example to analyze or delete error codes. As already mentioned, there are three different ways to read your car. These are an external readout device, software for laptop PC / Mac and mobile phone apps, such as those from Carly. Diagnostic software is more user-friendly than the other two variants, especially due to the large screen of the laptops. The scope of functions of diagnostic software varies greatly and it is therefore important to choose a software for your own needs. Basically, however, you can read out the data of the car with diagnostic software, for example to analyze or delete error codes.
We wish you a lot of fun trying out the different devices and hope that you will find the best device in the end!
Which diagnostic software for my car?
Before you can start with vehicle diagnostics, it is important to also buy the right software. The selection is large and so it can be confusing what you want to buy now. We have selected four providers for you and described them, as well as adding the compatible vehicle brands.
| | | | | |
| --- | --- | --- | --- | --- |
| | UniCarScan | Carport | TOAD | moDiag |
| version | | Per module | Per | Ultimate |
| Compatible car brands | All cars registered in the EU but ´01 or ´04 | VW, Audi, Seat, Skoda | All cars registered in the EU but ´01 or ´04 | VAG Group, BMW, Mercedes, Opel, Ford and many more. |
| Range of functions | In-depth scans, readout, deletion of error codes | Vehicle diagnosis, code | Diagnosis, setting of various components | OBD diagnosis, live data |
| languages | DE, EN, and much more | DE | EN, DE and much more. | DE |
| Price | Approx. 160 € | Approx. 80 € | Approx. € 77 – € 157 | Approx. 100 € |
Let's now look at the various products. We give you a brief overview and highlight the functions of the programs. With some of the software programs a USB to OBD2 cable is included, with others you have to buy it. But we also write that on top of each other.
UniCarScan
UniCarScan was developed by WGSoft.de and is the successor to ElmCan 2. The software is able to carry out complete OBD2 diagnoses and consists of an OBD2 interface with associated software. The software supports all 10 of the SAE J1979 defined OBD2 diagnostic modes.
These are: Mode 01 – Querying current diagnostic data (real-time data motor control)
Mode 02 – Request freeze frame data
Mode 03 – Stored Diagnostic Trouble Codes (DTCs)
Mode 04 – Delete / reset emission-relevant diagnostic information
Mode 05 – query of lambda probe monitoring test results
Mode 06 – Query on-board monitoring test results for systems that are not continuously monitored
Mode 07 – Sporadic diagnosis error codes
Mode 08 – Query the control of the on-board system, tests or components
Mode 09 – Request of vehicle information
Mode 0A – Permanent diagnostic error codes
This gives you a good overview of the various functions of the software. UniCarScan describes itself as being well suited for specialist workshops as well as private users. In addition to the modes, there are a number of other functions. Among other things, the software offers a 0-100km / h measurement, or an integrated error code database, which enables extended access to online databases when connected to the Internet.
In addition to the languages German and English, the software offers operation in Czech, Danish, Spanish, French, Croatian, Hungarian, Italian, Polish, Serbian and Turkish. All possible car brands are supported and here the exception is the rule. The program should run on all laptop PCs with at least a 1GHz processor and 1GB RAM.
Carport PRO module
The Carport PRO module is a relatively inexpensive program compared to many other software. This is of course associated with a rather limited range of functions, but this in no way affects the quality of the device. We all know that sometimes quality is more important than quantity. The software supports models from the brands VW, Audi, Skoda and Seat from the year of construction 2005. Manufacturer-specific diagnosis is possible, which means that not only "general" information can be read out, but also the special codes from the manufacturer. These have something to do with the OBD 2 port, as the various poles there are partially freely assignable for the manufacturer. If you should know more about this, you are welcome to read our post on OBD adapters.
But let's get back to the functions of the Carport PRO module software. The software clearly shows the errors found and also provides a description of the error code. This makes the search for the cause much easier. The autoscan, which checks the built-in control units, is also user-friendly. This means that instead of checking and looking through all the control units by hand, you can have the software do it for you.
In addition, any number of measured value blocks can be displayed at the same time. Measured values can then be recorded in a CSV file in order to be able to query them again at a later point in time.
As just mentioned, the graphic display of error codes is very well thought out and tailored to the end user. However, several measured values can also be displayed at the same time, whereby the conventional graph view and an instrument view are available for selection.
Another big point of the carport software is the possibility of smaller codings such as the horn when closing. The automatic channel search gives you a good overview of the available adjustment channels.
All in all, the Carport PRO module software is good diagnostic software with which the basic functions of a diagnosis are well covered. A clear user interface also makes the software much easier to use. So if you are looking for a relatively inexpensive program with a limited range of functions, you can find it at Carport.
TOAD
"TOAD" is an OBD2 program from the USA, which has made it onto our list due to its wide range of functions. TOAD is an OBD2 scan tool that enables health and performance checks on your car. TOAD can either be purchased as pure software, with an ELM327 cable, with a Bluetooth adapter or with a cable and adapter. The prices are between 77 € for the software alone, up to 157 € for the complete bundle with adapter and cable. Oh, by the way, TOAD stands for "Total OBD & ECU Auto Diagnostics". But what's behind the program? We wrote it down for you.
TOAD speaks of itself as a unique OBD analysis tool that can save you money and time. You should be able to do this through an analysis in which you can see inside your car and discover any problems – a classic OBD2 diagnosis.
In addition, reference is made to the widespread use of the product, which is used in over 70 countries worldwide. It is suitable for mechanics as well as DIY car fanatics.
[irp]
An interesting function of the TOAD software, which not every diagnostic tool has, is the possibility to "hack" the engine. This is nothing more than optimizing the control units, for example to optimize fuel consumption or, as the manufacturer himself says, to boost the car's horsepower. This should be done through better fuel injection and better compression. Normally, however, the manufacturers' cars are well set up for the average consumer. So if you don't necessarily take part in races on a regular basis and are not very familiar with this matter, you shouldn't play around with it. After all, in addition to the engine power, various factors such as cooling and exhaust system depend on the drive unit.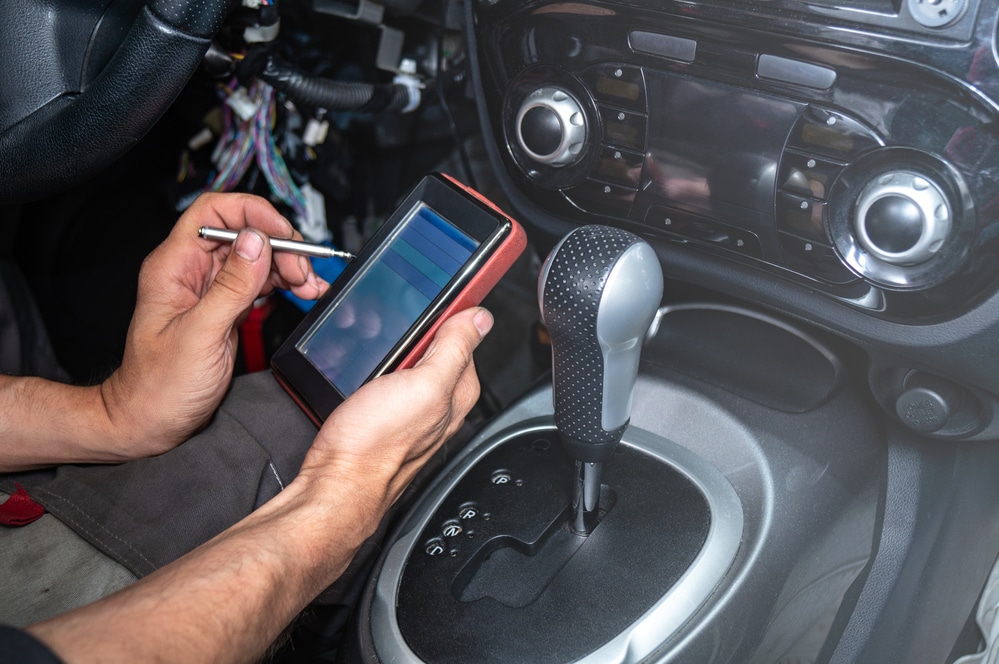 To ensure that nothing breaks, TOAD also offers the option of a health check for your car. This saves you time and nerves, because a regular check can predict possible failures of various parts and prevent a workshop visit (for the time being).
Here is a quick summary of the TOAD software again:
Do an all-round health check-up
Diagnosis of control units
Live data readout that can be saved
Torque curve and PS analysis
Support of the 10 OBD-2 diagnostic modes
The software is compatible with pretty much every vehicle built from 2004 or older, provided that it was created after the OBD-2 introduction in 2001 or 2004. The only exceptions here are Land Rover and Jeep, as well as Dodge RAM.
In summary, TOAD supports all engine and transmission systems. Even if our cars have many more systems, these two systems are responsible for around 99% of errors and misfires. In other words: If you want to monitor a large part of the "endangered" components, you should check these two areas. Because at TOAD, the engine and transmission are checked for all OBD2 diagnoses. No matter whether software, external device or app. Systems such as ABS, SRS, brakes and Aitbags are not supported by TOAD and must be checked by specialist workshops.
The software can be downloaded and is divided into 4 categories. These are OBD2 software, OBD1 software, ECU car tuning and editing software and others such as exhaust gas testing.
moDiag Ultimate
Now we come to the last of our four presented software. MoDiag is an OBD software that, like the previous programs, can read out an extensive error code database. It is also possible to read out manufacturer-specific codes. We'll tell you in a moment which vehicle brands are supported. The software offers extensive visualization options for live data as well as a clear list with the recorded errors and data from the onboard monitoring.
As I just said, we also give you the long list of supported vehicle brands. These are: VAG Group, BMW, Ford, Mercedes, Saab, Opel, Hyundai, Kia, Honda, Mazda, Toyota, Volvo, Subaru, Mitsubishi, Nissan and Acura.
But there are also many other very interesting features that moDiag Ultimate brings with it. And that's exactly what we want to take a closer look at now.
First of all, we have the OBD2 error code database again, which is populated with over 6000 plain texts. For the vehicle brands mentioned above, there are also manufacturer-specific codes. So as you can see, that's a lot.
The moDiag software can also display and evaluate live sensor data from the vehicle. This data can also be recorded and saved for later analysis.
It is also possible to query the onboard monitoring, or AU readiness for short.
Other important points are the integrated gas system setting software for all well-known manufacturers, complete documentation for gas conversions, an integrated customer database, power measurement with power loss determination, corrected power and torque curve as well as an acceleration test, CO2 emission determination and a particularly simple configuration of the OBD interface.
What alternatives to OBD software?
We have now dealt intensively with various software programs and drew enough into the various options. Now, however, not everyone wants to sit in their car with a laptop to read out the data. Is there any easier way?
Yes indeed. In addition to the OBD software, there is also the option of external diagnostic devices or various mobile phone apps, which are a very practical variant. Let's take a quick look at the two variants.
Diagnosis via external OBD2 diagnosis device
As mentioned, in addition to diagnosis with software, there is also the option of performing diagnosis with an external device. We'll go into the advantages and disadvantages of these devices a little and will try to give you a rough overview. With the exact research you can then pass the time, because that is not the subject of this text. If you are interested, you can take a look at our website right away, because there we also have a contribution to the best external diagnostic devices. But now to the basics.
What is a diagnostic device actually? Well, it varies in size and weight, but you can usually use it with one hand, and it's not so heavy that you break a sweat while wearing it. You are much more likely to break a sweat when choosing the right device. There are many different providers and models, all of which promise to be the best. But be aware that there is not only one perfect device. The diagnostic device must be suitable for your projects and needs, and everyone has different advantages and priorities.
A big differentiator is, for example, the range of functions. We have already mentioned many features of the software, including the live data readout and the manufacturer-specific codes. It is probably clear to everyone that a mechanic in the workshop needs more functions than the ambitious hobby screwdriver. The number of compatible vehicle brands is also often different.
But what is the explicit difference between an external diagnostic device and diagnostic software? The main difference lies in the handling, the handling and the personal preferences. In fact, the external devices are much more popular. Perhaps for the banal reason that they are easier to transport and can therefore be used more universally. Because not everyone wants to have a program for their car on their laptop and then sit tight in the driver's seat with the laptop. The external diagnostic device scores massively here. You have everything separately on one device, and when you need it, you pull it out and it's good. If you are interested in reading with external diagnostic devices, we also recommend our article on diagnostic devices. In this we go into more detail about the devices and have also compiled a list of the best devices, as in this post.
In addition to the external diagnostic devices, there are also apps that use adapters to establish a connection to the car and thus carry out an OBD analysis. Over the past few years, smartphones have made their way into all of our lives, and now almost everyone owns one or two. That is why mobile phone apps are becoming more and more popular and the number of them is increasing. Therefore a short briefing on the mobile phone apps.
Diagnosis via OBD2 diagnosis app
We have now dealt extensively with the methods of reading out with an OBD software as well as with reading out using an external diagnostic device. Now we come to the last method that we want to address today. It's exactly the method we chose at Carly. In this article we also have a few paragraphs about our app for you, but first about the general functionality of mobile phone apps for OBD diagnostics.
Basically, the apps aren't that different from the other two methods. They serve the same purposes as reading out vehicle data, measuring live data and much more. Among other things, they are so popular because all you need is an OBD adapter that you plug into your car and then use to connect your mobile phone. This adapter can easily be stowed in the glove compartment or in the door. Many of these apps are also offered as subscriptions, which makes them a little more flexible to use than, for example, purchasing software once.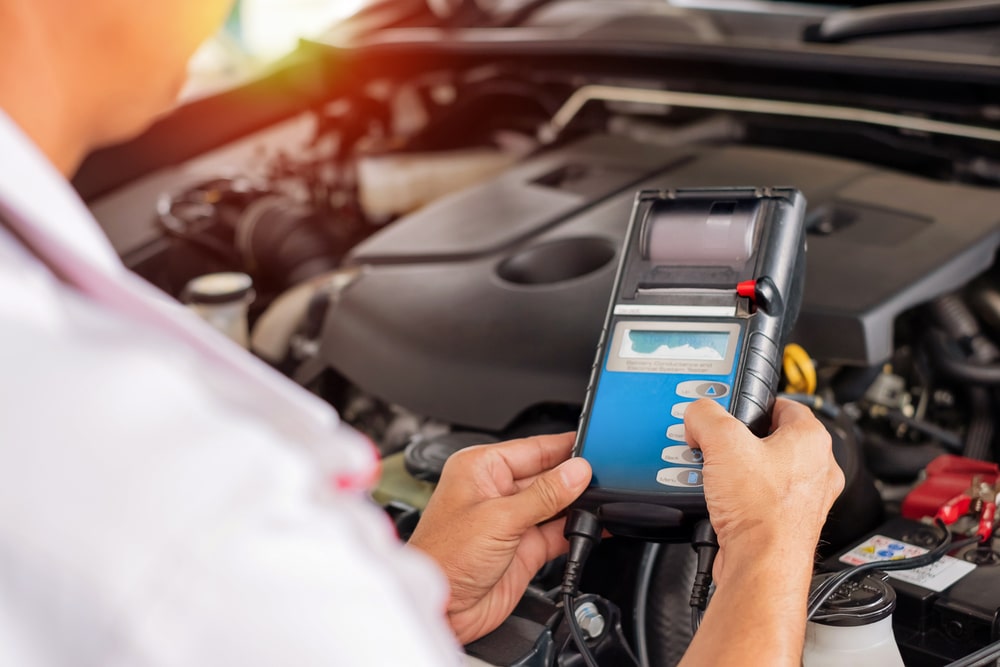 The biggest plus is of course the constant readiness for action, provided you have brought your smartphone with you. The handling is generally kept relatively simple, as one is used to from apps. Now let's bring you closer to some of the features of the Carly app.
The Carly mobile phone app
Similar to the other apps, Carly masters the important functions such as reading out the control units perfectly. In addition to the, let's call them the expected functions, the Carly app can also do a lot more. We have written down some of these features for you as well as a short summary of the respective features so that you also get a good overview. By the way, the Carly app costs you around 21-80 €, whereby you also need our Carly adapter for a one-off 59.90 € so that you can communicate with your mobile phone with the car. Overall, you are therefore in a similar area to the programs listed above.
Carly's used car check
Several million used cars are traded in Germany every year, resulting in a massive amount of money that changes hands every year. But it is not always "honest" money or goods that are traded. We are addressing the subject of odometer manipulation, which causes damage of several billion euros every year. The problem is that odometer manipulation is difficult to prove and even if there are legal proceedings after the purchase, it is very difficult for the injured party to prove the manipulation.
For this reason, we at Carly launched the used car check. It is the most reliable method when it comes to analyzing the odometer reading. We have also written a very detailed text on this, which explains the details of the odometer manipulation and also the functionality of the used car rear. For now, however, it is only important that you know that this check exists and that it works reliably and quickly. So if you are about to buy a used car, you can download the Carly app and carry out the test on a short drive.
Coding with Carly
Who doesn't sometimes wish that they could switch off a certain function in their car for a moment, or add a cool function that is unfortunately missing. Well, with coding, that's exactly what you can do. Not every app supports coding the car and that's why we wanted to add it to Carly's list of special functions here as well. You don't need to have any programming skills to code, we've already done everything for you. In principle, you use the various menus to select the functions that you want or want to change. We have a large number of functions available especially for BMW, but we also have something in our repertoire for every other conceivable brand. If you want to test our app, you can download the free version "Carly Lite" from the Play or AppStore and see what options there are with your car. The functions available depend on the make, year and model of the car.
But now we want to give you a few more examples of what you can code for your car. The areas are as diverse as the wishes of our customers and range from the exterior lighting such as the turn signals or the high beam to the window lifters to settings for the navigation system and other areas in the interior.
lighting
The lighting is one of the areas where you can customize the most with under. On the one hand, there are the indicators. Adjustments can be made here, for example, for the blinking tip or the way in which the blinker should blink.
The daytime running lights can also be edited on some models, as this is specifically a setting that many drivers would like to change in their own cars. For example, you can choose which lights should be involved in the daytime running lights. One of the most frequently coded functions is also the Coming Home function, in which the lights of the car remain on for a certain period of time after the car is closed. The lights involved can also be selected for this function, as well as the duration.
Shut down
Many adjustments can also be made when closing. This includes optical and acoustic signals or locks from certain speeds. Closing also includes the cool function of closing the window after the ignition has already been switched off, which many people miss by default in their cars.
For a precise overview of all possible codings, you can search for your car on our website. We have a list of the possible codings for you for pretty much every brand and model. It should also be noted that there are other coding options depending on the brand and model.
Conclusion
In summary, one can say that diagnostic software is a good alternative to regular workshop visits, as the errors can often be read out at home and sometimes also corrected. Most programs can do a lot more than just perform a diagnosis. Since these functions differ from program to program, it is very important to do your research beforehand. A major exclusion criterion here are, for example, the compatible car brands.
We also learned that in addition to the programs on the laptop, there are also external readout devices and mobile phone apps, all of which have almost identical functions. In terms of price, we have moved within a very moderate range today, which should allow every interested party the opportunity to invest. Of course, there are also far more expensive products, which are therefore also better. However, you have to consider whether you want to spend several thousand euros on diagnosing your car.