Car scanners are an awesome tool that has exploded in popularity over the past few years. Every car owner can use these devices to read valuable data in their cars, identify fault codes and do so much more. But with so many devices available, what are the differences between every car scanner?
Below, we will break it down into everything that you need to know! You will find out:
How can a car scanner help you
What you should look out for in a car scanner
A list of the top 11 car scanner
What is a car scanner?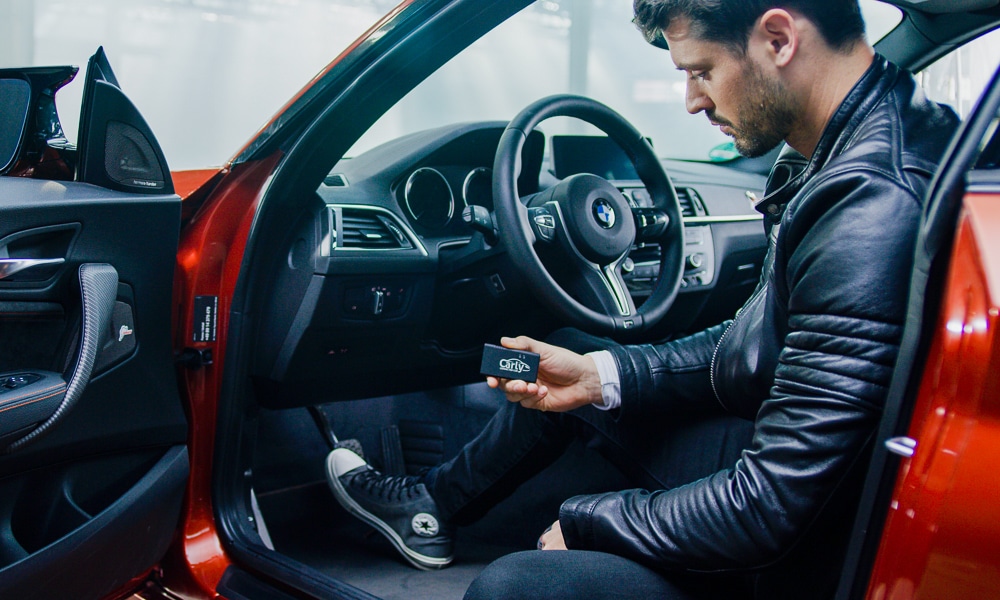 With a car scanner tool, also called OBD2 scanner or diagnostic scanner, you can access your car's computer system. This allows you to read and clear error codes from your car's error memory and know the health state of your car. So, if your car's check engine light turns on you can instantly find out if these are old or new error codes.

There are some OBD2 scanners that let you access even more information about your car's health. For example, you can see if the error codes in your car must be solved immediately or are not as critical. Additionally, you can also get an overall score of your car's health depending on how many error codes are present and how severe they are. 
(insert Carly screen)
There are various diagnostic tools available, and we would like to take a look at them with you today and help you make a choice on what's best. We will also discuss what happens during the readout and which auto-readout device makes sense for you. Have fun!
The (Awesome) History of the Car Scanner
Diagnostic tools for cars date further back in automotive history as early as 1965, when the Volkswagen Group began equipping its vehicles with a central socket. This connector was be coupled to a computer system controlled by a punched card system. Originally, the scan tool device used back then was only used for simple diagnosis in workshops. However, as time passed by this system became much more advanced.
Initially, Volkswagen's system did not have diagnosis components or an emissions monitoring system — it simply was not a major concern at the time.
However, by 1988, the California Air Pollution Authority introduced the OBD system as a way of monitoring and controlling automobile emissions to ensure cleaner air. At that point in time, passing an emissions test was not enough. The vehicle had to remain compliant at all times.
OBD1 was the initial standard, but it was not regularized. Thus, every vehicle manufacturer soon started developing its own standards and protocols. For instance, General Motors developed the ALDL standard which can also be found in Opel vehicles in Germany.
However, later in 1996 the OBD2 vehicle system was created. All automotive manufacturers were then required to adhere to the OBD2 standard. It was then introduced to the European Union and mandated for all gasoline vehicles produced from 2001 onwards and diesel vehicles produced from 2004 onwards.
The big advantage of having a standardized interface for diagnosis is that now we can utilize the same OBD2 scan tool (aka, OBD2 scanner) for all car brands. This of course depends on the scan tool that you select. So, for every repair shop, this was a big step forward since they no longer needed to carry multiple diagnostic devices that were compatible with every single manufacturer.
How Does a Car Scanner Work?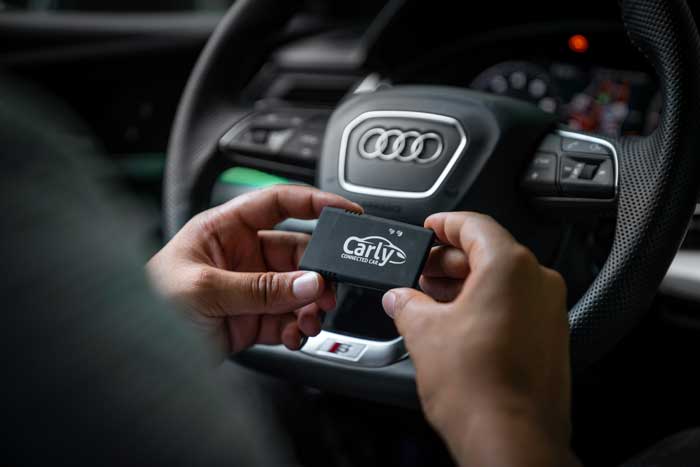 A car scanner is a small pocket-sized device that can be plugged into your car's OBD2 port. Afterward, you can easily access your car's data and view it on the handheld car scanner's screen, or on your phone if you are using a wireless Bluetooth OBD2 scanner.
Nowadays, every modern car has an OBD2 socket that can be typically found underneath the steering wheel by the pedals. (Things get a tad technical here, so bear with us.) This OBD2 socket has a total of 16 poles that "serve" a different part within the car.
Moreover, this socket is often used for reading out the standardized OBD-2 diagnostic protocols and also manufacturer-specific protocols. The readout device for the car is plugged into the socket on the K-line or the CAN bus. In case you are wondering what these are, let us summarize briefly:
K-line: The K-line is a bidirectional one-wire bus for data transmission. However, the K line takes on the task of the L line, which regulates the stimulation (initialization) of the control units and maintains the required communication.
CAN bus: Nowadays, modern vehicles use the CAN bus instead of the K line. A bus is nothing more than a line for data transmission between several parts, whereby only two parts can communicate with each other at the same time. CAN stands for Controller Area Network and is divided between high-speed CAN and low-speed CAN. The two tracks are not compatible with each other, which is why they both have their own pin on the OBD-2 socket.
The OBD system monitors various systems in our cars. These include the lambda probe function, combustion misfires by means of an incremental wheel (magnetic gear), and the efficiency of the catalytic converter. How it does that, let's see now.
Debouncing
When an error occurs in your car, a debouncing counter starts. This is when a signal occurs and is increased at regular intervals until the signal is permanently present. If the signal lasts long enough, it will be processed by the system and will not be viewed as interference. Debounce time is used to prevent short-term interference from signals.
After the error is detected during rebounding and proven that it's not a short-term interference, it is stored in the car's error memory. This will cause the warning sign (such as the check engine light meaning) to light up on your dashboard depending on the nature of the error. 

Readiness Code
The readiness code, or readiness test, is required to check all exhaust-gas-relevant components. The fact is that not every component can be tested at any given time. An example would be the catalytic convertor.
Therefore, certain parts must first reach an operating state, such as the correct temperature, before they can be checked. The readiness code can be read out using a suitable device (diagnostic scan tool). It provides information on whether all components of a vehicle relevant to exhaust emissions have been checked. This readiness code is part of the "investigation of the engine management and emission control system" on a vehicle with an OBD system.
Diagnostic Software
There are various methods for reading out the error memory. For example, the data can be read out using software that can run on your laptop. To do this, you connect the computer to the socket using an OBD adapter cable. The software then sends signals to the control units in your car and then receives results from the control unit. A wide variety of signals can be sent. These include reading the ID of the control unit, error entries, measured value blocks, and memory cells in the control unit. In short, you can read out your control unit, convert it and delete error codes.
There are also apps for IOS & Android smartphones and tablets that can be used to read out error codes and perform other tasks. These apps usually work by communicating with an OBD2 scan tool Bluetooth.
How To Select the Best Car Scanner?
You will be faced with a myriad of choices at various price points when you prepare to choose your car scanner. Therefore, it is important to identify which features you place the most importance upon.
Compatibility with your car brand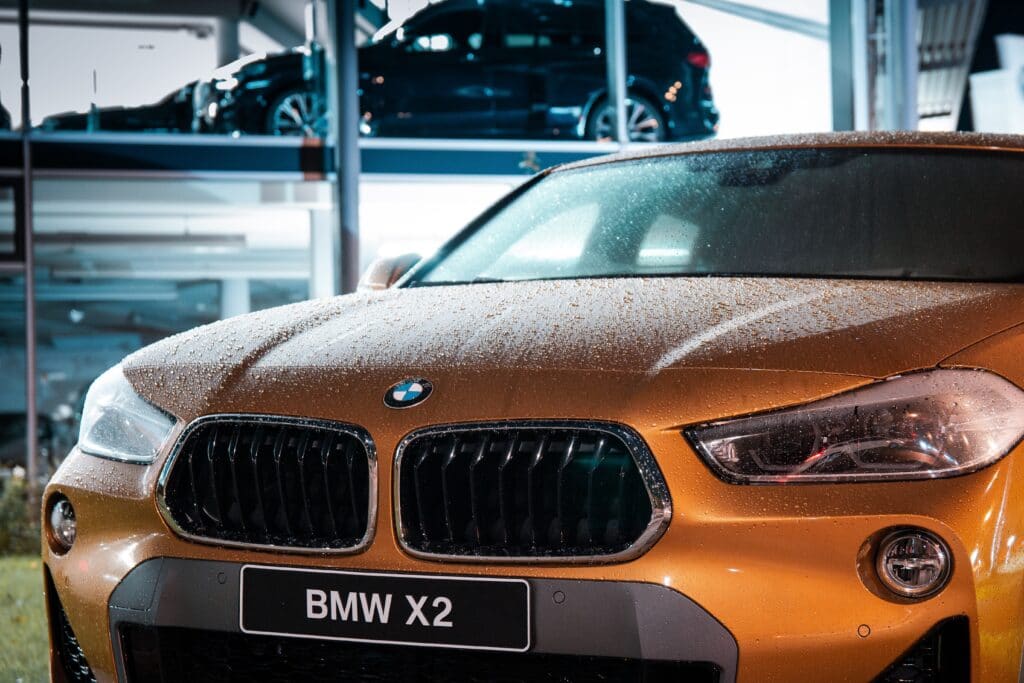 The best scanners are the ones that are compatible with many car brands. That way you can use the same scan tool on more than one vehicle.
Thanks to the uniform standard OBD2 interface, there are various devices with a high level of compatibility across other manufacturers. Unfortunately, many of these compatibility-wide devices tend to be expensive scanners that cost over €500.
This is definitely a worthwhile investment for automobile workshops, but an unnecessarily high expense for a private user. However, there are some wireless OBD2 devices such as the Carly adapter, that are affordable and offer compatibility with almost every car brand.

Size and equipment
There is no specific purchase recommendation purely based on size. The size will ultimately depend on your personal preference, as well as willingness to pay. Larger devices with larger touchscreens will typically cost more. The prices of devices can range from €50 for small and basic devices to over €1,000 for very large and comprehensive ones.
There are mainly 4 different sizes of device tools that you can find, ranging from small to large. Some have more complex equipment than others, so are more fitting for a repair shop with professional mechanics. Let's take a look.
Small and handy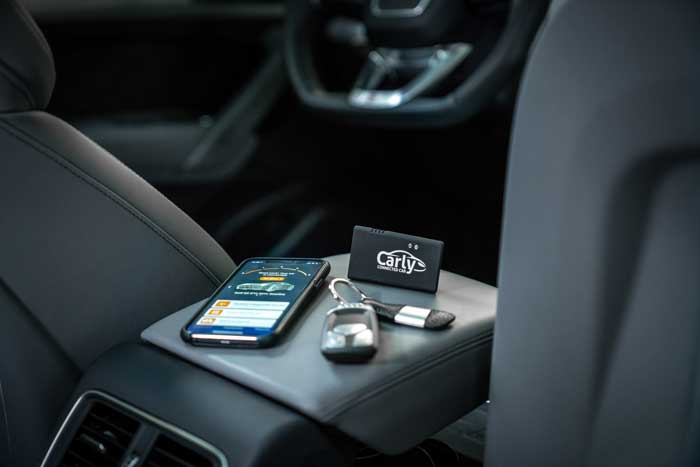 Tool: Wireless OBD-II scanners with a mobile app
Size: Pocket-sized or fit neatly inside your glovebox.
Users: Professionals and beginners
Wireless OBD2 scanners are an excellent tool since they are affordable, fit anywhere and you can have all of your car's information at your reach on your phone. All you have to do is pair your phone to the Bluetooth OBD scanner. Afterward, just open its mobile app and you will instantly get access to your car's data. It's that easy!
The downside is that some wireless OBD2 scanners only provide basic diagnostic features. Additionally, the size of the screen where you will see the data will be the size of your phone or tablet screen. Finally, you must ensure that the scanner's app is compatible iPhone & Android.
However, there are exceptions and you can find some OBD2 scanners that offer advanced key features that only an elite tool would offer.
Medium-sized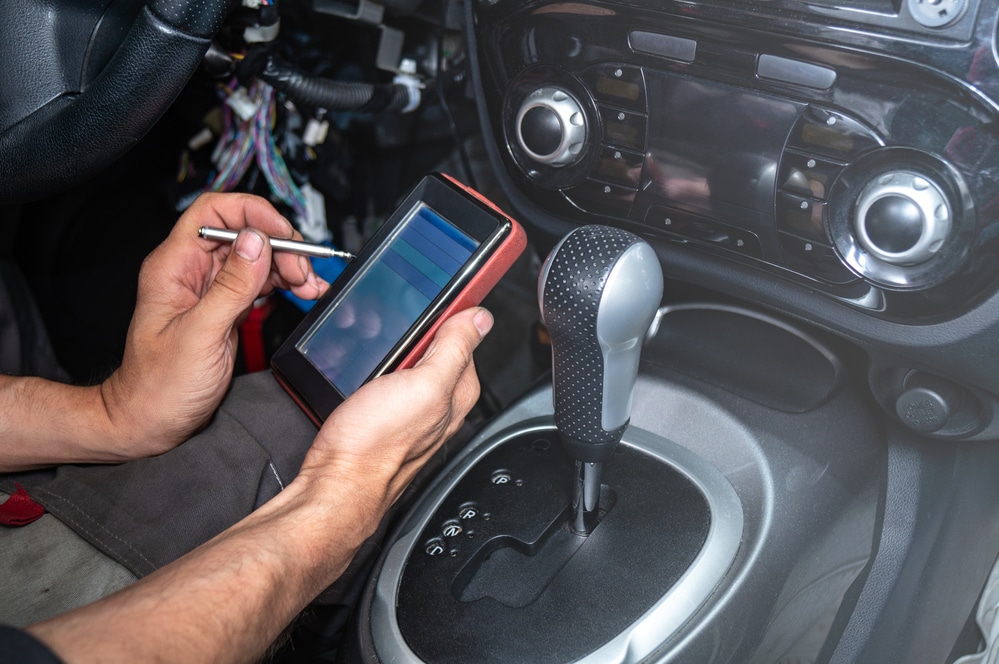 Tool: OBD handheld scanners
Size: slightly larger than a smartphone and controlled via a touch screen.
Users: car enthusiasts and semi-professionals
OBD handheld scanners connect to your car's OBD port through OBD cables and show all the information on its own screen. Thus, they take more space, and might not fully fit inside your glovebox.
Moreover, these devices mainly focus on diagnostics and provide a deep level of detailed information. So, if you are not an expert you might need to research on the side for interpreting the data.
Large diagnostic tool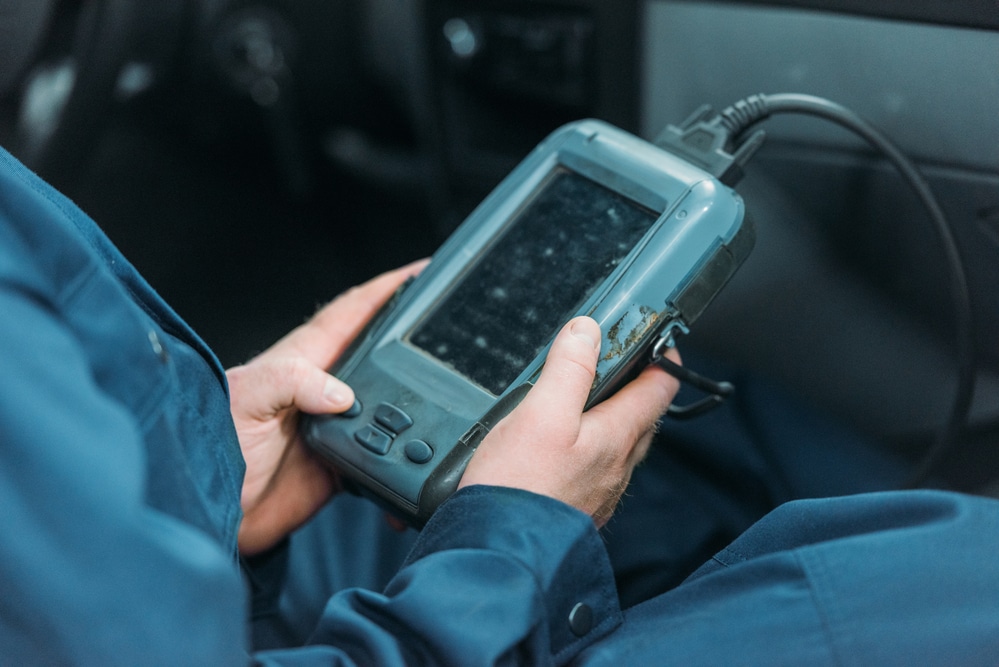 Tool: standalone handheld scanner
Size: approximately the size of a tablet device
Users: professionals
These handheld scanners offer more features than the smaller handheld ones. They can also give a more comprehensive diagnosis and highly detailed data. Additionally, these dedicated scanners have the ability to display more data at a time on their larger screens.
If you are a professional this would be a valuable tool to use for diagnostics. However, if you are not trained in car mechanics you might need to rely on doing your own research for interpreting the data.
Very large and complex equipment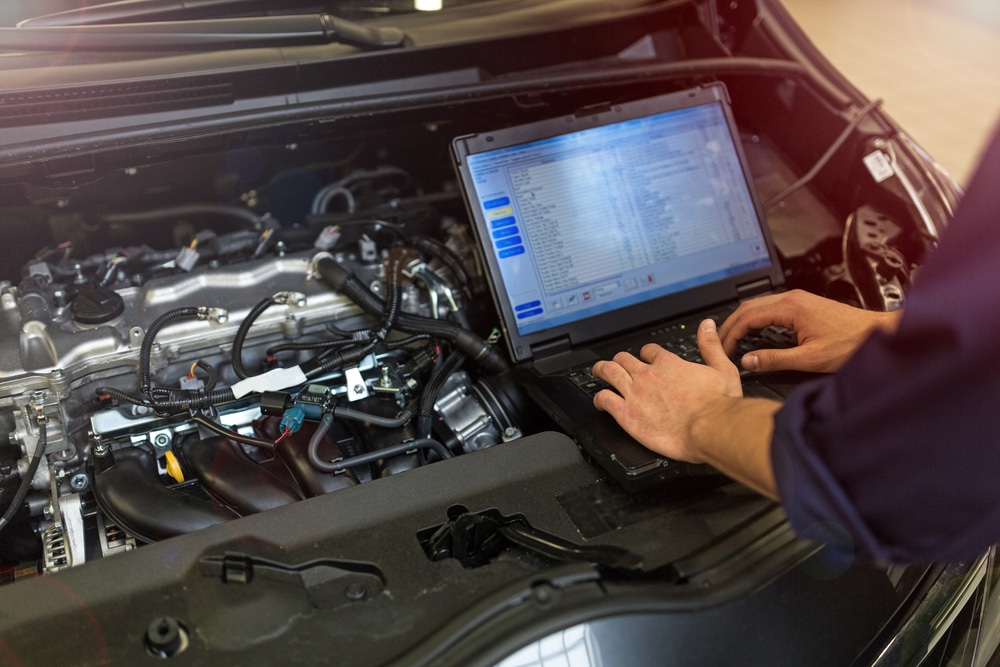 Tool: diagnostics software
Size: large device, the size of a laptop screen, and OBD cables
Users: highly professionals
Using diagnostics software is very popular amongst repair shops since they consist of more complex equipment. You need a computer alongside large OBD cables to get the car's data.
The best diagnostic software is not a cheap tool at all, since they offer extremely advanced diagnostics in comparison to an OBD2 scanner. They can give you dozens of parameters to track on a vehicle and even more advanced features. However, you need to have car knowledge in order to interpret all the code definitions since most of the data you'll get is extremely raw.
Range Of Features
A very important criterion to choose the right car code reader for your car is the general range of functions, which typically varies depending on the price tag. You need to identify which features are particularly important to you, and which ones are optional and can be forgone.
If you require quick diagnoses, for example, ensure that your chosen device can not only read the raw error codes but analyze and present them in a form you can understand. Some devices will only present the raw error codes and you must turn to the Internet for help.
There are major differences in the graphical processing and presentation of the information. Depending on how knowledgeable and experienced you are, you might either prefer a "technical" outlook to the data presentation or wish for it to be presented in a visually appealing and simplistic format that is easy to understand.
The next function does not fall under "reading out" but is something that is present in some devices. It's called coding and it's not as hard as it sounds. Basically, coding allows you to personalize some aspects of your car by adjusting certain parameters.
For example, you could change the flashing pattern of the indicator lamps when you lock or unlock the car, disable the engine's auto start-stop function, select if the horn should beep or be silent and so much more. The exact gamut of coding available will vary from car to car.
Quality of information
Screen quality and size is another important differentiator. The font should be easy to read, and the resolution should be sharp enough. Since it's difficult to check this in advance, you can read online reviews and watch videos about your chosen device on the internet. Touch function is another preference – do you want it, or can you manage without it?
The method of connecting is an important factor that may be decisive. Some people do not mind a cable dangling from the OBD2 port and going to the reader, whilst others will be irked by its presence and may prefer a wireless adapter instead. What's your preference?
Software updates
We often tend to forget the up-to-date nature of such devices. After all, it costs manufacturers to issue software updates for their devices too. Some devices may receive free software updates over their lifespan, others may require you to pay for software updates, and very cheap devices may not receive any software updates at all.
Unless a device is updated, it will not be able to access newer models, and some devices with paid or free updates may stop working after a while if they are not updated to the latest software.
Testing the Top 11 Car Scanners
Price is possibly the most decisive factor. You should know how much you want to spend. Note that more expensive does not always mean better. The best scanner option will be the one that offers a great price to performance ratio.
To make things easier for you, we've put together a list of the best diagnostic devices for you. Our group of car experts and interested hobby-level enthusiasts put 25 devices through a series of tests.
We highlight the advantages and disadvantages of the individual devices and want to show you that they can also be a budget tool.
11th place: Nexpeak NX 501
With its small size and rugged appearance, the Nexpeak NX 501 made it to 11th place on our list of top-dog car code readers. At 2.8 inches, the screen is relatively small, but there are no problems reading the data.
For all those who are looking for a read-only device, the Nexpeak is the ideal choice, as it does not come with additional functions such as coding. This is also reflected in the price since it's a cheaper tool.
Updates are due from time to time and can be upgraded free of charge. The Nexpeak supports all cars with OBD2. However, if you want to do more than just readout, you will need to look at one of the other scan tool devices on our list.
Price: approx. €75
10th place: Launch CRP 429
Those who want a complete system analysis are better off with the Launch CRP 429. It also offers the readout of sub-systems and parameters in real-time.
After analysis, the Launch CRP 429 creates a report and can send it by e-mail too. The design is handy, and the buttons are easy to operate. However, there is a catch with the price, since it offers a basic feature for the price of a high-level tool.
Price: approx. 390 €390
9th place: Autel MD806 Pro
The Autel MD806 Pro is a very successful all-around device. It allows all vehicle types to be read out and includes basic functions such as reading out the fault memory. In contrast to some other devices, manufacturer-specific error codes can also be read and deleted.
The device also gives you the option of making more precise settings such as calibrating the steering angle sensor or displaying live data. Unit tests are also possible. The large range of functions as well as lifelong free updates is also included in the price.
Price: approx. €250
8th place: Launch X431 Pro Mini
We continue with the next Launch scan tool. The term "mini" is a bit deceptive in terms of the range of functions. The device has the standard function set such as reading out the error codes and can also monitor live data. System calibration is also possible and automatic scans can be carried out, which can easily identify possible errors.
The Launch X431 Pro Mini also scores points with its clear color screen. Another positive is the connection to the adapter via Bluetooth or WiFi. However, not all vehicles are supported, and in 80% of cars, this device can access all services with no issues. For a user willing to spend a bit and ensure compatibility with their car, this device is worthy of consideration.
Price: approx. €900
7th place: Lescars Auto Diagnostics
The Lescars is one of those small but fine devices. The relatively compact monitor displays all the important data in great detail and the device generally looks very tidy. This is also compounded by the absence of many buttons.
But this is by no means a point of criticism because Lescars Auto Diagnostics uses only four buttons. Vehicles from Skoda, Audi, and VW are particularly well supported. In addition to reading out error codes, it is also possible to monitor approximately 130 system components. Due to the smaller range of functions, the price is also significantly lower.
Price: approx. €70
6th place: Vident ilink 440
The Vident ilink 440 car code reader is in fifth place. Its compatibility with all vehicle models makes it a real all-rounder. It can easily read and delete error codes.
The engine control light and warning lights for the transmission, airbag, and ABS can also be switched off. Live data can also be read out. The screen is easy to read, but a bit small at 2.8 inches. In terms of price, it's neither the cheapest nor dearest, but you receive free updates for three years.
Price: approx. €150
5th Place: Ancel FX2000
Our next scan tool has a lot to offer and only just missed the podium. As with all other devices, diagnosis using the usual protocols is possible. In addition, the Anel FX2000 can also perform an analysis of the ECU systems, i.e., check SRS, ABS, and transmission. A big plus is the 4-inch color screen.
Live data is displayed on it in appealing graphics, which makes reading out much easier and more exciting. Keys help with good handling. The device offers a total of eight languages. You get lifelong free updates, so there are no more costs after the purchase.
However, the device only works with 12V batteries, which is why it is not higher on our list. On the other hand, the price for the functions offered is very good if you have a 12V battery handy, or plan to acquire one for the device.
Price: approx. €80
4th place: ICarsoft CR Pro
The ICarsoft CR Pro enters the podium for the car code reader. It supports around 40 car brands and the likelihood that yours will also be supported is relatively high. The device is well suited as an all-in-one device for error analysis and troubleshooting. It works via the OBD2 interface and all-important engine data, transmission data, data on the airbag and much more can be readout.
The manufacturer offers free updates. This device also has a clear 4-inch screen and can read out live data. It is also possible to carry out a readiness test with this device. The ICarsoft CR Pro offers a wide range of tests. The price is quite affordable for what is on offer.
Price: approx. €250
3rd place: Launch CRP MOT 2
The Launch CRP MOT 2 was specially developed for the European market and comprises a total of 11 major functions. These are, for example, an oil reset, a reset of the electric parking brake, a reset of the battery management system, or the calibration of the steering angle sensor. All major brands are supported, and the scope of delivery includes numerous connection cables and a Bluetooth adapter.
A highlight is the large 7-inch screen that is similar to a small tablet in size. This is a touchscreen too, and the car scanner can be operated easily. You also have the option of printing out the data. Updates are free for 12 months, after which there are fees to be paid for further updates. In short, this device has a very wide range of functions, which is also reflected in the price.
Price: approx. €890
2nd place: Autel MaxiCheck MX808
The Autel MaxiCheck MX808 won the gold medal. It can carry out a diagnosis for all vehicle manufacturers and it is also possible to display live data. The device is equipped with a quad-core processor, which guarantees fast data processing.
Moreover, the color screen is 7 inches in size and provides a good overview. Coding is also possible. The Autel offers a multitude of great features and conveniences with an appealing user interface. Updates are free for one year. The price of the Autel is relatively high but justified for the functions it offers.
Price: approx. €500
We have given you a detailed overview of the various devices available, as well as our Top 11 list. None of these should serve as a purchase recommendation but be viewed in an informative light.
After extensive testing, the car scanner that took the first place was the Carly OBD2 scanner and app. Let us introduce you to the Carly app, which emerged as the winner.
1st place: Carly OBD2 Scanner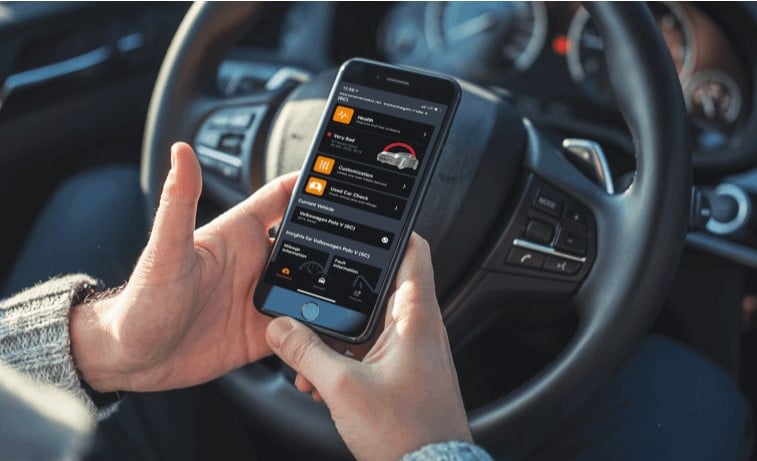 Carly is the clear winner in the car code reader diagnostic app category due to its range of functions for the price. Users of the app confirmed that with Carly, they were saving on average €500 per year in maintenance and costly repairs.
The Carly Universal Adapter is a scan tool for all car brands. Furthermore, The app works with both iPhone & Android devices and all updates are included at no cost.
For all the advanced features that you can access, you will pay much less than you would for a professional tool. With Carly, you can do so much more than basic diagnostics and be able to check engine codes.
For diagnostics, you will also be able to read out and clear manufacturer-level faults. Additionally, the reason why car enthusiasts rate Carly as an excellent tool is due to the coding feature!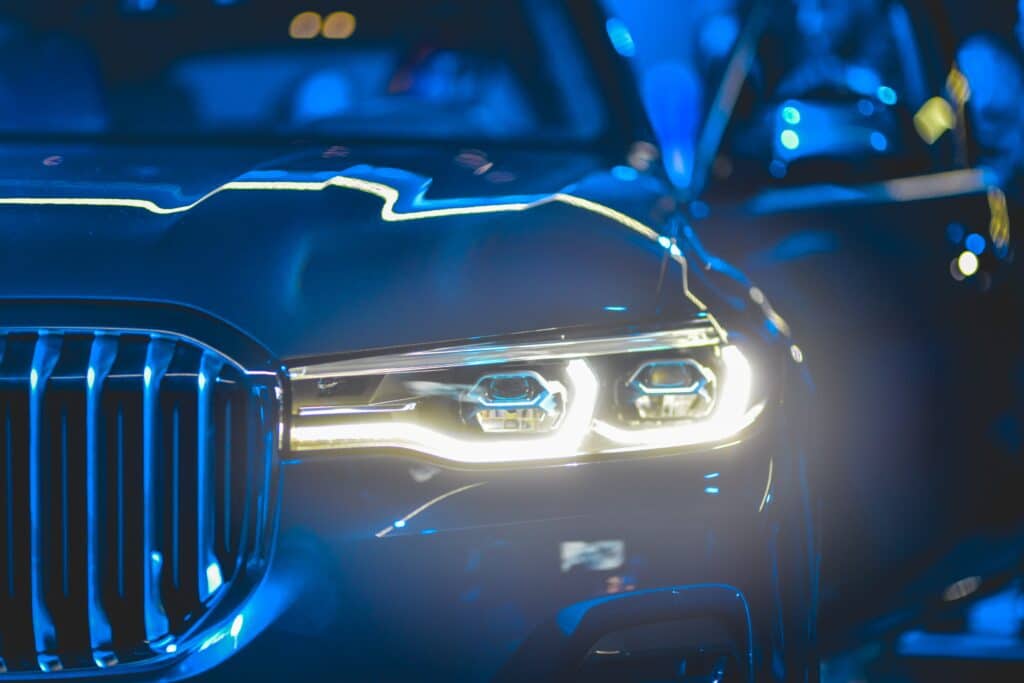 With this feature, you can activate and deactivate default features from your car to make it more unique. For example, you can code your welcome lights, deactivate the start/stop system, and much more. Moreover, other special features that you can access are:
Used car check: detect mileage fraud and stolen cars
DIY maintenance: perform your own basic complete repairs with step by step guides
Live parameters: track real-time data in your car
Digital Garage: all of your car's diagnostic reports
The cost components for Carly are the Carly Universal OBD Scanner which is a one-time purchase of $79.90 and is developed specifically to work with the Carly app. You can use free Carly features with your OBD2 scanner, or access advanced with an app subscription. This can cost between €21­–€80 per year depending on your car brand and how many car brands you'd like to access.