With the right diagnostic device, you can finally get full control of your BMW X1 (F48). Whenever a warning light comes up or the car is not working properly, you can get to the bottom of these problems yourself. All from your home without always having to drive to a workshop each time!
Of course, the question arises: which diagnostic device is the right one for your BMW X1 F48?
There are a few options on the market — from external handheld diagnostic devices to software for a laptop, and diagnostic apps for the smartphone. However, the most convenient option is to use an app and your smartphone.
Below we list the different options and also give you a recommendation as to which option is the best value for your money.
And don't worry! You don't need to be a trained auto mechanic to learn more about the error messages and problems with your BMW X1 F48. We'll also give you background information so you can better understand the process.
The Diagnostic Device Options for BMW X1 F48
Basically, there are three different types of diagnostic tools:
1) External Stand-Alone Diagnostic Tools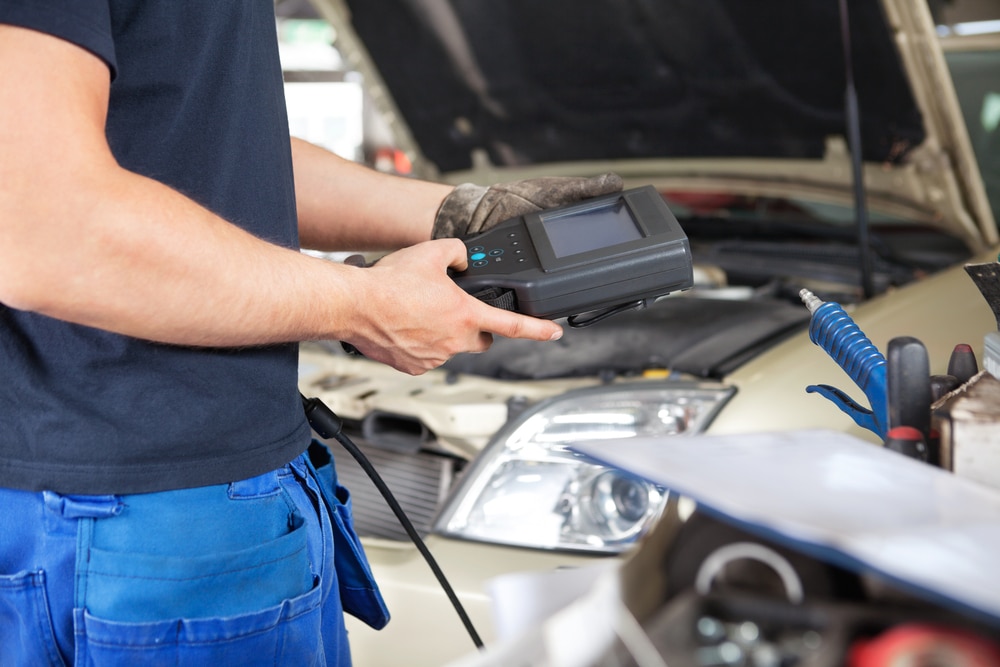 External diagnostic devices and software are really designed exclusively for diagnosing a vehicle. Apps, on the other hand, usually have other functions — and in some cases, the range of functions is really quite large. 
External diagnostic devices for BMW X1 F48 can vary greatly in size and price — from small handheld devices to suitcase-sized professional ones. Accordingly, they range in price from $10 to $5,000. 
They range from simple devices with a small display or handheld devices with a color touchscreen. What they all have in common is that — as the name suggests — they are external stand-alone devices that must always be carried along separately.
2) Software for a Laptop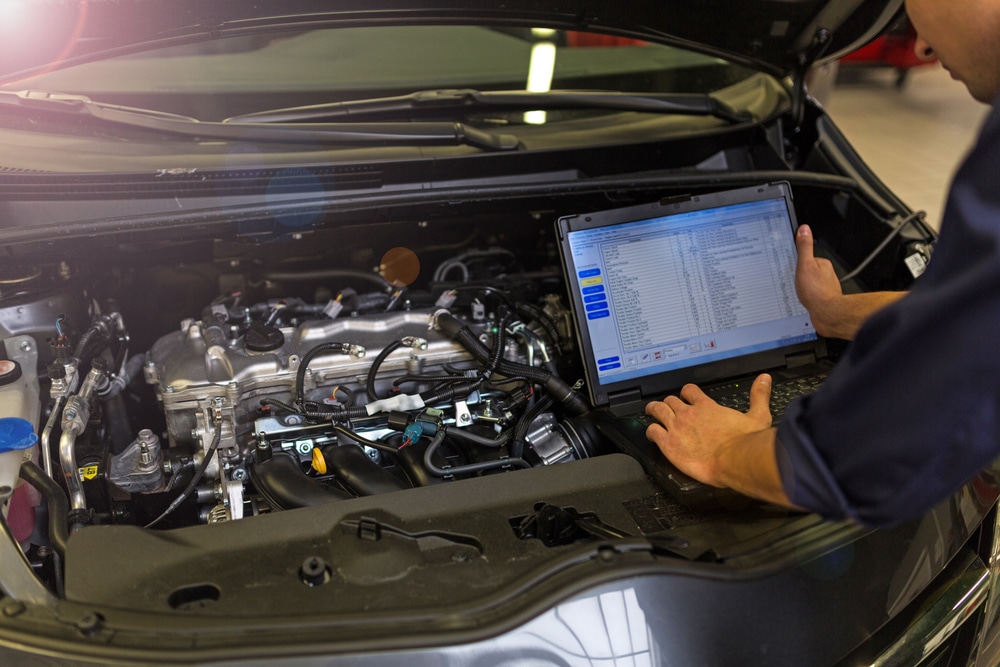 Using diagnostic software is another option for performing vehicle diagnostics. For this purpose, the corresponding software is installed on a laptop, which is then connected to the vehicle.
To connect the laptop to your car, you'll need OBD cables. So, if you want to make a diagnosis you always have to carry the laptop and cables with you.
The particular disadvantage of software, however, lies in the updating process. In order to be always up to date, you always have to purchase software updates, which you have to retrieve manually. This is time-consuming and can also be very expensive in the long run.
3) Apps for Your Smartphone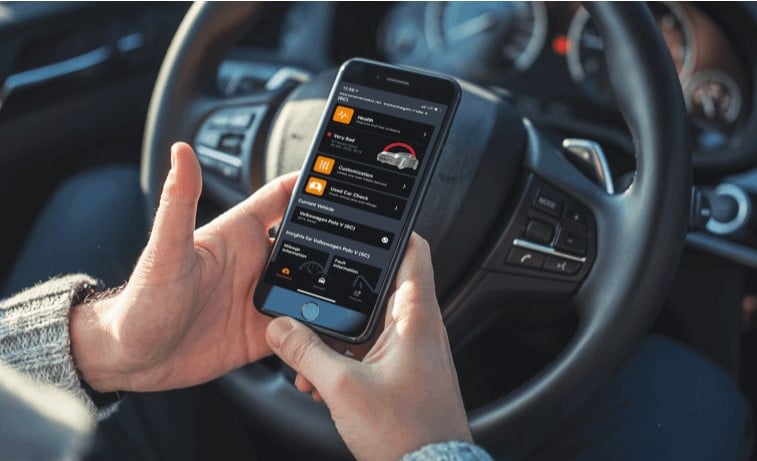 Using diagnostic apps is the future. In most cases, they are cheaper than the aforementioned options. The apps are always with you and they are automatically updated.
To use a diagnostic app all you will need is a pocket-sized OBD2 scanner which you can easily store in your car.
Moreover, diagnostic apps often have a wide range of functions for your vehicle. Another advantage of using a diagnostic app is the fact that they are easy to understand even if you are a beginner. They are quite intuitive and don't require you to read hundreds of pages of a user manual.
In order for you to better understand the whole topic and also be able to make an informed decision about which diagnostic device to use, we'll give you a little basic knowledge below. Don't worry, it won't be too technical.
OBD2 Scanner
To connect the diagnostic device for BMW X1 F48 to the vehicle, you need an OBD2 scanner. This is a type of connector that plugs into the OBD2 socket on the vehicle. 
This socket is located in the footwell of the driver on the left side behind a cover flap in your BMW X1 F48. In the scanner is a small chip that translates the commands of the diagnostic device so that the vehicle understands them and vice versa makes the data of the vehicle readable for the diagnostic device.
In the past, you had to connect the diagnostic device to the scanner by cable. Nowadays, this is done in most cases via BLE (Bluetooth Low Energy) or Wi-Fi. The scanners are equipped accordingly. 
What is OBD2?
OBD means On-Board Diagnostics and is an international standard. OBD was developed in the 1990s initially to monitor exhaust-relevant values of the vehicle. The aim was to ensure that problems associated with deteriorating exhaust gas values were immediately reported to the driver. With OBD, it was possible to control a car's impact on the environment more.
Then in 1996 (USA) and 2001 (EU) the latest OBD standard, OBD2, was installed in all new gas cars. This provided a uniform protocol to communicate with the ECUs in all vehicles, so you did not need a different OBD device for each car brand. And since the OBD2 standard proved to be very reliable, it was increasingly used for other things, such as general vehicle diagnostics and for reading fault codes. 
What are ECUs?
Like all cars today, your BMW X1 F48 is essentially a driveable computer. In a modern vehicle, there are 50 to 100 ECUs installed. Each of these control units is responsible for a specific function or system.
For example, one control unit monitors the automatic climate control system, another the central locking system, and another the lighting system. All control units and also the OBD2 interface are connected to each other via a data highway.
Fixed parameters are stored in the control units within the framework of which the connected systems should operate. If there are deviations, the control unit tries to counteract them and an error code is generated and logged.
In most cases, these are minor problems that can be corrected immediately. Depending on the severity of the error, however, a warning message may be generated to inform the driver of the problem. 
What are Data Trouble Codes (DTC)?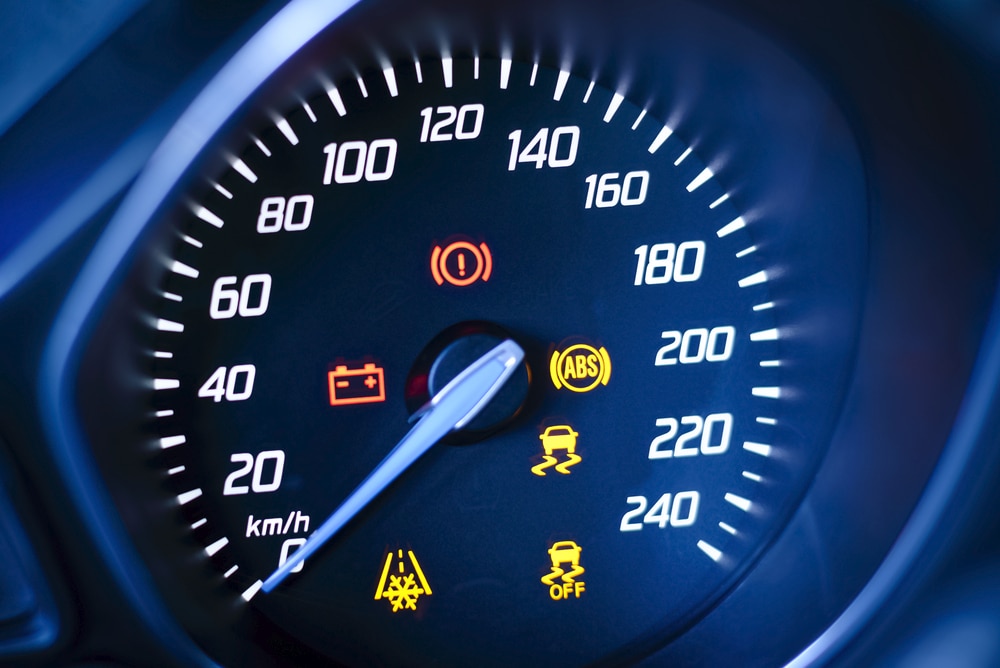 DTC stands for Data Trouble Code. There are two different types of trouble codes, general, internationally standardized ones, and manufacturer-specific trouble codes. Together, there are tens of thousands of error codes. All diagnostic devices can read the general error codes. But only devices that are specially tailored to the manufacturer also know the manufacturer-specific fault codes. So if you want to understand all the codes, you need such a specialized diagnostic tool.
The error codes always have the same structure. They consist of 5 digits. The first digit is one of the letters below and indicates the general area where the error occurred.
B = Body (car body)
C = Chassis
P = Powertrain (drive, engine, and transmission)
U = Network (OBD interface).

The second digit is followed by a "0" for a general standard code or a "1" for a manufacturer-specific code. The third digit describes the error range in more detail and is expressed by the numbers 1 to 8. Here, for example, the "5" stands for speed and idle control. The actual error is defined by the last two digits (00 to 99).
An error code could be e.g. "P0073". Of course, you can't do much with this code alone. A good diagnostic tool will show you the error with an explanation. In our example, it would be: "The input signal of the outside temperature sensor is too high."
To ensure that all error codes are displayed in plain text, you should definitely choose a device that specializes in BMW. Otherwise, you will often be left in the dark.
Which diagnostic device is the best for my BMW X1 F48?
We touched on the different options of diagnostic tools at the beginning. But now let's get down to it, which one is the best?  We think it's the Carly app! Keep reading to find out why.
1st Advantage: Range of Functions
The Carly app has an enormous and impressive range of functions. You can do more than read out error codes and diagnose the vehicle in general. The app also allows you to code your car, retrieve real-time data, do a used car check, open and close the exhaust flap, battery resets, service resets, automatic transmission resets, and many other functions. 
Coding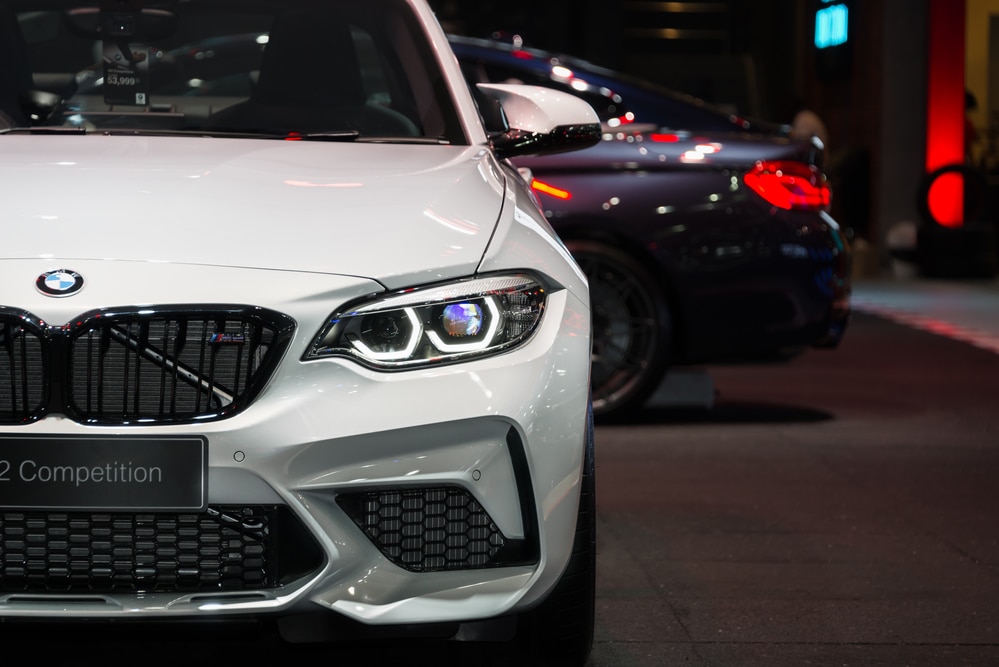 Coding is a great thing to be able to do. It means you can change the setting of a vehicle according to your wishes (within the limits of possibilities).
Some examples of features that you can code on your car are:
The behavior of the transmitter when locking the car
The seat heating
How the brake light should look when braking suddenly
The speed at which the blind-spot function of the exterior mirror should be activated
The possibilities are almost unlimited. There are hundreds of settings to make your car more personal.
Real-time Data
With the Carly app, you can call up important values in the vehicle while driving and observe them live. This is used, for example, to optimize fuel consumption.
Used Car Check
Imagine the following situation: you want to buy a used car and find a really tempting offer online. But you want to make sure that everything is okay with the car and that the mileage is correct (the speedometer of one-third of all used cars sold in Germany has been manipulated).
All you have to do is plug in the Carly scanner, then connect via the app on your phone and select the function "Used car check". The app now checks all of the important control units and looks for deviations. In the end, you will receive a report and can see if the car is in good condition.
Service Reset
You don't always have to drive to a workshop right away. Sometimes you can also perform minor maintenance such as an oil change yourself. But then it's important that you can reset the maintenance interval on the vehicle so that the reminder for the current oil change goes away and is set for the next one. You can easily do this yourself with the Carly app.
Reset Automatic Transmission
If you bought your vehicle used, this function is very helpful. You need to know that an automatic transmission is always learning and adapts to the driver's driving style. You can now reset this memory with the app and start from the beginning. The vehicle now fully adapts to you.
Vehicle Diagnostics
Of course, we don't want to forget about diagnostics. After all, this is what this article is all about. Vehicle diagnostics is particularly clear with the Carly app. Not only are simple error codes displayed, but the app also analyzes the error codes and displays the result in the form of a health status report. This saves you the hassle of wading through potentially hundreds of error messages.
If green is displayed, the systems of the vehicle are perfectly fine. If the state is orange, you should take action and try to find out more about the errors. And, if it's red, you should take action on the fault codes detected.
2nd Advantage: Updates
In contrast to external diagnostic devices and software for the laptop, (good) apps are continuously updated. In the process, minor program errors are weeded out, new functions are installed, and old functions are constantly optimized. This means you are always up to date, so you know the latest error codes and can benefit from product improvements. 
3rd Advantage: Price
Of course, the price is also an important criterion when choosing the right diagnostic tool. Let's compare the prices in a workshop with those of the app. 
Workshop
Normally, you would take your X1 to a workshop for a diagnosis. There are usually two items you'll have to pay for there. First, the actual diagnosis costs between $30 and $100, depending on the workshop. And there are sometimes additional costs for resetting the memory. Since such a diagnosis should be made several times a year, you are quickly looking at $150 to $300 per year.
The second cost is transportation. Somehow you have to leave the workshop after dropping off your car and then make your way back to pick it up again later. So you may also need a rental car on that day. That adds up to quite a bit of money. What's more, there's the hassle of making an appointment. So why not try to avoid spending this time and money?
Carly App & Scanner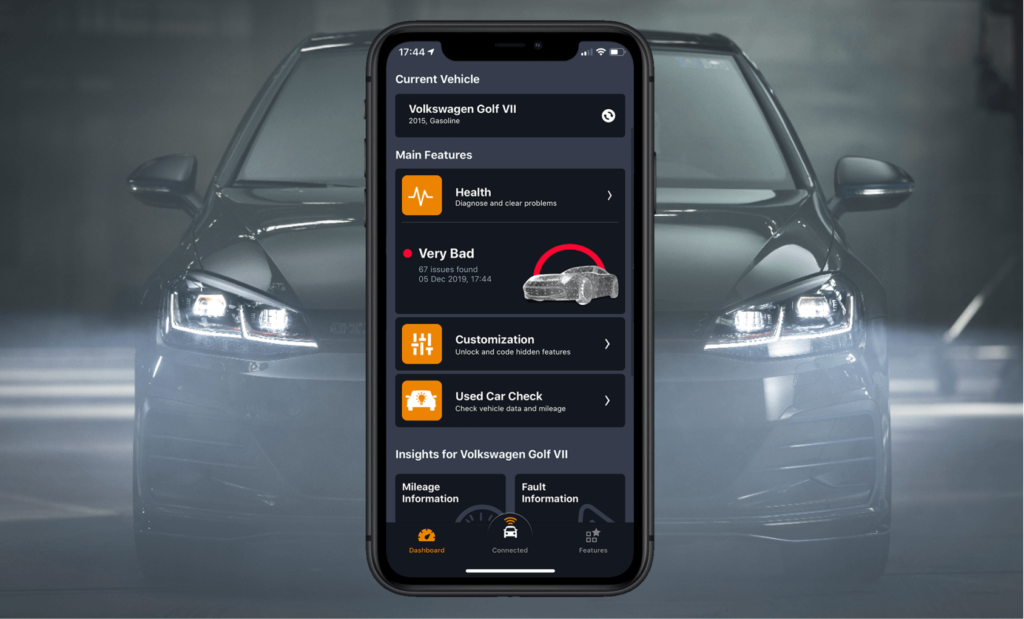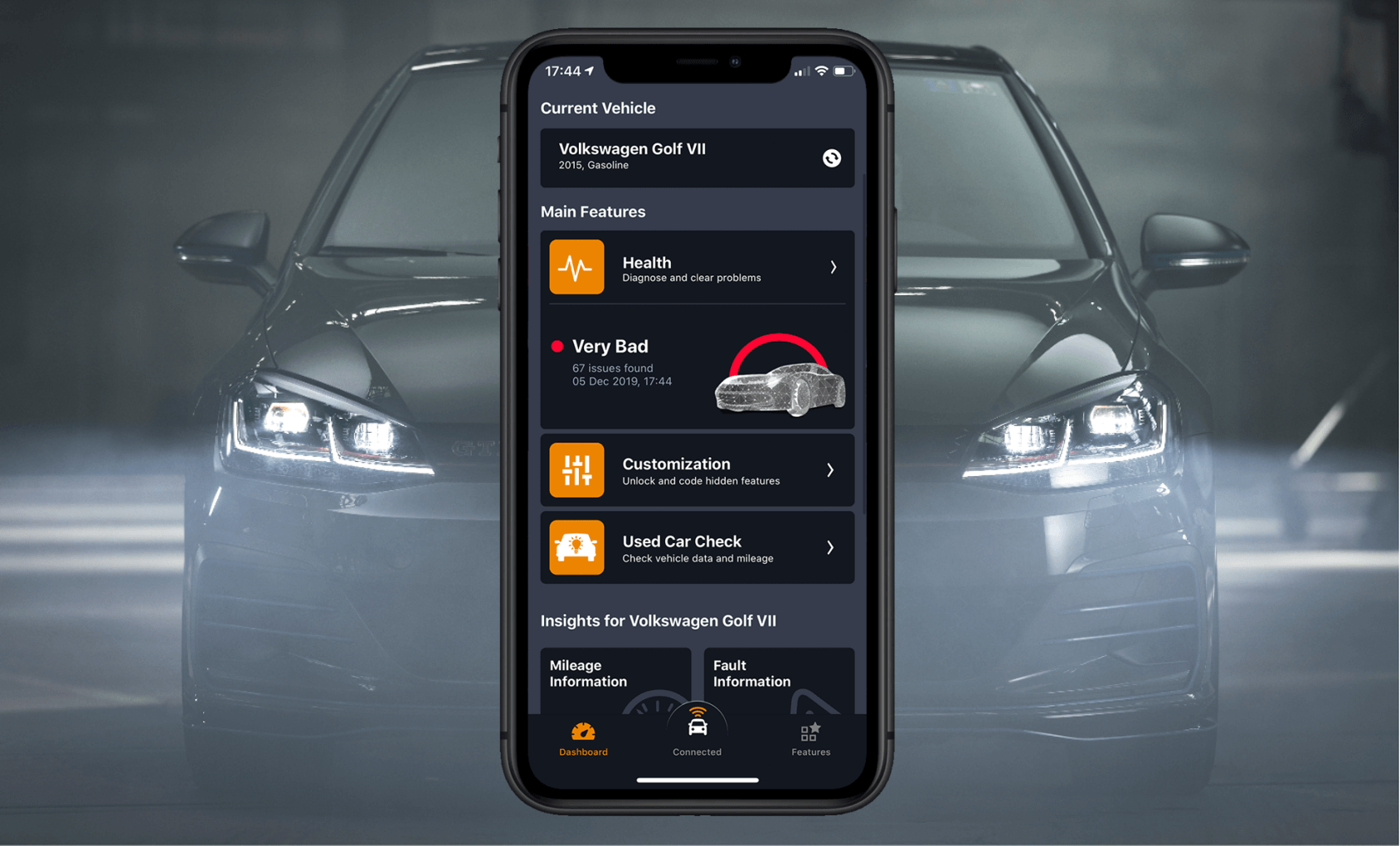 First of all, you need an OBD2 scanner. Carly offers its universal scanner for a one-time fee of $69.90. For this, you get the very best quality and secure communication between the app and the vehicle.
The app itself costs less than $7 per month if you decide to get the license for "all brands" (meaning you can use the advanced features on any car brand they are supported for). And for this price, you will get more than just a diagnostic tool.
For example, workshops cost between $30 and $50 for changing a single setting as part of the coding process. So if you want to have 10 settings changed (and that's really not much), you're looking at $300 to $500.
So not only will coding be much cheaper, but you can end up saving thousands of dollars in repair and maintenance costs by keeping a constant eye on the condition of your car and preventing major, expensive problems.
Important note: not all features are available for all vehicles. However, we have tried to only discuss functions here that are relevant to your X1 F48. Nevertheless, we recommend that you first download the free lite version from the App Store or Google Play and check out what's possible for you. 
Does this mean that my BMW X1 F48 will never have to go to a repair shop again?
Unfortunately, it doesn't. Visits to a workshop cannot be completely avoided. But the visits will certainly be greatly reduced. If you use the Carly app regularly and diagnose the car, you will definitely have to make far fewer repairs. But there can always be major problems where you need to call on the experience of a professional. There can also be very complex faults that are interlocked and can only be detected and fixed by a car mechanic. 
Best diagnostic device for BMW X1 F48
The Carly app is an ingenious piece of technology that allows you to do much more than run diagnostics.
The easily understood "Health Status" gives you a clear picture of how your car is doing. You can save a lot of money by detecting problems before they become serious or by performing simple maintenance tasks in your own garage, such as changing and registering a new battery. You can read out all error codes and reset the error memory to zero to have a better overview of what new errors have occurred.
The coding function allows you to customize your X1 to your liking. There are hundreds of options and settings to explore and try out. The used car check can also save you a lot of hassle and money. Then the real-time data helps to optimize fuel consumption and the many other functions. In the end, you can save all results and values in the Digital Garage — a data cloud from which you can analyze the data or send it by email (e.g. to a workshop).
So what are you waiting for? Keep your X1 in the best possible shape with Carly!