A lot has happened in the world of Audi A4 vehicle diagnostics. With a growing range of diagnostic tools and more vendors flooding into the market, the choice is wide and varied. Each product promises to be a revolution in the market through its unique features and innovations. With so many options, it can quickly become confusing and confusing. But don't worry, we're here to help you find the perfect diagnostic tool for your Audi A4.
So which diagnostic device is the right one for your Audi A4? The answer is simple: The Carly app in conjunction with the corresponding adapter is the ideal solution. Carly is particularly user-friendly and offers a wealth of functions tailored specifically to the needs of Audi owners. The adapter, which is available on the Carly website, costs €59.90. The app itself can be found in the App Store or Play Store and costs between €21 and €80 per year.
We know that every company that makes diagnostic equipment makes claims that their equipment is the best. That's why we'll go one step further in this article and provide you with all the important information you need to make an informed decision yourself. We'll go into detail about how the Carly app works, why it's so valuable specifically for your Audi A4, and the costs involved.
Now enough of the preface, let's dive deeper into the world of diagnostic equipment and its application in the Audi A4. As a bonus, we have an insider tip that can definitely save you money when you use it. Have fun with it!
Technical masterpiece and design evolution: A look back at the Audi A4 B8
The Audi A4 B8 is a major milestone in the history of the Audi A4 series, one of the best-selling models from the renowned German automaker. Produced between 2008 and 2016, the A4 B8 represents the fourth generation of the A4 line and demonstrates the technological advancements and design upgrades Audi has undergone during this period.
The A4 B8 range was launched with a variety of engine options that appealed to both gasoline and diesel drivers. The range extended from the 1.8 TFSI, which delivers 120 hp, to the powerful 3.0 TDI with 245 hp. Particularly noteworthy was the S4 model, which was equipped with a 3.0 TFSI V6 engine and produced an impressive 333 hp.
A key factor that set the A4 B8 apart from its predecessors was the introduction of the modular longitudinal platform (MLB). This innovative platform allowed Audi to mount the engine and transmission longitudinally, resulting in better weight distribution and thus improved handling. The B8 also offered more interior space than its predecessor, particularly in terms of rear legroom.
In terms of technology , the A4 B8 set new standards. It was available with the Audi Drive Select system, which allowed the driver to choose between different driving modes to customize the steering, transmission and suspension. The A4 B8 was also available with the MMI (Multi Media Interface) navigation system, which offered intuitive operation and high connectivity.
The design of the A4 B8 was an evolution of the classic Audi style, with a more accentuated front end and a more dynamic silhouette. The interior was of the usual Audi quality, with high-quality materials and an appealing, functional design.
In summary, the Audi A4 B8 represents a significant step in the evolution of the A4 range. He combined advanced technologies, powerful engines and an appealing design to deliver an impressive overall package that retains its appeal to this day.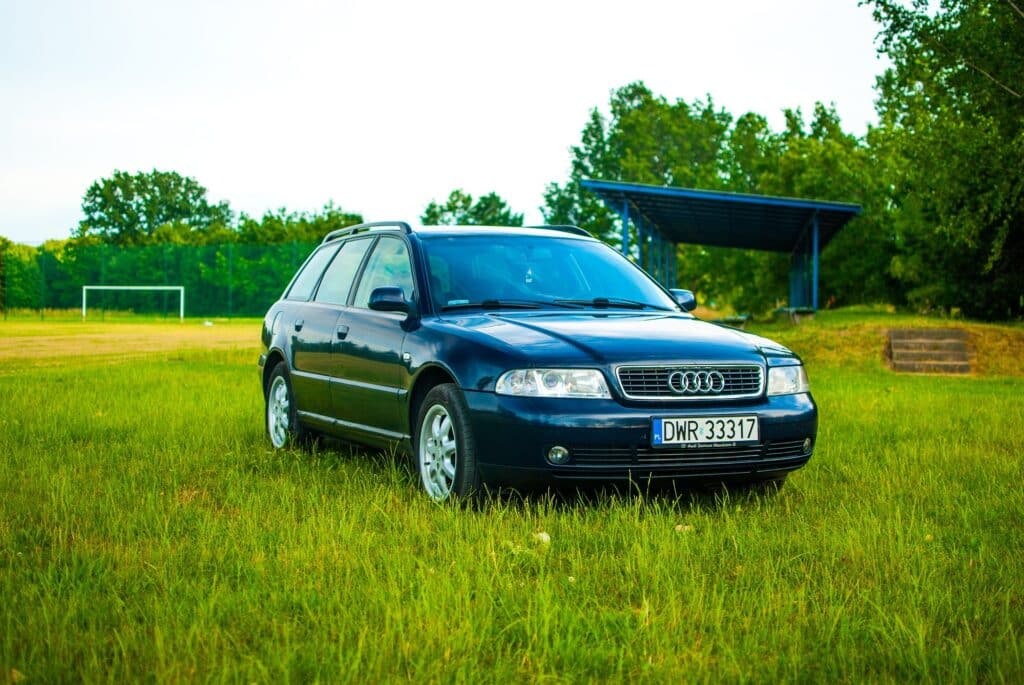 What actually is an Audi A4 vehicle diagnostic tool?
Over the past few decades, vehicle diagnostic tool technology has evolved significantly. But what exactly is it and what is its purpose? Even if you are already an old hand in this field, you should not skip this section, because the following knowledge may contain new information that could be useful to you. Those who have never heard of vehicle diagnostic tools should read the following section carefully to develop a better understanding.
A vehicle diagnostic tool is a device that has the ability to read and analyze the information stored in your car. Most often, below the steering wheel on the driver's side is the so-called OBD port, to which the diagnostic tool is connected. OBD stands for on-board diagnostics, and the most widely used system is OBD-2. Before the introduction of OBD-2, the various car manufacturers each used their own systems, which were grouped together under the name OBDx. Since 2004, however, OBD-2 has been the universally accepted standard, which has greatly boosted the rise of vehicle diagnostic tools. They were originally developed for systems related to exhaust gas control, but soon found application in many other areas of vehicle electronics. This has paved the way for extensive vehicle coding and highlighted the enormous potential of this technology.
With OBD-2 tools you can read the ECUs installed in your vehicle. Especially in higher-priced models, there are often more than 100 different control units, each of which provides a wealth of data. It is critical to monitor and evaluate this data. Vehicle diagnostic tools help to make these data
in a clear and understandable way. Here, the data comes directly from the control units themselves.
However, the main focus when using diagnostic tools is not on the data read out per se, but on the errors they can uncover. The diagnostic tools read out the data from the ECUs and display the errors identified in the process. Each fault is represented as a code, with each code representing a particular fault. Nowadays, you can simply search for the appropriate code on the Internet to determine what the problem is. If you feel well enough informed and believe you are capable of doing so, you can try to fix the problem yourself. However, you should be aware that this involves work, effort and possible risks.
Another option is to take the vehicle to a repair shop. Although this naturally comes at a cost (usually between €50 and €100), workshops have specialized knowledge and specific tools for the particular make of car. For an Audi A4, for example, it would be wise to visit an Audi-specific repair shop, as they have the appropriate tools and the necessary knowledge for your specific Audi A4. If your Audi A4 requires more frequent diagnostics or you want to personalize your vehicle, investing in a diagnostic tool like the Carly OBD scanner could quickly become profitable.
Key distinguishing features of diagnostic equipment for the Audi A4
There is an impressive range of diagnostic devices for your Audi A4 B8 on the market, which differ greatly in their features, functions and price levels. You'll find devices that cost less than €100, while others can run into the thousands. However, even devices in the lower price range often perform their task satisfactorily. To make an effective and economical selection, it's helpful to identify up front what capabilities you expect from a diagnostic device. Although many basic functions are similar across devices, they offer differences in additional features, user experience and vehicle compatibility. Let's take a closer look at these points.
The design of the user interface can significantly influence the use of the diagnostic device. Some devices score with simple operation, others offer a variety of functions and are therefore more complex in design. As a user, it is probably important to you to find a well-structured and easy-to-use user interface. Nevertheless, the manual of the diagnostic device should be read carefully to avoid unintentional damage. An intuitive user interface makes it easy for you to analyze error codes. After you have familiarized yourself with the manual, you can devote yourself to learning the most important functions.
Additional functions can tip the scales when choosing the right diagnostic device. For example, some devices may offer advanced diagnostics, live data transmission, or even programming capabilities. Other devices have the ability to reset maintenance intervals or perform other helpful tasks. Consider what additional features might be beneficial to you and your Audi A4 B8.
Finally, the compatibility of the device with different vehicle models plays a crucial role. There are universal diagnostic devices compatible with a wide range of vehicle brands and specialized devices designed for specific brands. For your Audi A4 B8, a device that is specifically designed for Audi models or at least has a high compatibility with Audi would be ideal.
Selection criteria for a suitable diagnostic device for your Audi A4 B8: What you should consider
The right choice of a diagnostic device for your Audi A4 B8 depends heavily on its compatibility. Even if there is a standardized interface for vehicles, this does not automatically mean that every diagnostic device harmonizes with every car model. It's similar to operating systems like Android and iOS, which each have specific requirements. Therefore, it is essential that the diagnostic device you choose is compatible with your Audi A4 B8.
Another important aspect you should keep in mind is the available language settings of the device. Make sure the device supports a language you speak fluently, whether that's your native language or a second language. Multilingual devices can be handy if you want to lend the diagnostic device to friends or neighbors with different language skills. In most cases, however, a monolingual device is perfectly adequate and probably less expensive.
In addition to compatibility and language options, diagnostic devices also differ in terms of their functions and features, such as the number of ECUs that can be read out. It's not easy to make a blanket recommendation, as the features you need depend heavily on your personal needs. But after reading through this text, you should have a clearer picture of which functions and features are particularly relevant to you and your Audi A4 B8.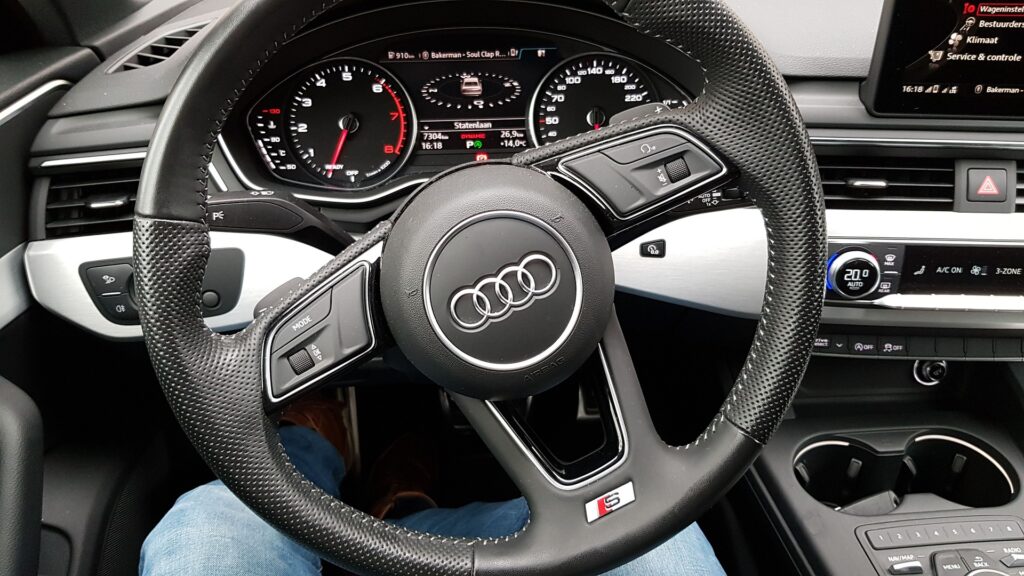 Audi A4 B8 – Weighing up between diagnostic device and software solution
There are basically two different options for diagnosing your Audi A4 B8: You can either use an independent diagnostic device or a software solution on your laptop or smartphone. The respective differences and merits of the two approaches are outlined below.
A standalone OBD-2 diagnostic device is a device designed specifically for this purpose, which is connected by cable to the OBD port of your Audi A4 B8. Such cables can be conveniently purchased online at an affordable price. A potential disadvantage of this option is that the functionality of the diagnostic device may be limited and not receive updates. However, if you find all the functions you need, a diagnostic device is a sensible choice.
The alternative method available is to use diagnostic software on your laptop or smartphone. In this case, your laptop or smartphone is connected directly to the vehicle using an adapter, after which the software is launched. Make sure that the operating system of your laptop is compatible. This option offers the advantage of a larger screen and the ability to research fault codes directly online. The handling of the software is mostly uncomplicated.
Both independent diagnostic devices and diagnostic software can be used for your Audi A4 B8. If you only need a limited range of functions and prefer a separate device, a diagnostic device might be the right option for you. If, on the other hand, you want more flexibility and more extensive control options, the use of diagnostic software on a laptop or smartphone is recommended.
The advantages of diagnostic support for the Audi A4 and the use of Carly OBD scanners
For your Audi A4 B8, specialized diagnostic software can open up a world of new possibilities. By collecting and analyzing information from various control devices, this technology not only allows you to detect and solve potential problems, but can also help deepen your knowledge of how your car works. Understanding basic trouble codes can help minimize potential shop costs and even help save money in the long run.
In this variety of diagnostic tools stands out Carly OBD scanner, which is considered one of the leading models on the market. Connecting this tool to your smartphone is as easy as can be: all you have to do is plug the Carly adapter into the OBD-2 port of your Audi A4 B8, and your smartphone will be automatically paired with the adapter via Bluetooth Low Energy (BLE). The adapter is available from around €59.90 and the Carly app can be downloaded to your smartphone from the App Store or Play Store.
What makes Carly particularly interesting are the additional functions it offers – often even more than many laptop-based solutions. In addition to being able to read fault codes and check the condition of your car, Carly also allows you to make adjustments to your Audi A4 B8. For example, you can permanently disable features like the automatic start-stop system or unlock hidden features that the manufacturer has not activated by default.
In addition, Carly offers a so-called used car check. This function scans all control units and compares the collected data with each other to indicate possible irregularities or manipulations. This is particularly valuable because statistics show that about one-third of used cars in Germany have manipulated mileage readings. With Carly's used car check, you can easily avoid such problems and rest assured that you are driving a reliable and safe vehicle.
And last but not least, Carly allows you to activate "Video While Driving". This function allows you to play videos on your Audi infotainment system while driving – intended only for your passengers, of course, and in compliance with traffic safety. You can find all the options and features of Carly on the official Carly website.
The perfect diagnostic solution for your Audi A4 B8: Why Carly is the best choice.
After a thorough analysis and consideration of all factors, it's pretty obvious which diagnostic device we would recommend for your Audi A4 B8: Carly. If you've been having trouble finding the right diagnostic device for your Audi, you've now reached the end of your search. And if you landed right here, you saved yourself a good chunk of work and time!
Carly is a renowned brand that offers high-quality diagnostic software for a wide range of vehicles, including Audi, of course. In fact, Carly has developed special functions for Audi vehicles, which should be highlighted in this context.
But Carly is not only interesting for Audi owners. If you have multiple vehicles in your fleet, Carly offers a comprehensive solution that is compatible with most car brands available in Germany. We encourage you to visit the official Carly website to learn more about the opportunities with Carly. There you will find a detailed list of all vehicle models supported by Carly.
Chances are, you'll discover a function or feature on the Carly website that you find exciting and want to try. It could be something you've always wanted to do, or something you didn't even know was possible. In any case, we hope you enjoy your journey of discovery.
In relation to your Audi A4 B8, there are a number of advantages to using the Carly OBD scanner:
Diverse compatibility: Carly is compatible not only with the Audi A4 B8, but with a wide range of vehicle models.
Ease of use: The Carly app is intuitive to use and makes vehicle diagnostics a breeze.
Personalize your car: Carly allows you to unlock hidden features and customize your Audi A4 B8 to your liking.
Protection against tachometer manipulation: With Carly's used car check, you can detect possible tampering with the speedometer reading.
Cost savings: By detecting problems at an early stage, you can avoid unnecessary workshop visits and the associated costs.
Extensive range of functions: Carly offers much more than just reading out fault codes, including extensive diagnostic and customization functions.
So with Carly, you have a powerful diagnostic tool at your fingertips that offers your Audi A4 B8 and you many benefits.