If you own a car made in the last couple of decades, you might have heard about car diagnostics but may be wondering where would be the best place to get one for your car. You might have heard or even experienced that the most common avenues for OBD scans can leave you out-of-pocket and by a fairly significant amount. Today, we will show you a few options on how how to secure a free diagnostic for your car.
So, what are the ways in which you can get a free diagnostic for your car? The best practices are to check the terms and conditions of your warranty, lookout for special offers at the manufacturer and third-party workshops, or invest in a third-party OBD2 scanning device such as the Carly Universal OBD Scanner. We will explain each of these in detail in the following sections.
Scanning your car needn't be expensive or even cost any money in the long run. Have a read-through of our favorite ways to do this for free! Firstly, let's have a brief refresher on OBD, the interface and protocol that allows for diagnostic scans to happen quickly, comprehensively, and seamlessly.
What Is OBD?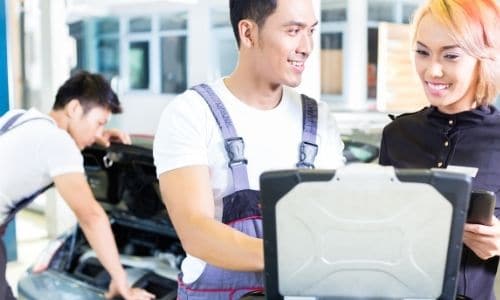 OBD, or On-Board Diagnostics is the interface and protocol by which a car's internal computer systems can be checked and queried for any errors. This standard was born in the Eighties after California enacted strict emissions laws that mandated continuous monitoring. Early OBD systems were rudimentary and customized by manufacturers. That all changed in 1996 when the current OBD2 standard came into force. OBD2 is a universal standard across all manufacturers, with common codes and manufacturer-specific codes allowed. If you own or drive a car that's manufactured after 2001 (gasoline) or 2004 (diesel), it's definitely got OBD2. The OBD2 port is a standard one and can be found inside the cabin near the driving area. Typical places include beneath the steering column, in the footwell, behind a trim piece on the lower dash, or inside the glove box or storage compartments.
Now that we've refreshed our memory on OBD, here are our ways to secure a free diagnostic for your car.
Check your warranty's T&C
This is particularly applicable if you've bought a new or near-new car and it's still under warranty. Some warranty terms may entitle you to a free, or discounted OBD scan at regular intervals, or it may be included free of charge at each service. Of course, this cannot be considered totally free, as you will be spending money on other activities such as replacement of consumables or required running repairs, as well as investing your time into bringing your car into a workshop, as well as the cost of alternative travel arrangements for the day.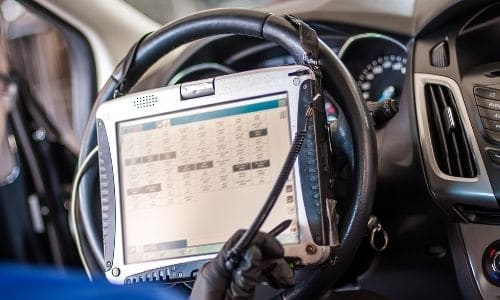 Keep an Eye Out for Special Offers
Some manufacturers, as well as third-party workshops, may run promotions that bundle a diagnostic scan as well. These may be in the form of open days or check-up days at their facility, where they will conduct a complete check-up of your car absolutely free of charge, including a diagnostic scan. Of course, the caveat for this is, that any identified repairs that need immediate attention must be conducted by themselves.
You may also find third-party workshops or detailing centers bundling in a free diagnostic scan with higher-end product and service offerings, such as complete detailing services, cut-and-polish, interior clean-up, or ceramic coating services. If you're planning to have any of these done on your vehicle, the diagnostic scan is, in essence, free of charge to you.
Invest in an OBD Scanner
The thing with the first two free avenues is they may not be present at all times when you desire to perform a diagnostic scan. It's recommended that you perform diagnostic scans on a car with average usage at least once every three months, and if you are a heavy-miler, once every two months or even once per month is recommended, especially if you drive an older car that's racked up a healthy six-figure mileage. Here's our method for securing truly free diagnostic scans. Did you know that there are devices that you can purchase that allow you to conduct a diagnostic scan of your car from the comfort of your home, office, or wherever you may be?
Even better, these devices can fit in your pocket or be permanently plugged into your car's OBD2 socket, and they interface with an app on your mobile phone. Apart from diagnostic scans, these devices can also offer value-added features such as real-time performance monitoring, service monitoring and reminders, and even coding, which allows you to customize certain aspects of your car to your liking. The relatively low cost of these devices, coupled with the recommended frequency of a diagnostic scan, means that you can cover their cost very quickly and will soon be enjoying truly free diagnostic scans!
Welcome to Carly
Our recommendation is Carly, a two-part solution that includes the Carly Universal OBD Scanner, as well as the Carly app, which is available on the relevant app stores for Apple and Android devices. You can also try out the free Carly lite app to get an idea of what features will work on your car before purchasing the full version. An OBD scanner and app from the same manufacturer are your best bet for seamless connectivity as you can be 100% assured that they will work together.
Carly offers a comprehensive suite of diagnostics, as well as coding, and the Carly Used Car Check which is great for verifying the claimed and displayed mileage on a used car. Carly costs under $100. If that sounds high, consider the fact that a typical diagnostic scan at a workshop can easily run you over $35. On that token, you will have recovered your purchase cost after just three scans, and subsequent scans will be free of charge. Couple that with the value-added features of Carly, and you're on to be a winner!