Whether it's because of niggling issues or after an accident, when the costly visit to the car repair shop becomes unavoidable, we often ask ourselves the question: Do I have to go to the repair shop or can I repair my car myself?
In principle, you are allowed to do any repairs on the car yourself. You then bear full responsibility if parts are incorrectly replaced or attached and damage occurs as a result. Space and tools are made available in so-called self-service workshops.
[lwptoc]
We have collected the most important information and recommendations for you on how and where to repair your car yourself and in which cases it is better to let a specialist do it. We also tell you exclusively how your problems with the vehicle can be identified before going to the professionals!
Why We Prefer to Repair Our Car Ourselves
Question one: legally, can I repair my car myself? It is permitted to completely repair your car yourself. From small damage to the paintwork to a complete engine replacement, theoretically, you can do it all yourself.
But why should a layperson get their hands dirty at all? and not simply leave this to competent professionals? The reason for this is usually quite simple: It's cheaper. Who has ever been happy about the horrendous bill after a visit to the workshop, after all — We've all thought can I repair my car myself after a big bill. 
Depending on the repair parts needed, you can save up to half what you would have spent at an auto repair shop. In addition to the costs for expensive spare parts, there is also the labor charge of the mechanic, which is reflected in the final bill. 
Labor costs are naturally eliminated by self-repair. So you can often save yourself a pretty penny by repairing the car yourself instead of taking it to the garage.
That's why do-it-yourself is becoming more and more popular in the automotive industry. Especially when old cars are easier to tinker with than newer models, whose technical equipment is often a lot more complicated.
Repairing the Car Myself After an Accident — Am I Allowed to do that?
Here, too, the answer is: yes, it is permissible to repair the vehicle yourself after a car accident.
If the car is damaged in an accident through no fault of your own, the opposing party's liability insurance will pay the cost of the repair. The vehicle can then be taken to the workshop for repairs. You can choose your own workshop or have a transfer fee paid out without having the car repaired.
The transfer fee is usually lower than the amount that the insurance company charges for the repair since there are no-cost items such as sales tax that would be incurred with manual work.
Factors such as the age and condition of the car before the accident and the amount of the repair costs may explain why it is still better in some cases to get out with a transfer be dependent. This varies from case to case and should, if necessary, require legal protection to be clarified.
If you decide to pay out the damage, you can still repair the car yourself, provided the accident damage is not too extensive and you can repair it yourself.
Is it Really That Easy to Disassemble and Reassemble a Vehicle?
There are now detailed instructions online, as well as hundreds of books and guides on the subject of do-it-yourself in the automotive industry.
One should nonetheless approach the matter with respect and do not overestimate yourself. Because incorrectly installed parts can lead to further damage, which then has to be repaired by a specialist and eats a huge hole in your wallet.
Experts, therefore, recommend that you hire a professional for technically sophisticated repair work or safety-related areas that need attention. These are, for example, brakes, steering, engine, exhaust, and transmission. In general, if you are doing this for the first time or if you are unsure, it is better to consult a specialist before concluding can I repair my car myself?
Easier to handle paint and rust work, wiper blades, replacing batteries and bulbs, or changing tires. Lights, cooling systems, and oil filters, for example, need to be serviced or replaced frequently. This can be easily managed with precise instructions and a little manual skill.
Regardless of the level of difficulty of the repair, as a hobby mechanic, you are fully responsible for the result of the repair. If an accident occurs due to incorrectly installed spare parts, the insurance company will opt out in most cases and you will be left with the damage. Exceptions only apply if the spare part itself has defects during installation.
Where Can I Repair my Car Myself?
For hobbyists asking where can I repair my car myself, self-repair is just a nice hobby, in addition to the cost advantage. In this way, you can not only create a deeper bond with the rust bucket (if this is somehow desired), but you can also exchange ideas with other hobbyists.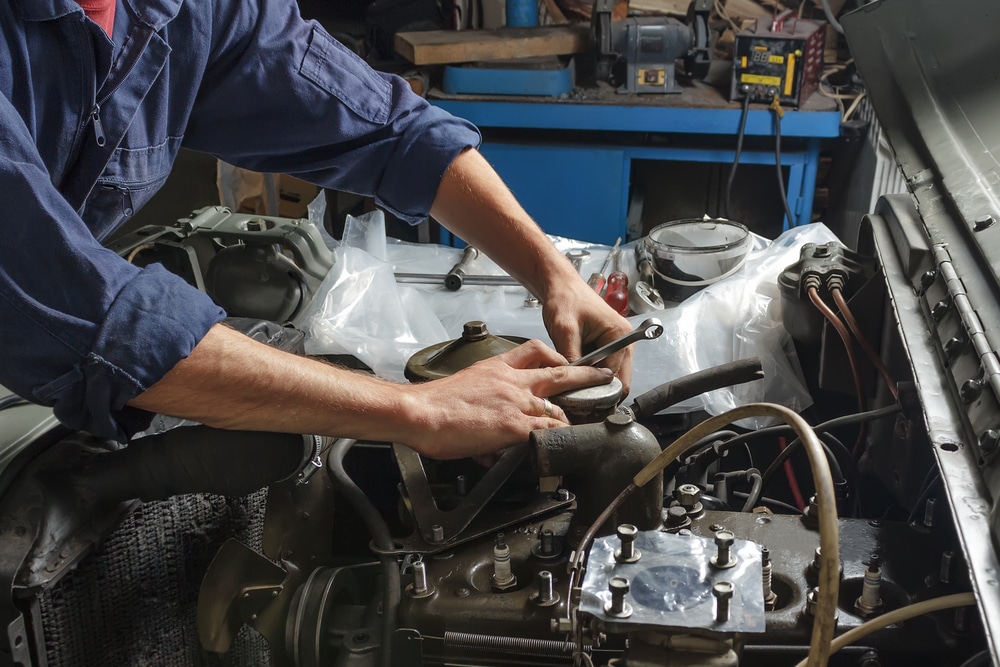 Because if you don't have enough space at home or the right tools, self-service workshops offer a place where you can tinker around and meet other hobbyists.
You can find self-service workshops nearby by doing a quick search on the internet. These charges are either a fixed price or per hour. The prices between the different providers start from about €10 upwards. Some workshops charge an additional fee for the use of tools, with others this is already included in the price.
You can choose between countless workshops where you can repair the car yourself because there are plenty of them. These usually differ in size, equipment, and the specialist staff on hand. Depending on your needs, you should consider a few things when choosing a workshop.
Can I Repair My Car Myself? Tips to Find the Right Self-Service Workshop:
Availability of Spare Parts

: Not all workshops offer the spare parts that you need for your car. If in doubt, ask

in advance by telephone whether the parts are available

. Price comparison with other providers is also worthwhile here.

Hot tip

for car spare parts: the car recycler (junkyard).

Choose less frequented days

: naturally,

Friday afternoons and weekends

, when work is over, are the busiest in the

workshops

. The number of spaces is limited, especially in smaller do-it-yourself facilities.

So reserve as soon as possible

and preferably on working days.

Special devices:

For example, if you want to give the car a new color, the self-service workshop should have a painting room. It is best to clarify this in advance.

Advice from qualified staff:

Most self-service workshops provide

professionals with advice,

who take a look at the repair or give instructions and tips. Usually, they will advise but

will not lend a hand

, as otherwise

liability will be transferred to the operator of the workshop

. Use this consulting service to ease your repair job!

Condition of equipment and tools:

On-site you should get an idea of the cleanliness, safety, and order of the workshop. Are spare parts and tools faultless? Are there dangerous objects lying around on the floor? Is safe handling of the lifting platform explained? With these questions, you can get a picture of the make

quality of the facility and answer can I repair my car myself?
If you feel the manual skills are best developed in your own four walls, you can of course mess around at your own home without any problems. For this, you need good and reliable tools. This can hurt the account balance in the long run. Especially, special tools required for certain repairs are sometimes quite expensive.
You can also team up with other car hobbyists and share the acquisition costs. It's not only more fun with two people, but some repair work can also be carried out more quickly and accurately with a supporting hand.
Recognize Defects in the Vehicle Like a Pro
As a layman asking can I repair my car myself, how do you know when it is necessary to look under the bonnet?
Our companion on four wheels gives us Warning signs as soon as something is wrong with the brakes or the alternator if the tires could do with a bit of air again or the oil needs to be changed.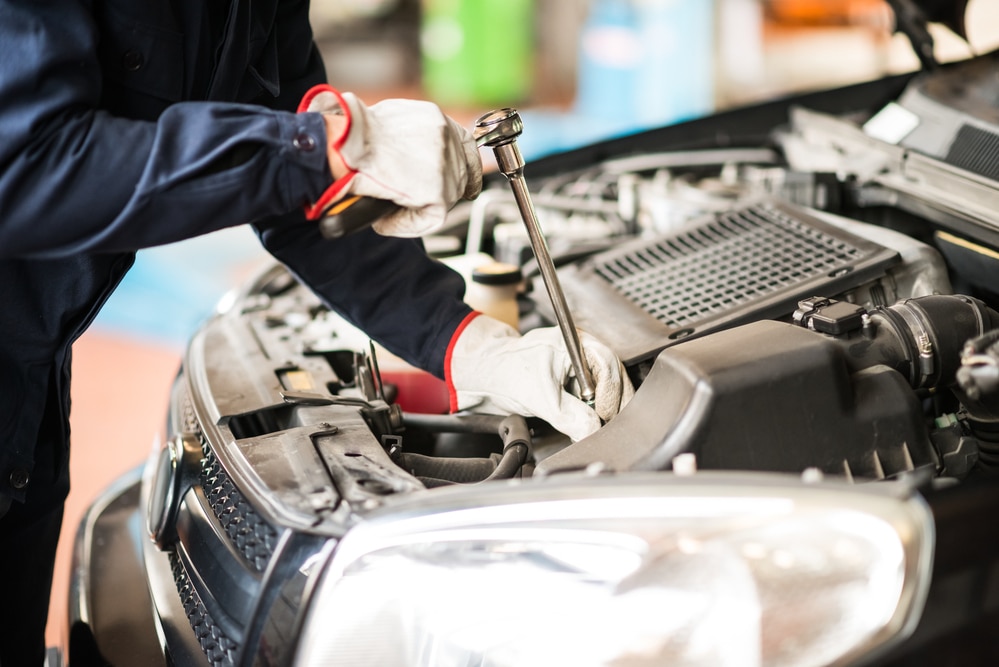 Some warnings are easier to understand than others because they are more common or easier to derive. But what about the symbols that – at best – just light up all the time and look at us like hieroglyphs? Being able to identify defects in your vehicle and understand error codes like a pro is what Carly has brought to market with a unique product.
Get Started With the Carly App and Save Money!
The Carly Scanner and Carly app can be used to decode up to 80 complex control units in a vehicle. Carly reads this data, evaluates it, and forwards it to the car owner in an understandable way. In this way, you can find out, for example, if there are defects in the engine, transmission, ABS, or airbag system without having to look it up at a workshop.
Not only can Carly detect existing defects, the highly developed technology also has a diagnostic function that warns you of potential problems. For example, an undetected engine failure could cost you up to a few thousand euros, so the Carly app helps you to save costs before they arise and protects your wallet.
All you need is the Carly Scanner and the free Carly app on your smartphone. Depending on your car model, you can immediately have the countless functions of Carly at your disposal for unbelievably low acquisition costs.
Further information on the individual functions available and the supported vehicle brand can be found here.