There are many consumer-grade devices at varying price points that enable vehicle owners and drivers to read out data from their modern vehicles, including fault diagnosis, and customization of vehicle aspects. In this comparison, we will take Carly and OBD Facile to determine their strengths, weaknesses, and which one is right for you.
Which one is right for you? Should you choose Carly or OBD Facile? It all depends on your requirement. Do you want a wireless or wired connection? Will you use a smartphone or laptop to communicate with your car? What kind of features are you looking for? We will provide answers to all these questions in the following sections. Let's start by refreshing our memories on OBD2 and what can be done with it.
What Is OBD2 And How To Read It?
The OBD2 standard debuted in 1996, and unified vehicle readout and diagnosis by using a common port, and standards, as well as manufacturer-specific protocols for independent customization by manufacturers. The OBD2 port is located within the cabin of the vehicle, typically beneath the steering column, underneath the dashboard, inside the glovebox, or behind a trim panel. A wired or wireless OBD2 adaptor is required to access the vehicle's OBD2 interface. This may connect to a dedicated handheld device, a desktop or notebook computer, or in the case of most popular consumer-grade devices, a mobile app installed on a smartphone.
What Can You Do With OBD2?
Once a connection between the vehicle and reading device has been established, you can perform a myriad of tasks, depending on what is supported by the vehicle, as well as your choice of device. The most common tasks include:
Accessing the most common and critical vehicle systems such as emissions control, engine control, transmission control, and ABS brake systems.
Reading out fault codes from the vehicle's error memory.
Clearing out fault codes from the vehicle's error memory once the fault has been rectified.
Resetting service and maintenance minders.
Viewing basic information about the vehicle and its connected systems.
This is just a basic set of capabilities, and many consumer-grade devices often offer a varying degree of advanced functions in addition to this. Advanced functions may include:
Accessing more vehicle systems such as climate control, infotainment and active safety.
Customizing various aspects and vehicle attributes to the user's preference, commonly known as coding.
Monitoring real-time performance and data parameters.
Carrying out performance tests, such as zero to sixty acceleration time, braking time, and more.
Checking for vehicle mileage tampering.
Saving and retrieving backups of settings.
What Is Carly?
Carly is a German-built all-in-one consumer grade solution that includes a hardware and software element. The hardware element is the Carly Universal OBD Scanner, a compact device that directly plugs into your vehicle's OBD2 port and communicates via Bluetooth Low Energy to your smartphone. You must install the Carly app on your smartphone, and it can be downloaded from the Google Play Store or Apple App Store. There's also the free Carly lite app which you can use to check out what Carly offers before purchasing the full app.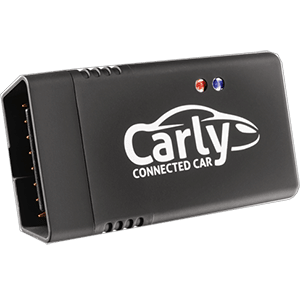 Carly costs €64.80 for the basic version, and €103.90 for the premium version, which is discounted from the typical price of €119.99. Carly's feature set includes:
Full diagnostic scanning of all accessible control units in your vehicle via OBD2, depending on vehicle make and model and presenting of all errors recorded in fault memory.
Clearing of fault memory once faults have been rectified.
Easy to use interface with "traffic light system", where serious errors are marked in red, moderate errors in amber, and those that can be disregarded in green.
Carly Smart Mechanic, which offers repair and maintenance tips that are community-sourced via an expert database of repair guidelines.
Carly Live Data which offers real-time monitoring of data parameters as you drive along.
Carly Maintenance, which is your maintenance minder that helps you remember when to service your car, helps you do it yourself, and facilitates resetting your vehicle's in-built service reminder counter once done.
Carly Coding, which enables you to customize certain aspects of your vehicle, such as deactivating auto start-stop, light behavior, and more.
The Carly Used Car Check, which performs a comprehensive diagnostic scan across multiple control units to detect mileage tampering in a used car that you are interested in purchasing.
What Is OBD Facile?
OBD Facile is a French-built all-in-one consumer grade solution. Like Carly, you get a hardware and software component, however OBD Facile's hardware component, called the klavkarr comes in four packages, and offers a microUSB port for connecting to a laptop or desktop computer, as well as mobile app communication via Bluetooth. You also receive software for Windows or MacOS, as well as the Basic or Plus Android or Apple iOS versions of the mobile app depending on which package you purchase.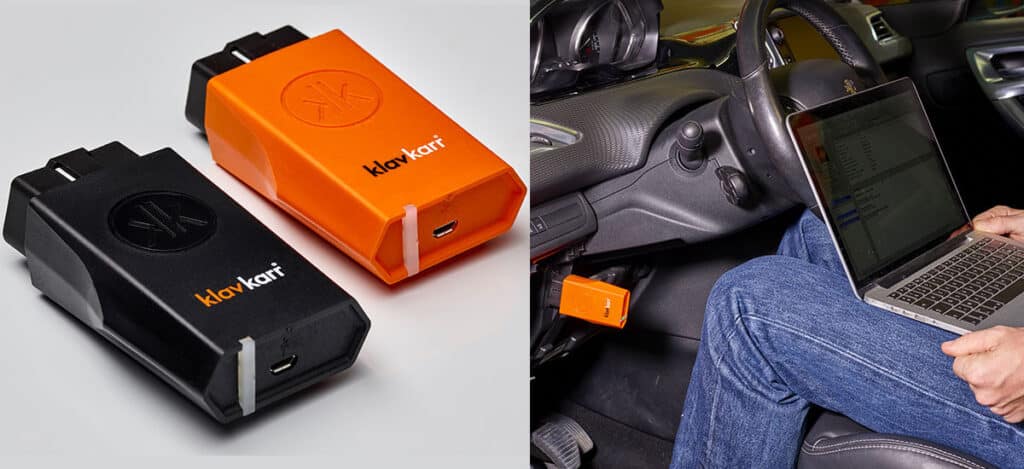 OBD Facile costs between €79 and €129 depending on package, and includes the following features.
Full diagnostic scanning of all accessible control units, depending on vehicle make and model, and presenting of all detected errors.
Clearing of fault memory once faults have been rectified.
Switching off MIL light.
Real time monitoring of data parameters.
Reading of 6 curves (Plus version only).
Saving of history and report printing (Plus version only).
Which One Is Right For You?
In terms of price, Carly and OBD Facile are more or less on parity. Prices may vary depending on special offers, or solution selected, so choosing purely on price is not prudent.
In terms of connectivity, while both offer smartphone connectivity, and support Apple as well as Android devices, OBD Facile edges out Carly as it offers connectivity to a laptop computer via microUSB as well. This can be useful for lengthy diagnostic sessions, particularly when performing tuning, as the larger screen of a laptop can display much more data at a time than a smartphone.
However, in terms of features, Carly edges out OBD Facile as it offers so much more, including repair assistance, coding, Carly Used Car Check to detect mileage tampering, and a user interface that's more friendly, if simplistic.
The choice is yours, really. Carly and OBD Facile have their pros and cons which we've presented here, and we hope this article has been helpful in making your choice.