The automobile is still the most popular mode of transport worldwide, cherished and cared for by doting owners and drivers. So it's natural that many people want to have an additional technical understanding of its workings. Luckily, users are now able to use electronic devices to check and understand minor errors from their own garages! How does this work? Well, there are numerous diagnostic devices catering to this purpose, with a diverse array of functions, and at varying price points.
So, which is the best diagnostic tool? We have selected two options – Carly and Torque Pro. Let's take a look at both What can they do? What are the disadvantages and advantages of each? We present it all, in one article.Which one has the edge — Torque Pro vs Carly? Both diagnostic devices offer a wide range of functions and additional useful background information, such as live information on fuel consumption, speed, or outside temperature. However, there are pros and cons which will be assessed accordingly We will also provide a complete function list of Torque Pro vs Carly, enabling you to choose the right diagnostic device that best fits your need. Enjoy, and happy reading!
GAIN MORE CONTROL OF YOUR CAR WITH THE CARLY FEATURES
Check the exact pricing of Carly for your car brand!
---
Fast International Shipping with DHL
14 days adaptor return policy
Excellent customer support
Lifetime warranty in the hardware
Torque Pro
Torque Pro is a diagnostic app developed for Android smartphones and tablets that, in partnership with a separately purchased OBD2 adapter, enables errors to be read from the vehicle's control unit via a Bluetooth link to the smart device. The error diagnosis and the reading out of the error memory work in the same way as when using diagnostic software with a laptop or with an external diagnostic device.
The manufacturers of Torque offer a Lite and Pro version. The Lite version is free of charge and offers basic functionality, aimed at testing and understanding a diagnostic device for first-time users. However, there are restrictions — for example, this version cannot function properly on some Nissan, Subaru, or Chrysler models.
Moving up to the paid Pro version, the cost is €5. The Pro version supports the most popular car brands such as Jaguar, Seat Ford, Opel, BMW, Volkswagen, Mercedes-Benz, and more. The app can be installed from the Google Play Store on a smart device. Following this, you connect the OBD2 adapter to the device via Bluetooth, ensuring that you have plugged it into the 16-pin OBD2 diagnostic socket. Typically, this will be located on the driver's side of the vehicle, beneath the dashboard. A quick internet search can help first-timers with locating this. The OBD2 adapter must be purchased separately and is not offered by Torque Pro.
After establishing a successful connection, you must feed the Torque Pro app with important vehicle data before you can proceed with diagnosis. Once this has been done, you can use the app. German users will be disappointed that most of the technical terms are displayed in English. The selection of the live data is available in German, but unfortunately, the app doesn't have the best translation.
In the main menu, you can adjust basic settings for the app, for example, the display layout, content to be displayed, etc. The app provides you with a wealth of live information. These include:
Outside temperature
Oil temperature
The vehicle position/vehicle inclination on the road
Vehicle speed
Fuel consumption
Engine speed (RPM)
These are displayed on the dashboard, the heart of the app, inportant when considering Torque Pro vs Carly. For some data, Torque Pro uses either the GPS signal or the entered vehicle data. Some information, such as the oxygen sensor voltage or the throttle valve setting, depends on the vehicle type and is not always available if the vehicle's control unit cannot provide such. Unfortunately, the real-time display of the current driving data is very small, so that reading while driving should only be done by the passenger in the interests of road safety.
These are displayed on the dashboard, the heart of the app, inportant when considering Torque Pro vs Carly. For some data, Torque Pro uses either the GPS signal or the entered vehicle data. Some information, such as the oxygen sensor voltage or the throttle valve setting, depends on the vehicle type and is not always available if the vehicle's control unit cannot provide such data. Unfortunately, the real-time display of the current driving data is very small, so that reading while driving should only be done by the passenger in the interests of road safety.
Another interesting function of the Torque Pro diagnostic device is reading out and deleting certain error codes. The meaning of the codes issued is explained in note form in the app. Here too, the operating language is English. In addition to displaying the error codes, you can also delete them (clearing the error code). Coding of the control unit is not possible. You can send the specified errors by email and/or output them as a CSV file. The codes can be analyzed in more detail on the manufacturer's website.
In summary, Torque Pro is an inexpensive option for reading out error codes, diagnosing issues, and obtaining real-time data during a drive. If you wish to obtain a general overview of possible error messages on your dashboard for future reference and rectification, Torque Pro is a solid choice.
Here are the advantages and disadvantages in bite-sized form.
Advantages of the Torque Pro app
In comparison to an external diagnostic device, it is wallet-friendly and you can use your Android phone or tablet to read data.
Numerous live parameters are available (torque, speed, fuel consumption).
Compatible with a wide array of OBD2 adapters.
The app shows error codes that can also be deleted.
The manufacturer's website is available for more detailed error analysis.
Disadvantages of the Torque Pro app
Most of the technical terms are in English. Data displays are often in German, but these are not implemented consistently.
There is no version for Apple iOS devices at the time of writing.
The real-time display is very small, so that reading while driving should only be done by a passenger in order to avoid accidents.
Not all live data is equally available for all vehicle models.
Coding is not possible.
Various tests showed that not all errors were recognized and readout.
The Torque Pro diagnostic device essentially only records engine data.
Carly: Car Diagnostics and Coding
When it comes to Torque Pro vs Carly, they're both good fault diagnosis apps. Carly is available for Android as well as iOS devices, and compatible with almost all car brands with models from 2001 (gas) or 2004 (diesel) such as BMW, Audi, Seat, Skoda, VW, and many more.
[irp]
As with Torque Pro, there is a free Carly app, and the full-feature Carly app.
The free Carly app is limited to certain features. With it, you can only read OBD errors, view live data, or run emissions tests. With the free Carly app, you can also find out whether Carly is compatible with your car before purchasing the full version. The full version of Carly offers a wide range of functions and is purchased as an annual subscription. The subscription is automatically extended by one year if you do not cancel within 24 hours prior to the end of the subscription.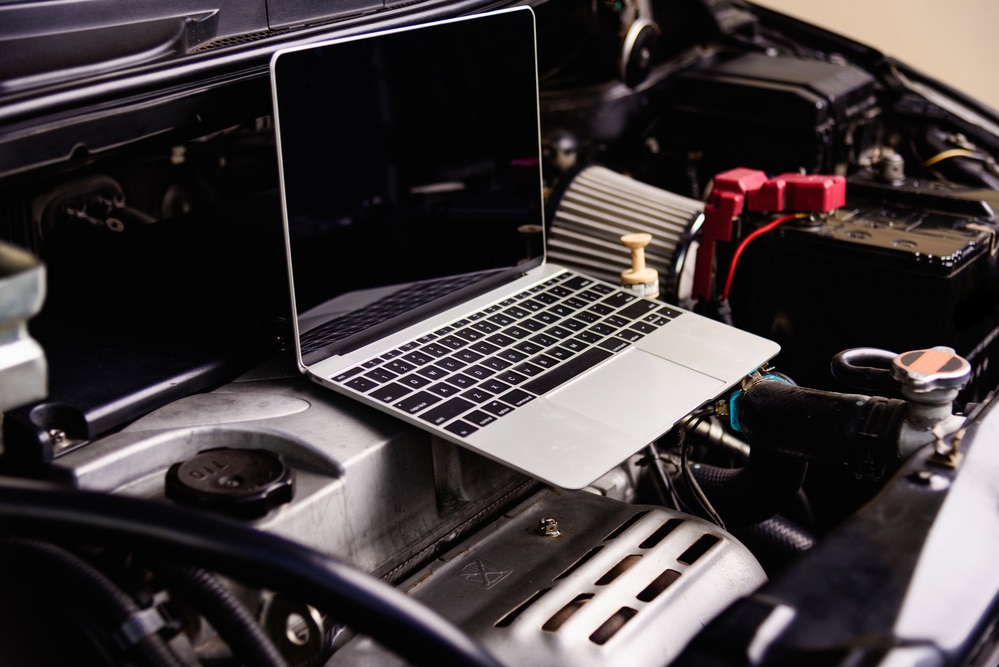 As with Torque Pro, you need an OBD2 adapter to use it. However, the Carly app is only compatible with the Carly Universal OBD Scanner, in order to guarantee communication between the smart device and the car. The benefits of the Carly Universal OBD Scanner includes:
A lifetime guarantee
Premium customer support
Bluetooh connection
Compatible with iOS and Android
Works with over 80 car brands
After installing the software on your smart device of choice (mobile phone or tablet), the mobile phone automatically connects to the adapter plugged into the OBD2 socket. Bluetooth has to be activated on the smart device for this to occur. The Carly diagnosis app and the Carly Universal OBD Scanner are automatically paired due to the magic of BLE (Bluetooth Low Energy).
Upon opening the Carly app for the first time, you must enter your vehicle information (make, model, fuel, year of construction). Various diagnostic functions are then available for selection or you can display a range of live parameters. Carly is easy to use. You can begin error diagnosis via the start screen (Health), engage in coding (Customization, check a used car (Used Car Checkr) or read live parameters (Live Data).
Any error codes found can not only be evaluated in the app, but also deleted. In addition, Carly states whether the car can still be moved and driven with the error or whether it needs to be taken to a workshop. All error data are saved in an error history which allows historical tracing and analysis to be carried out by the user.
A particularly important function in the debate surrounding Torque Pro vs Carly is the "Carly Used Car Check". Here the Carly diagnostic app checks the integrity of the mileage displayed, helping identify possible odometer manipulation. Here, data such as the VINnumber of your car, the mileage, the stored mileage in other control units, and the average mileage per year are shownt. You will also receive a short statistical evaluation, for example whether the vehicle has an above-average number of kilometers compared to other cars (identical vehicle class and year of manufacture), as well as the dependent vehicle value. To evaluate possible odometer manipulation, Carly compares the stored kilometer data of the speedometer with data from various control units (including engine control unit, transmission control unit and more). Unfortunately, it is not clear from the results which control devices Carly uses for this survey.
As with Torque Pro, you can evaluate and display real-time data. These include the outside temperature, speed, engine speed, oil temperature, etc.
You can also use the Carly Universal OBD Scanner to carry out minor maintenance jobs, such as:
Registration of the car battery after changing
Performing an oil reset after changing the oil
Monitoring the emission levels of the vehicle
A special feature that clearly distinguishes this diagnostic device from Torque Pro is the ability to code certain vehicle settings. Carly will check your vehicle and identify which functions are available before presenting you with options.
It should be noted that Carly also has some shortcomings. For example, currently, there's no coding offered for Mercedes-Benz models. There are also variances with VAG (Volkswagen Audi Group) models, as the same model may use different control units — for example, a 4thgeneration Volkswagen Golf can have slight variances in control units when comparing two otherwise identical models.
Therefore, if coding is one of the criteria of the user, it is advised to verify possible coding options via the free Carly app before upgrading to the full version. As a rule, the Carly Universal OBD Scanner supports the coding of vehicles from the following manufacturers:
Toyota
Lexus
BMW
Mini
Audi
Skoda
Seat
Volkswagen
Coding offers a plethora of options for you to customize your car (depending on vehicle compatibility t), including activating "Coming Home" light functions, switching off automatic Start-Stop, adjusting light flash functions, and more.
Torque Pro vs Carly: The Advantages of the Carly OBD Scanner:
The broad array of functions offered by Carly vs Torque Pro make it a compelling alternative. In addition to a simple error readout, you can also delete errors, carry out small maintenance work and code the car, all through the app.
In addition to error readout, errors can be deleted, minor maintenance can be performed, and coding is possible.
There is an automatic connection between the smart device and car with the Carly Universal OBD Scannerwhen Bluetooth activated. So you don't have to manually initiate the connection.
The operating language is available in German, English, Spanish or French (it selects based on your phone settings).
The Carly Universal OBD Scanner is easy and intuitive to use via the start screen.
Provides warnings about unsafe vehicle conditions.
However, there are some potential disadvantages.
Torque Pro vs Carly: Disadvantages of the Carly OBD Scanner:
Carly is only available with an annual subscription for the full version. The subscription is automatically extended by one year if it is not canceled 24 hours prior to expiry.
You must purchase the Carly Universal OBD Scanner to connect Carly with your vehicle's OBD2 interface.
The coding options are limited, due to variances in vehicle control systems.
When reading odometer manipulation through the "Carly Used Car Check", Carly does not indicate which control devices it has evaluated for analysis.
Torque Pro vs Carly Summarized
It is apparent when comparing  Carly and Torque Pro that there are different ways in which these can be used. So your choice between them depends on what you want to be able to do with your car. Carly offers a significantly larger function set for a slightly higher cost, and you can save on workshop costs as you can not only read, but delete errors yourself with the Carly app, perform minor maintenance work such as battery changes, or activate additional features (coding). The safety information on vehicle condition is a major advantage of the Carly diagnostic device.. Carly also allows you to easily detect any falsified values — which is useful as many cars are the victim of mileage tampering
It's worth noting that users should possess some degree of technical know-how when using either Torque Pro or Carly when it comes to coding and error deletion options, and first-time users should proceed with caution. While this is software that supports a myriad of functions and provides a wealth of information, there is no 100% guarantee. For example, do not just rely on the "used car check" when evaluating a used car, but also view any logbooks and workshop invoices.
Still a bit fuzzy about the purpose of a diagnostic device? Let us refresh your memory.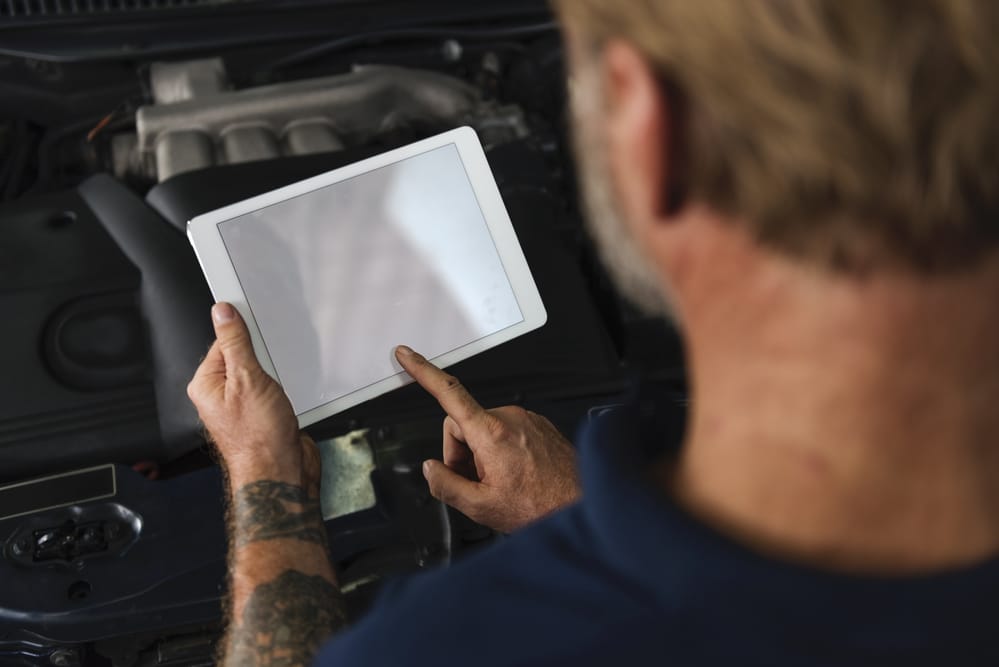 What Is a Diagnostic Device?
Since 2000, all new registrations in Europe are mandated to indicate errors in the vehicle control units via warning lights on the dashboard or instrument cluster. These errors can be read using OBD diagnostic devices. In the past, it was necessary to visit a workshop to read, identify, and clear any errors, but technological advances have enabled smaller errors to be read and rectified by end users using diagnostic devices that plug into a vehicle's OBD2 port and connect to a smart device via Bluetooth or Wi-Fi. There is a large array of devices from various manufacturers, spanning multiple price points and offering manyfeatures but they all work in a similar way. Once a connection has been established between the OBD diagnostic device and the vehicle control unit, the fault memory can be read. Error codes may either be read and explained directly on the device or researched more precisely via the internet .
You can choose between external tablet devices with their own display, diagnostic software for your laptop, or diagnostic apps for your smartphone.
What Values Does an OBD Diagnostic Device Deliver?
In addition to fault diagnosis, you can also use an OBD diagnostic device to display a number of live parameters while driving. The array of live values available is dependent on the capabilities of the car's control unit and some manufacturers allow a large array of parameters to be communicated. Parameters may include:
Temperature of coolant
Engine speed (RPM)
Engine load
Fuel consumption in l/100 km
The voltage of the electrical system
Vehicle speed in km/h or mph
The currently selected gear
Navigation info on current location/street name
The maximum permissible speed limit for current location/street
Ambient temperature in Celsius or Fahrenheit
Understand Diagnostic Equipment Error Codes
An OBD diagnostic device supplies the PCBU codes as they are available from the manufacturer:
Powertrain (Code "P" = Powertrain)
Chassis (code "C" = chassis)
Body (code "B" = body)
Networks (code "U" = User Network)
This system ensures comprehensive coverage of all fault memories across the various control units that encompass a modern automobile. However, manufacturer-specific control devices can usually only be read with special devices from the respective manufacturer or a dedicated workshop.
In addition to error codes, cars also provide general information. This is information that triggers a warning function in the dashboard but does not flow into the fault memory. Very few diagnostic devices recognize this information. This includes, for example, messages about the license plate lighting, the fill level of the windscreen washer fluid, or the operation of the parking lights. The Carly diagnosis app offers the washer fluid level indicator as a possible additional coding, depending on the manufacturer and model.
In general, the error codes output by an OBD diagnostic device relate to the engine, the electronics, the exhaust gas values/exhaust gas sensors, and axle sensors.
Torque Pro vs Carly — What about OBD3?
OBD2 is the current standard that prevails. There are rumors that the Automotive Service Association (ASA) is developing an interface for its successor, named OBD3. An alleged goal of an OBD3 interface should be the further development of smart cars. Smart cars are motorized vehicles that are able to drive autonomously and without human help due to specialized technologies that allow them to actively read the road and surrounding conditions in real time.
With OBD3 all errors and information about the cars should be sent directly to the responsible authorities. Then, if you ignore an error or an error message and not have it resolved within an adequate period, you would automatically risk a fine. However, such real-time direct data transmission is questionable, particularly in rural areas or on certain sections of motorway given the requirement for continuous internet coverage to facilitate this. Either way, OBD3 has not yet been realized, so you only need to worry about understanding OBD2 functionality for now.
In summary, thanks to the OBD2 protocol, all vehicles deliver the necessary values for error detection and correction which can potentially be read and corrected by anyone with the right diagnostic device available. We have described two – Carly and Torque Pro in this article, and we hope you now grasp the differences between the two.