Anyone who has ever bought a used vehicle knows how careful you have to be to avoid being ripped off. Odometer fraud in particular is a profitable business — for both sellers and manipulators. But how can you detect odometer fraud easily? That's exactly what we're going to clarify in this article!
Did you know there is actually an app and small device that can help you detect odometer tampering on a car? It's called Carly, and they have a "used car check" feature that can help protect you from unpleasant surprises.
The app, which you can install on Android and iOS, checks all control units in which the mileage is stored and then checks them for plausibility. For example, the operating hours of the air conditioner are compared with the alleged mileage and the average speed is calculated. If this is very low, you should be suspicious.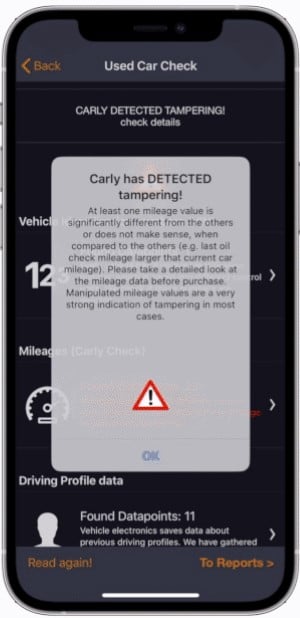 In this article, we will not only show you how you can use the app to avoid expensive repairs but also how you can best protect yourself against odometer rollback fraud.
How to detect odometer fraud with an app?
Using an app to detect odometer manipulation sounds unbelievable at first, but it's not. The used car check from Carly makes it possible.
Carly analyzes all control units where the mileage could possibly be stored and compares these values with each other. Additionally, the operating hours of the air conditioning are taken to get the average speed. If this is low, it could be a sign that something is wrong.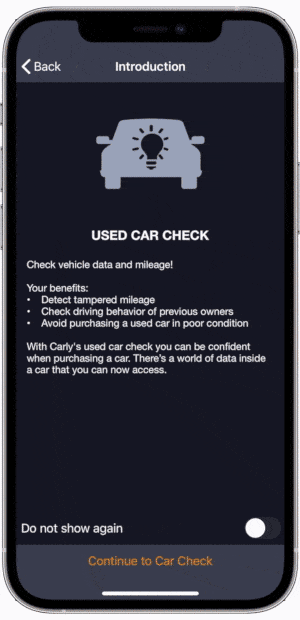 But even if you are not currently in the market for a used vehicle, you can do many other things to your car with Carly. For example, you can make changes to your sound design or change your parking lights. The so-called Head-Up Display (HUD) can also be changed here. The options range from enabling the seat heating memory to changing the settings of your turn signals. All of this with an app on your smartphone and a small scanner.
How does odometer manipulation work?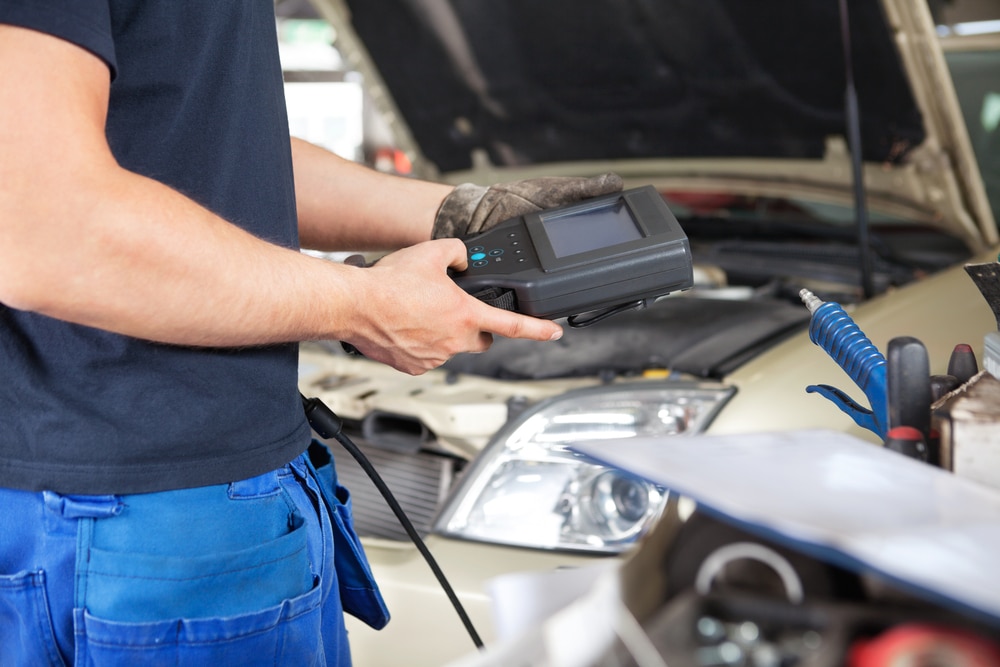 Odometer rollback fraud is not as easy as it used to be — fortunately. Because in the past, you simply drove backward for a few hours and there were and the mileage went down. Nowadays with modern vehicles, you have to be a real pro to get away with odometer manipulation.
Protective measures against odometer manipulation have been significantly strengthened, making it more difficult to manipulate the odometer. These days, it is not only necessary to change the miles displayed, but also to delete them from various control units. The miles are not only stored where you expect it the most but also in places like the air conditioner or the ignition lock.
However, it is still possible to manipulate the current mileage with a simple OBD2 adapter. This can be purchased legally and costs around €50-100.
We're going to distinguish between two types of manipulators here. First, you have the amateur manipulator and the other is a real professional.
The Amateur Manipulator
The so-called amateur manipulator knows about cars but does not know that the mileage is also stored in many other ECUs and changes only the obvious ones. If you are lucky and your car has been manipulated by an amateur, chances are that you will discover it because the actual mileage in many other ECUs has not been changed and you will have an easy time detecting all the odometer readings.
The Professional Manipulator
If a professional manipulator was involved, it becomes a bit more difficult. Because he knows that the values are also stored in other ECUs and before the manipulation, he will have checked where the mileage is stored for this particular car. Where the odometer mileage is stored everywhere, is different from brand to brand. That is why amateur manipulators are more easily discovered.
The professional has this knowledge and can manipulate all ECUs that have stored the mileage. Here you have to dig really deep until you find a possible clue that there was odometer manipulation. Oftentimes the help of a workshop might be needed.
How can I protect myself from odometer fraud?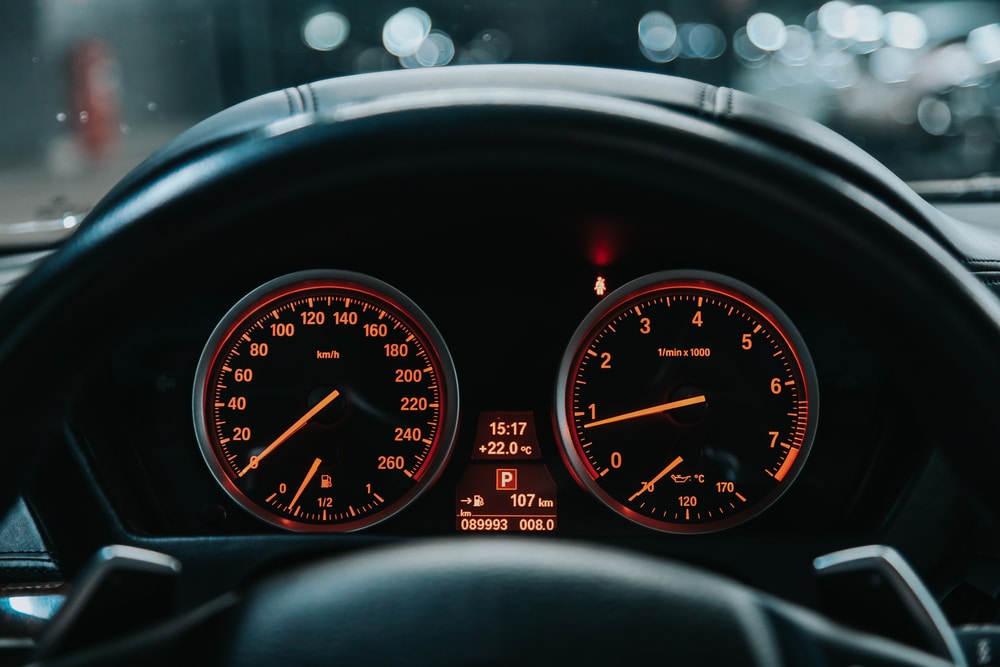 To protect yourself from odometer manipulation you need to know a few things about selling a car. There are many things that can affect your chances of being scammed, and ways to check if the car has been tampered with or not.
The Dealer
A commercial car seller will not want to sell you a car that has been tampered with. Because for a commercial car dealer it is much too risky, as they could lose their whole business over a few thousand euros. The profit/loss ratio is not good enough.
Private dealers are usually a bit more relaxed. They don't have their whole business at stake and the few thousand euros more they might get for the car can make a bigger difference to them. Many of them are probably not aware that they are committing a crime and could end up in jail.
Generally, this is why we think it's better to buy a used car from a commercial dealer — because they have more to lose than a private seller.
The Overall Condition
We also advise you to assess the overall condition of the car. Does the car look worn? Is the steering wheel already bubbly? Do the seats look very used? All these can be signs of possible odometer tampering if the car looks much more "used" than the mileage suggests.
Here is an example: the car has 70,000 kilometers according to the odometer. The car looks used and the dashboards are wear out as if the car had already driven several hundred thousand kilometers. So the look of the car doesn't match the mileage. Even if the previous owner didn't take care of the car, it should be in better condition than you found it.
Trust your gut!
Trusting your gut is good in many situations. It can also help when buying a used car. If you've looked at the overall condition, everything isn't flawless there, and you have a bad feeling in general, don't make the purchase. There are plenty of other dealers who may even be able to offer you a better car for less money, where the odometer hasn't been tampered with.
Vehicle Documents
Take a look at the vehicle documents and examine them closely. Invoices from workshop visits can also help you to see whether the odometer has been manipulated or not. The mileage is always entered on the workshop invoices. The same applies to the service booklet. If this is not complete or the seller refuses to allow you to see these documents, the chances are quite high that something is wrong.
Take a Test Drive
You should definitely test drive the car before you buy it. Take your time and concentrate. Oftentimes strange noises can indicate that the car has some kind of problem. This can mean that the car has more miles on the odometer than indicated.
Another tip: drive the car yourself, including at higher speed. This is where most faults become apparent. Bad handling, loud noises from the engine compartment, etc. are all indications that something is wrong. Furthermore, you should try to ride as a passenger so you can really concentrate on the behavior and the noises of the car.
If the dealer refuses a test drive, they probably have something to hide.
Always detect odometer fraud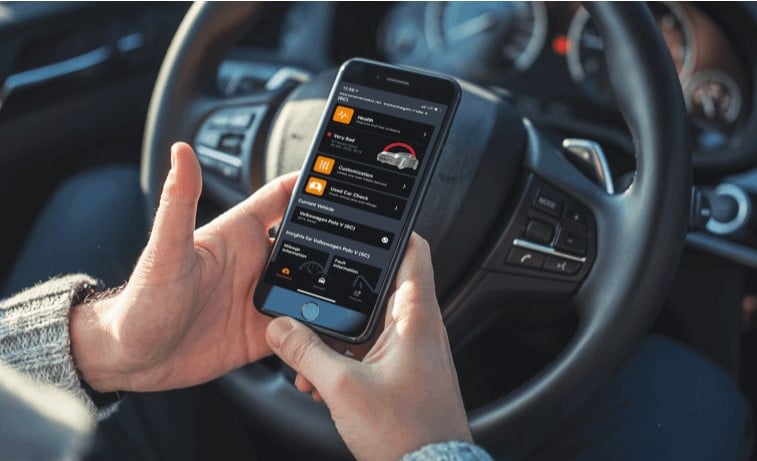 Odometer manipulation is a pain for every car buyer. However, with the right tools, you can recognize a possible manipulation and not fall into the trap. If it is already too late, you can use the Carly app to detect the odometer manipulation and contact the seller — possibly even with the help of a lawyer.
But if you remember the tips above you will be well prepared and aware of the tricks sellers might use. Trust your gut feeling and take a close look at the car. Even the smallest defect could indicate odometer tampering and mean trouble. And don't forget: there are countless dealers who would love to sell you a clean car. So be choosy!