Depending on where you live in North America, you may be mandated to subject your car to a car inspection, usually known as a vehicle inspection. The frequency and nature of these vary from state to state, and you might be wondering what exactly is checked in one of these inspections, as well as how you could possibly detect any faults or failures, and correct them prior to inspection. This article will explain all you need to know.
What do they check in a car inspection? There are two major types of inspection, namely emissions inspections, as well as safety inspections. There's also a VIN inspection but that's less relevant to the content of this article. We will take you through what each inspection typically entails, as well as introduce you to Carly, a consumer-grade car diagnostics solution that you can use to check for potential inspection failures, so that you may have them corrected prior to inspection.
GAIN MORE CONTROL OF YOUR CAR WITH THE CARLY FEATURES
Check the exact pricing of Carly for your car brand!
---
Fast International Shipping with DHL
14 days adaptor return policy
Excellent customer support
Lifetime warranty in the hardware
Why Should Cars Be Inspected?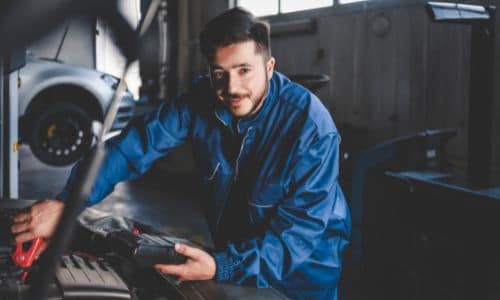 There are millions of cars on our roads in North America, and a car inspection is a way to ensure that they are as clean and safe as possible. Even if you are fastidious in your car maintenance regime, and always attend to faults before they become major issues, there is a segment of people who are simply unaware or do not care. Remember, even if your car is in top condition, there's little you can do in an accident that's caused by another vehicle in poor condition. That is why there are vehicle inspections that are mandatory by law.
However, the exact car inspection, as well as inspection frequencies required vary from state to state. Some jurisdictions may require a car inspection on a yearly basis or even twice a year, while others may only require a car inspection upon sale or transfer of a vehicle. Some states may also require a VIN inspection, while others may not. That is why you should always check your state laws to ensure that you do not fall foul of them, and if you are relocating to another state, ensure that your vehicle has been appropriately transferred, and you are aware of the new state laws.
You might also be surprised to learn that there are states in which no inspections are mandatory at all. However, we'd recommend that you still perform such checks for your own safety, as well as the welfare of everyone around you, as if you were to be found at fault in an accident due to your car being poorly maintained, a lawsuit could still be filed against you by an aggrieved party.
What Are the Two Major Types of Car Inspection?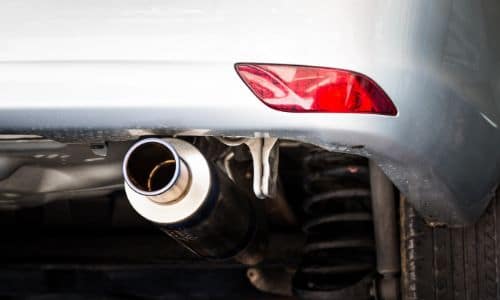 The two major types of car inspection are vehicle emissions inspections and vehicle safety inspections. Vehicle emissions inspections are primarily concerned with ensuring that the tailpipe emissions of the vehicle in question are in compliance with the state's emission laws.
California led the push for these in the 1970s with the Clean Air Act, and the requirement for a continuous monitoring system to be installed on every vehicle, and alert the driver to faults via a warning lamp gave rise to the OBD (On Board Diagnostics) standard and protocol. Currently, the world is on the OBD2 iteration, and pretty much any car produced by a major manufacturer after 2005 has the unified OBD2 port and interface installed, with the port accessible from within the cabin.
The other vehicle inspection is the vehicle safety inspection, and that is a bit more detailed than the emissions report. The safety inspection usually comprises a comprehensive check of the vehicle's drivetrain, braking, suspension, lighting, and safety systems, as well as the condition of tires, and functionality of enhanced active safety systems if so installed. The exact nature of the inspection, including the items and parameters checked, may vary from state to state.
What Is the VIN Inspection?
The VIN inspection is a vehicle inspection regime that focuses on identifying if a vehicle's VIN number is intact, and matching. VIN fraud is more common than you may think and ensuring that the VIN number matches is important, as vehicles may be stolen and sold on after undergoing cosmetic changes, and savvy car theft gangs tend to change VIN numbers as well. Modern cars have the VIN number written in multiple places, as well as stamped on the body frame, and a VIN inspection typically ensures that all places contain the same VIN number, and the number matches the one on the vehicle's documentation.
Can I Do a Car Inspection by Myself?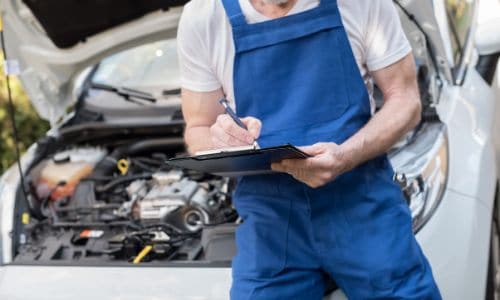 Yes, you can conduct a vehicle inspection yourself. In fact, there are certain activities from the vehicle safety inspection regime that you can easily perform without any special tools or knowledge. You can learn how to identify worn out, damaged and expired tires, and conduct checks on your vehicle's head, tail, brake, fog, turn signal, back-up, and other lamps too.
If you've been driving your car for a moderate amount of time, or are a car-savvy person, you can learn to recognize unusual sounds, vibrations or sensations that could hint at a fault. For example, if your brake pedal seems to need a longer push than before, there's a fault with your brakes that must be addressed immediately. If you notice smoke from your tailpipe, or an odd smell, there's a problem with the engine or emissions control system. There's a more comprehensive way to go about a vehicle emissions inspection and vehicle safety inspection too, and that is via a consumer-grade diagnostics scanning solution. Our pick is Carly.
What's Carly?
Carly is a holistically-developed consumer-grade diagnostics scanning solution that offers a nifty feature set for a very wallet-friendly price of less than $100. Consisting of a hardware and software component that have been synergistically designed to work with each other, the Carly Universal OBD Scanner is the hardware component that plugs into your vehicle's OBD2 port. Its diminutive nature means you can even leave it permanently plugged in, and doing so unlocks another neat feature of Carly, that is real-time monitoring of certain parameters.
The Carly Universal OBD Scanner wirelessly communicates with your smartphone, on which you must install the Carly app. The Carly app can be downloaded from the official Apple and Android app stores. If you're apprehensive about whether Carly is suitable for your car, there is the free Carly lite app which you can use to select your car make and model, and view the exact feature set available for it.
With Carly's powerful diagnostics, you can conduct scans on your car's computer systems, and detect faults in them, including the emissions control, steering, powertrain, braking and safety systems, as well as any other systems that can be communicated with by Carly. Once scanning has concluded, in a matter of a few minutes, Carly will present you with a comprehensive report that outlines faults that must be urgently rectified, those that should be rectified in the near future, and those that you may disregard. With Carly, you can easily perform most tasks of a vehicle inspection, and correct any issues before going for the actual inspection.
Furthermore, Carly is great for periodic scanning to ensure that your car is in peak health. You would typically shell out between $30 and $80 to get this done at a workshop, but with Carly, you can easily recoup your investment after two or three scans — in fact, why not scan your ride at home, before going for your next car inspection. This way you'll be notified of any potential failure points and can ensure your car passes with flying colors.