The used car market is positively booming, due to the current component shortages and supply chain issues that automakers are facing. This has also resulted in significantly increased prices as well. If a new car is out of your reach due to price, waiting time, or simply unavailability of your preferred model and spec, a used car is the best option.
However, there are unscrupulous sellers out there who are waiting to scam you and disappear with your money. We've written an article on what to look out for when buying a used car, and one of the critical tasks is to perform a used car diagnostic scanner check, which we've written an article about as well. Since an essential piece of kit to perform this task is a diagnostic scanner, we will be taking you through the process in this article.
How can you buy a used car diagnostic scanner? There are three potential avenues for diagnostic scanners in the consumer-grade segment. They are dedicated devices, software for laptops, and adapters with mobile apps. Out of all three, the third category is the most versatile, and from this, we'd recommend Carly, as you can not only use it when buying a used car, but well into its life with you.
Why Should I Do a Diagnostic Scan on a Used Car?
A quick refresher on why you should never skip the used car diagnostic scanner is that it will simply tell you what underlying faults a car may have, especially those that you cannot visually identify, or detect during a test drive.
While all modern vehicles have the Check Engine Light (CEL) for fault indications, unscrupulous sellers can remove the bulb for this light or disconnect it from the instrument cluster. This is why you should use a used car diagnostic scanner on a used car, as there may be underlying issues in its critical systems that could manifest later on, leaving you stranded by the side of the road, or worse, compromising your car's safe functionality, putting you, your passengers, and others at risk.
How Do I Perform a Used Car Diagnostic Scanner Check?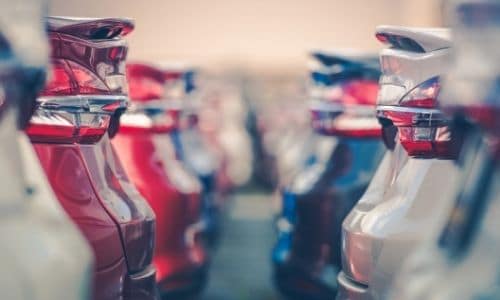 You need to have a diagnostic scanner solution in your possession when you go to view a used car. There are three solution types, — namely dedicated handheld devices, software for laptops, and adapters with mobile apps. These solutions connect to the car via the OBD2 port, which any car manufactured after 2005 will have.
You should familiarize yourself with the location of the OBD2 port in the cabin of the used car you are going to check out, which you can do via an internet search. It is likely that the seller may not know, or may pretend to not know if they have something to hide. We've said this before — if a seller does not allow you to perform a diagnostic scan on a used car, it's a red flag and you should walk away.
Dedicated Handheld Devices for a Used Car Diagnostic Scanner Check?
You can buy consumer-grade dedicated handheld diagnostic scanners for as little as $30, which will net you a basic device. These devices come with a cable that you plug into your car's OBD2 port, and typically offer a small screen and a few buttons. Basic devices will be able to identify faults within the drivetrain, braking, steering, suspension, and safety systems. However, these units may not be able to offer the kind of functionality that is needed for a comprehensive used car diagnostic scanner.
Advanced devices can cost over $200, and offer touchscreens and advanced capabilities such as maintenance minder resetting and coding. If you're choosing this avenue, remember that you will need to take the device with you, and you should also check about the possibility of future updates from the manufacturer. Some devices can be connected to a computer via a USB port and flashed with new firmware as the manufacturer releases it, while others are stuck with the firmware that they received at the factory for life, and may quickly turn obsolete.
Software for Laptops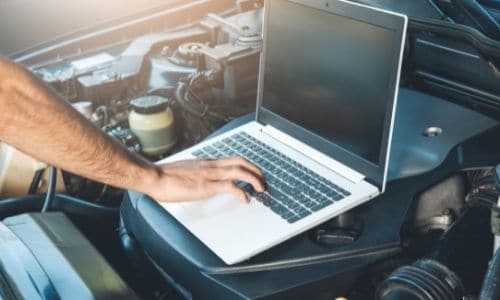 As you may imagine, this is the least practical avenue for a used car diagnostic scanner, as it requires you to carry around a laptop and OBD2 cable with you. While software for laptops can be powerful and versatile, it's a solution that's best for enthusiasts who perform maintenance and repairs in the comfort of their home. Software can cost over $100, the adapter cable can come in at another $25, and manufacturers may charge for updates too.
Adapters and Mobile Apps
This is the most popular solution and consists of an OBD2 adapter that plugs into the vehicle's OBD2 port and wirelessly communicates with a mobile app on your smartphone. Some manufacturers offer holistic solutions of an app-and-adapter package, while others produce one or the other. Choosing the right solution is critical, as they vary widely in price, performance, features, and future updates. For a bulletproof solution, we'd recommend Carly.
What's Carly?
Carly is a holistic solution that consists of an adapter called the Carly Universal OBD Scanner, and the Carly app. The Carly lite app is also available for free, and allows you to check out the features on offer for your vehicle make and model before purchasing. Carly costs under $100, which represents tremendous value for its feature set, and is regularly updated as well. The Carly and Carly lite apps can be downloaded from the official Apple and Android app stores.
What Does Carly Offer?
Carly performs in-depth diagnostic scanning on every possible computer control unit in a vehicle, detecting faults and presenting them in an easy-to-understand 'traffic light' system. Red faults are those that need immediate attention, amber faults are important, but you can drive a bit more with them, and green faults are trivial and can be addressed at convenience. With Carly, you can use it as a full-fledged used car diagnostic scanner and receive a comprehensive report, thus identifying if the car needs extensive repairs, or is a worthy buy.
Another powerful feature offered by Carly to bring peace of mind to used car buyers is the Carly Used Car Check This is a specialized test performed by Carly that is aimed at detecting mileage tampering. Mileage tampering is one of the most common nefarious activities done by sellers in order to command a higher price and can be increasingly difficult to detect, however, Carly is able to do so, making it a great choice as a used car diagnostic scanner.
What about after I've Bought a Used Car?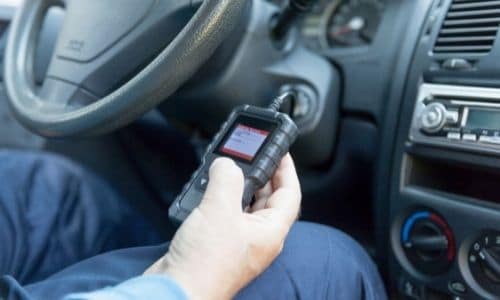 You don't need to discard Carly. You can run periodic diagnostic checks to ensure that your car remains in pristine order, as it's recommended to run such checks once every two to three months, and if your car racks up more than 5,000 miles per month, once a month is ideal.
You can also customize certain aspects of your car to your liking with Carly's coding function, which can allow you to adjust parameters such as the duration of the welcome lights, signal flashers, set the climate control to default to recirculate, activate or deactivate automatic start-stop, and more. The exact set of features available for coding differs depending on your car's make and model, and with Carly, you can easily roll back any coding you've done if it's not to your liking.
If you're an enthusiastic home mechanic, Carly allows you to reset maintenance minders and re-initialize batteries after oil, filter and battery changes, once again saving you money on workshop charges, as well as time spent traveling to and from the workshop.