The solution to saving money on repair fees and time is quite simple! With your smartphone and one of the best apps to read OBD2 codes, you can always know your car's health state and avoid unexpected repair fees.
There are many engine fault codes that you can read out with the right mobile app. For example, the "check engine light". In this article, we will show you the 7 best apps to read OBD2 codes from your cell phone.
Apps to read OBD2 codes
Our car experts have put together a list of 7 apps that can help you read OBD2 codes. They have tested each one and ranked them from 7th till 1st place.
In addition to the app, you will also need an OBD2 scanner or code reader to plug into your car. Below, we will also help you choose the best OBD2 scanner for you.
7. Obd mary – car scanner with ELM
With the Obd Mary diagnostic app, you can scan and reset your car's ECUs, Additionally, you can read and clear OBD2 codes in the fault memory with your phone.
Convenient feature: the displayed fault codes can be instantly read on the internet by clicking on them.
Moreover, the app also has a trip computer function. When the adapter is connected to the car while driving, travel data such as trip duration, fuel consumption, average driving speed, etc. can be recorded. This is especially useful when you want to make a log of the traveled route.
The Fault Memory Readout app is free with an option to upgrade to the full version for a fee. The Obd Marry app requires an ELM327 Bluetooth or Wi-Fi adapter to establish the connection between the car and the smartphone. The app works on all phones with Android operating systems 4.1 or newer.
6. Car Scanner ELM OBD2
To read the fault memory in the car with the Car Scanner app, you also need an ELM327 Bluetooth or Wi-Fi adapter. Here you have the option of having error messages and vehicle performance data displayed in real-time.
The application interface can be customized, and the system is user-friendly, so reading and clearing error memories can be done quickly. The app is available free of charge or in a full pro version. The app is compatible with all Android smartphones with operating system 4.3 or above and iOS 9.3 or later.
5. ScanMaster Lite
ScanMaster Lite allows you to perform car diagnostics from your phone or tablet using an ELM327-OBD adapter. This app can help you to easily read OBD2 codes but it is only available for Android devices.
You can choose between a free and paid version of the app. Even with the free version, you can use most of the features flawlessly. What the full version additionally offers is an unlimited number of parameters and OBD2 codes. So the ScanMaster Lite app serves its purpose and is also very easy to use.
4. EOBD Facile
Right off the bat, some good news for iPhone owners: the EOBD Facile app has been developed for iOS operating systems. This app is only available in the app store and can be used from an iPhone or an iPad.
As with the other discussed apps so far, the EOBD Facile system is best suited for reading out OBD2 codes on vehicles. Additionally, with the free app version, you can perform an engine check.
There are different plans for upgrading. The paid version is a bit more expensive than the previous apps presented so far. However, the software is particularly thorough, so even tricky defects can be tracked down. Another plus is that you can use the app in 20 different languages.
3. BlueDriver
BlueDriver's numerous functions consist of reading OBD2 codes, recording engine data, and an alert when you exceed set speed limits. In addition, BlueDriver can perform advanced diagnostics, on systems such as the airbags or ABS.
BlueDriver is also used in the professional sector to read out and clear OBD2 codes. But since it is so user-friendly it is also popular among hobby mechanics and car enthusiasts. BlueDriver can be used with Android phones that have software system configurations of 6.0 and later or iOS 10.0 or later.
The American developer claims to have a repair database in which millions of error reports are stored. This allows the system to be constantly improved and determine OBD2 codes even more accurately.
In order to use the BlueDriver app, you will need to get their Bluetooth OBD2 sensor.
2. Torque
Torque is another great app to read OBD2 codes with your phone. It can provide real-time data on car performance and even GPS support.
After purchasing their Bluetooth ELM/OBD/PLX adapter, your cell phone becomes a diagnostic device. Additionally, Torque offers various functions, such as a dynamometer or speed measurement. The fault memory can be quickly and easily readout and deleted.
1. Carly
Carly is one of the best apps to read OBD2 codes from your phone! Besides reading and clearing OBD2 codes, it can be used to read out relevant vehicle data. For example, the engine and transmission status or the speedometer.
The Carly app is available for free and includes functions such as a health check that allows you to read out your car's OBD2 codes.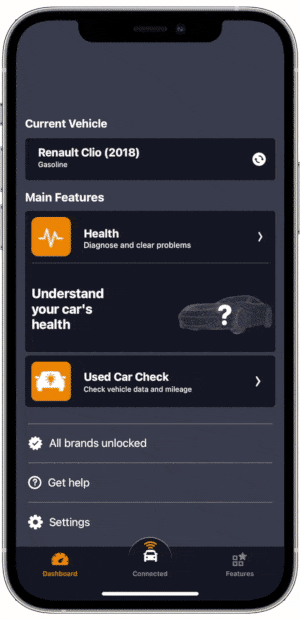 In comparison to other apps, with Carly's free version, there is no limit to how many OBD2 codes you can read and how many times you can perform OBD level diagnostics.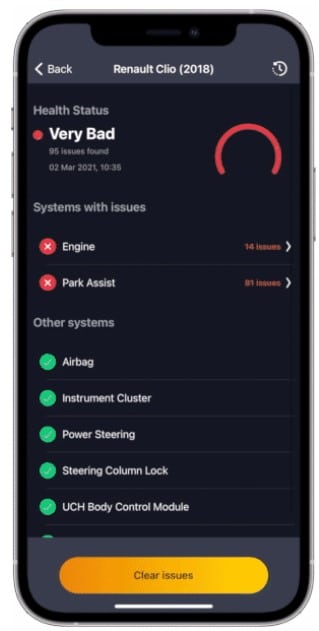 Additionally, a paid version is also available which includes additional features. Some of these features include in-depth diagnostics, car coding, doing your own maintenance, and performing a used car check.
Since every car is unique, which features are available depends on your car model. Nevertheless, Carly is compatible with all car brands in the world that have an OBD2 port. On the Carly website, you can check what additional features are supported for your car model!
Moreover, the Carly app works for both Android and iOS devices! To be able to access your car from your phone and read out the OBD2 codes, you will need the Carly OBD2 scanner.
All apps to read OBD2 codes require an OBD2 scanner
We have now introduced you to several apps to read OBD2 codes without an expert's help. With the free versions of these apps, you can try out the most important functions and then decide later whether you want to buy a full version.
The most important thing regarding the app is to find one that is compatible with your cell phone or tablet. Moreover, every diagnostic app requires an OBD2 scanner that allows a connection between your car and your phone. Now we'll delve into what you need to know about this small device and what you should look for when purchasing one.
What is OBD/OBD2?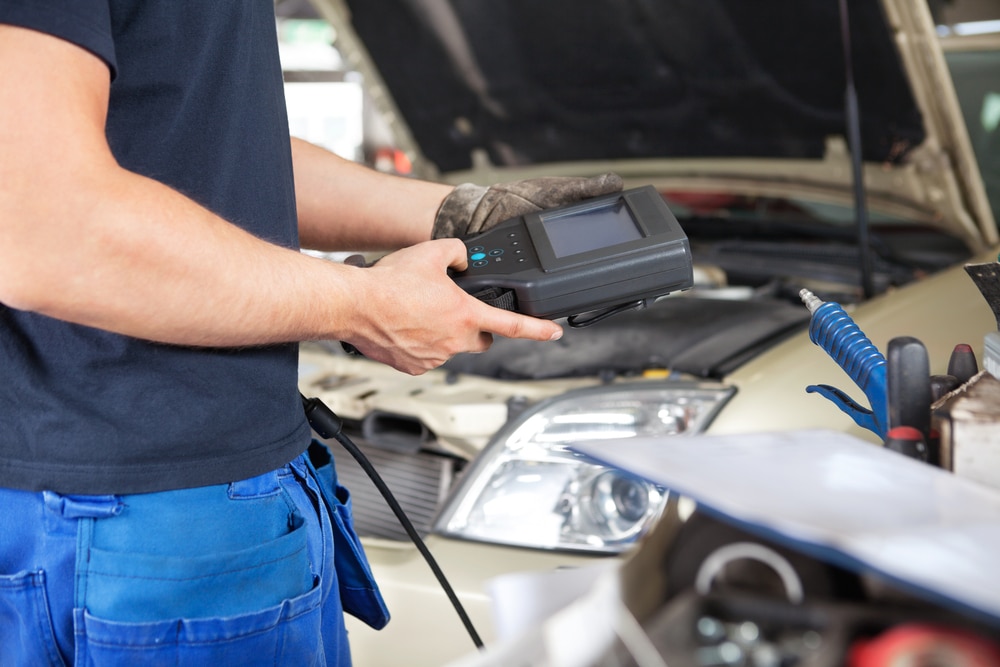 Reading out OBD2 codes has never been easier than it is nowadays. This is largely due to the OBD2 interfaces that are standardized in modern vehicles.
Older cars, more precisely gasoline cars before 2001 and diesel cars before 2004 (In Europe), are most likely still equipped with the old diagnostic jacks. However, most modern cars manufactured after 2001 are equipped with an OBD2 system.
OBD is the abbreviation for "on-board diagnostics" and refers to the vehicle diagnostic system installed in the car. As soon as the engine is started, the control units embedded in the car are monitored. If faults (aka OBD2 error codes) occur in these systems, this is signaled to the driver via the dashboard lights. In addition, the defects are stored in the fault memory.
Reading out OBD2 codes
To figure out the cause of the OBD2 error messages, you need to read out the fault memory. All of the errors are identified by a code made up of letters and numbers, which the mechanic then evaluates. Once the fault has been solved, the data in the memory can be simply deleted.
Since taking your car to the car workshop can cost you $150, or even more, many drivers are opting to read their car's fault memory from their phones. Basically, all you need is your smartphone, an OBD2 scanner or reader, and one of the mobile apps to read OBD2 codes (and even more data) from your phone.
Where is the OBD2 port located in my car?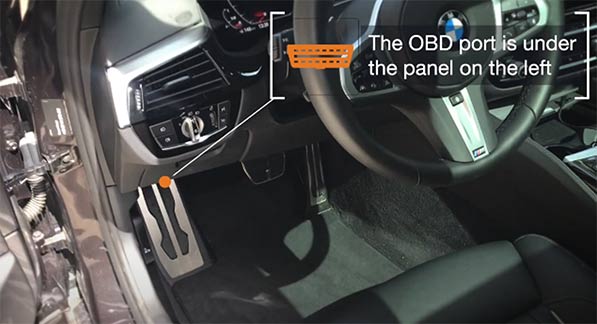 In order to get started, you will have to plug your OBD2 scanner into your car's OBD2 port (if your car has one). There is no universal location for every car, you sometimes have to search around.
Very often, the socket is installed in the driver's area near the steering wheel or under it. You should also take a look at the area of the center console under the ashtray or search the area near the glove box. If you still can't find it, just check your vehicle's manual to find the car location.
What else can an OBD2 scanner do?
First and foremost, most people will get OBD2 scanners to read out the fault memory of their vehicle.
However, the OBD2 scanner can do much more than that, it all depends on the scanner brand that you pick!
For example, with the Carly app, you can also monitor emission-relevant systems. and see real-time engine parameters such as oil temperature. Other functions include coding your car and conducting your own maintenance.
How much does an OBD2 scanner cost?
The main reason why drivers use apps and cell phones to read fault memory is the relatively cheap prices for adapters versus a service at a garage.
You can get an OBD2 adapter ranging from around 15 to 70 dollars. Some apps require the adapter to be equipped with chip "ELM327", which is one reason for the price differences.
As you can see, you don't have to spend a fortune, even with the most expensive OBD2 adapters. However, stay away from extremely cheap adapters and diagnostic devices since they can be counterfeit tools.
These cheap solutions will have very limited features or will require you to purchase overpriced special software.
Below are a few examples of well-performing devices.
The Carly OBD2 Scanner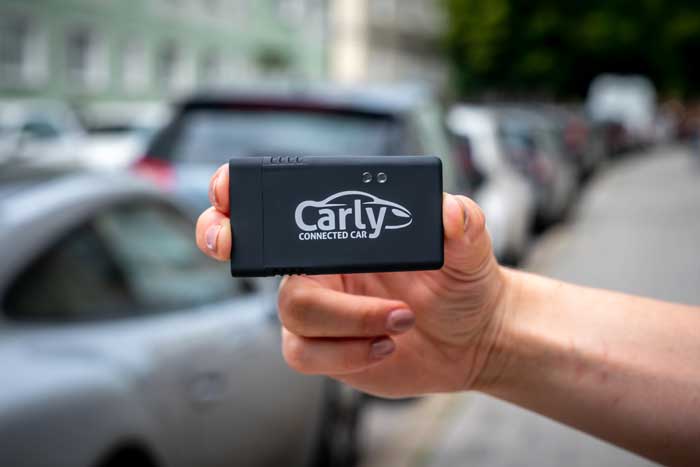 The OBD2 scanner that goes with the Carly app has many uses. In addition to reading error memories with a cell phone, the daytime running lights or the car key function can be customized through coding.
Additionally, a popular feature is also the mileage check. This is very useful when buying a used car since you can find out if an odometer has been manipulated.
The sophisticated system has a diagnostic function that displays warnings about current error codes that can potentially turn into severe issues. This helps save money since defects can be repaired as quickly as possible before they become serious.
In terms of price, this option is in the middle of the price range since it can be used for basic and very advanced functions.
BlueDriver
This adapter also works only with the accompanying app. Since it promises accurate diagnostic results, the purchase price for this product is in the lower three-digit range.
Since the adapter was mainly developed for US cars, you should thoroughly check whether the listed functions are all available for your own car model before buying it. Otherwise, you might end up disappointed.
iCar Bluetooth/WLAN
According to the manufacturer's description, the adapter has classic features such as reading and clearing the fault memory, monitoring fuel consumption, real-time analysis, etc.
The iCar adapter is available with either Bluetooth or WLAN support and can be connected to cell phones, tablets, and computers. The range for the Bluetooth device is 5-10 meters, the WLAN version ranges between 10-20 meters.
After half an hour of non-activity, the adapter automatically goes into sleep mode.
For the relatively low price and considering what the little guy can do, it's definitely worth the investment. If necessary, you can also buy both connection variants for a reasonable price. The adapter can be used with various apps, for example, with the above-mentioned error memory readout app Torque.
Kungfuren OBD2 Bluetooth Adapter
The Kungfuren adapter can read out over 3000 diagnostic fault codes and forward them to the end device in seconds. The device is targeted at Android and Windows systems and works with OBD2 as well as EOBD (European On-Board Diagnostics) compatible vehicles.
The Kungfuren adapter is affordable, yet stands out with many practical applications and its quality. For example, you can use the device with an app and cell phone to read the error memory, get developments in engine or transmission promptly played on a phone, find out the gasoline performance, etc. and therefore prevent defects. A solid product at a low price that allows you to save money twice.
GeekerChip
The adapter has a rather simple design and is connected to the end device by means of WiFi function. Besides the common software systems of iOS, Android, and Windows, it also supports applications with Symbian, which can be found on Nokia phones, for example.
The GeekerChip can be used for most types of vehicles, from cars to small trucks. Fault memory readout, the coolant temperature, short and long-term fuel trim — are just a sample of what can be checked with the adapter. The only drawback to this versatile and inexpensive adapter could be the intermittently faltering connection between the adapter and the smartphone.
Things to consider when selecting the right scanner
Your Phone's Operating System
The majority of OBD2 adapters are equipped with either Bluetooth or Wi-Fi connectivity. Under certain circumstances, the connection to the adapter may be worse/better depending on which system it has.
Manufacturer
Even if the interface is uniform for all new vehicles, there are OBD2 adapters that specialize in the fault analysis of a certain car manufacturer. Or they support only certain models from a particular brand. So you should be sure to buy the right adapter to save you the trouble later or buy one that works with as many brands and models as possible.
Updates and Data Protection
Ideally, regular updates for the software are offered so that the adapter continues to function without problems. You should also pay attention to the privacy policies of the operators.