Who wouldn't like to look a little deeper into the guts of their vehicle? Especially if there are mistakes or problems, you always have to visit a workshop … and that's going to be expensive. It would be damn practical if you could diagnose the car yourself. All today's vehicles are equipped with extensive electronics. Various ECUs monitor all functions. With the corresponding diagnostic device you can read out and evaluate the data. We've looked at many of these devices for you to make it easier for you to make the purchase decision in the end.
We have done the test for you … which diagnostic device is the best?
On the market there are a variety of diagnostic devices (as well as other ways) to perform your own vehicle diagnostics. We have made the big test for you and show you which devices are the best. Our team of experts has shortlisted a total of 25 devices and in the end our TOP 10 list was created.
Various ways of diagnosing your car
In order to be able to put your car through its paces, you have practically three different options. You can use a mobile phone app, you can use software that is installed on your own laptop or you buy an external diagnostic device. Each of these possibilities has its advantages and disadvantages or are suitable for different target groups. Here is a brief overview:
External diagnostic device
Mobile phone app
Software
Benefits

Professional equipment

mostly suitable for all manufacturers

external device

Benefits

Inexpensive

Handy

always up-to-date

Benefits

you can use your own computer

often extensive features

Disadvantages
Disadvantages

Reduced scope of services

Disadvantages
For example, if you are travelling in the used car trade or even have your own workshop, you cannot miss an external diagnostic device. These usually offer by far the largest range of functions and additional parts. They are also usually suitable for virtually any type of vehicle.
In particular, if you want to diagnose older vehicles, an external diagnostic device is installed, as the necessary connection would otherwise be missing. Modern vehicles (from 2001 onwards) have an OBD-2 interface, which is used for communication between the vehicle and the app, the software or even the diagnostic device. The latter can also work with an older type of connection, which the apps can't do.
"When a warning lamp lights up, it is often just small things. Instead of having to go directly to the workshop, you can use a diagnostic device to find out for yourself where exactly the error lies."
Sven Mischke, auto journalist
Is it possible to diagnose all car brands?
In principle, yes … but it depends on the device, of course. Not all devices can work with all manufacturers. The devices, which can diagnose almost any car, are often true professional devices and correspondingly expensive. So you have to think carefully about what you need. As a workshop, of course, you need as wide a range as possible. As a private user, perhaps the most common models or even a special app are only enough for one manufacturer.
The OBD-2 interface
As just mentioned, all vehicles from the year 2001 onwards have an OBD (on-board diagnostics) interface. To establish a connection between the vehicle and the diagnostic device, an OBD-2 adapter is required, which is plugged into the corresponding output on the vehicle. These adapters usually have Bluetooth or Wi-Fi and connect to the device or app.
These adapters are from 20 euros. Cheaper low-cost products are strongly discouraged, as they usually do not process high-quality electronics and errors are so common. For example, the Carly app only works with the Carly adapter. This way you are assured that the adapter and the app can communicate really well. Here the motto applies: Whobuys cheaply, buys twice!
Hundreds of functions can be performed via the interface and the adapter, error codes, data on fuel consumption, torque or even data for acceleration can be read out. But also the other way around you can send data to the vehicle and recode it in this way. The OBD interface is therefore the fulcrum of communication.
What types of external diagnostic devices are available?
Among the external diagnostic devices there are different versions:
small, handy devices with small screen and buttons

small devices with slightly larger screen with touch function

larger devices (similar to an external navigation system) that also have a larger screen

large diagnostic devices more reminiscent of a robust laptop and many special keys for standard functions
Here, too, it depends entirely on your taste and your wallet. Most of the time, the larger devices with large screen and touch function are the most expensive. Prices range from 50 euros to 7,500 euros and more.
Some of these diagnostic devices only work with cables, others with the OBD adapter and/or Bluetooth. Especially for vehicles of older series, only the connection with the corresponding cables works. The real professional devices among the diagnostic devices often have a supply of dozens of possible cables and connections.
What exactly should you look out for when purchasing an external diagnostic device?
The choice is enormous … so it is important to think carefully about what is important to you and what is not. In principle, there are different differentiation criteria that can be created in order to decide on the right device. These include, but are not more than one:
the general range of functions

What diagnoses can be made?

Is it also possible to read and evaluate real-time data?

How is the data processed graphically?

Can coding also take place?

the size and quality of the screen

Is the screen easy to read?

What is the resolution?

Do you want a touch function or rather "right" buttons?

scope of supply (extra cable, etc.)

What's in it?

Do I need all the accessories at all?

Are there also connections to rarer or older models?

the price

What do I want to spend?

Is the price worth it?

What is my budget and what exactly do I need the device for?

the type of connection (by cable, obD, directly via Bluetooth or Wlan)

Do I prefer a wireless connection?

Can it also be by cable?

the up-to-dateness of the system (and the manufacturer's update conditions)

Does the manufacturer offer free updates?

How expensive are later updates if in doubt?
The test
As mentioned at the beginning, our jury of 4 proven experts (two master car mechanics, an auto journalist, a service station operator) and an experienced layman took a closer look at a total of 25 external diagnostic devices. All devices were tested on three different vehicles of the brands VW, BMW and Toyota. All models are from 2017-2019.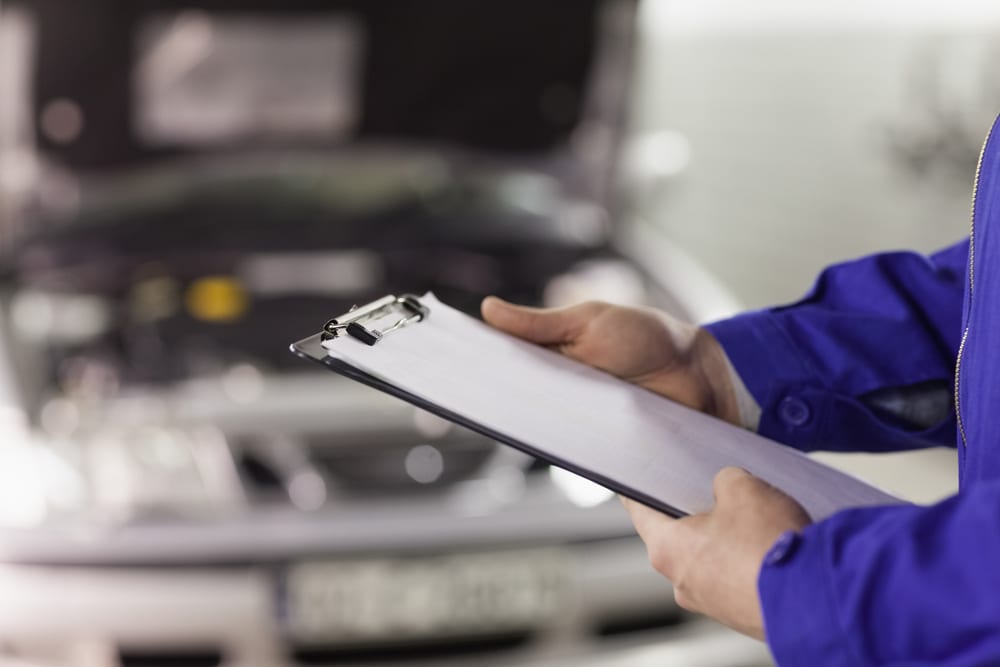 A catalogue of criteria was developed in advance to test the devices. Two to three other criteria were added during the test, as these were considered important and had not been taken into account beforehand. The following criteria were particularly important to the jury:
Scope of diagnosis

Accuracy of diagnosis

Database for error codes

Other Features

General ease of use

Quality and resolution of the screen

Durability of the case and screen

Update policy of the manufacturer

Delivery

Documentation and operating instructions
After all the devices and all tests were carried out, the evaluation of the test results was carried out. So here's the TOP 10 for you in reverse order … so we start with 10th place above:
The TOP 10
10th place: NEXPEAK NX 501
Description
The Nexpeak NX 501 makes a robust impression. The screen is small with its 2,8", but very easy to read. The device can only be used for reading the error codes. The connection is established via the OBD-2 interface. All vehicles are supported with OBD. Unlimited, free updates are offered.
Features
Reading and deleting error codes
Unlimited updates
Monitoring the battery
Strengths and weaknesses
Reliable reading of error codes
Support for all manufacturers and models
Very small range of functions
Price
Around 75 euros
9th place: LAUNCH CRP 429
Description
The launch CRP 429 reliably makes a complete system analysis. It reads all ECUs without any problems, can retrieve data live and also detect subsystems. The design is appealing and the buttons are well crafted. A report can be created and sent by e-mail.
Features
Reading and deleting error codes
Large internal database
Display of the diagnostic history
Strengths and weaknesses
Ordinary range of functions
Reading out many different data – also from subsystems
Sending the data by e-mail
Not quite cheap
Price
Around 390 euros
8th place: AUTEL MD806 Pro
Description
A very solid device from Autel. All vehicle types are supported. In addition to reading out error codes, this device can do a lot more, such as calibrating the steering angle sensor, displaying live PID data from multiple sensors, or even unit tests to check the EVAP system.
Features
Reading and deleting error codes – also manufacturer-specific!
Special features such as re-learning the parking brake pad or DPF regeneration
Strengths and weaknesses
Large range of functions
Lifetime free updates
Not quite cheap
Price
Around 250 euros
7th place: LAUNCH X431 PRO mini
Description
In addition to the standard reading of error codes, this diagnostic device can monitor live data, perform a system calibration or perform automatic scans. The very good color monitor ensures clarity. Updates are included for 2 years. Approximately 80% of all vehicles are detected. The connection is via Bluetooth or Wifi.
Features
Steering angle calibration
Reset the electronic parking brake
Tire Pressure Monitoring System Reset
Fuel injector coding
Strengths and weaknesses
Ordinary range of functions
2 years free updates
Price Intensive
Price
Around 900 euros
6th place: LESCARS Auto Diagnostics
Description
Small, but oho. All error codes are displayed in plain text on the small but detailed monitor and can also be reset. With only 4 buttons you can easily find yourself through the menu. Works particularly well on Audi, VW and Skoda vehicles. Around 130 system components are monitored.
Features
Output of errors in plain text
Especially for Audi, VW and Skoda
Strengths and weaknesses
Good fault diagnosis
Good monitor (monochrome)
Low range of functions
Price
Around 70 euros
5th place: VIDENT ilink 440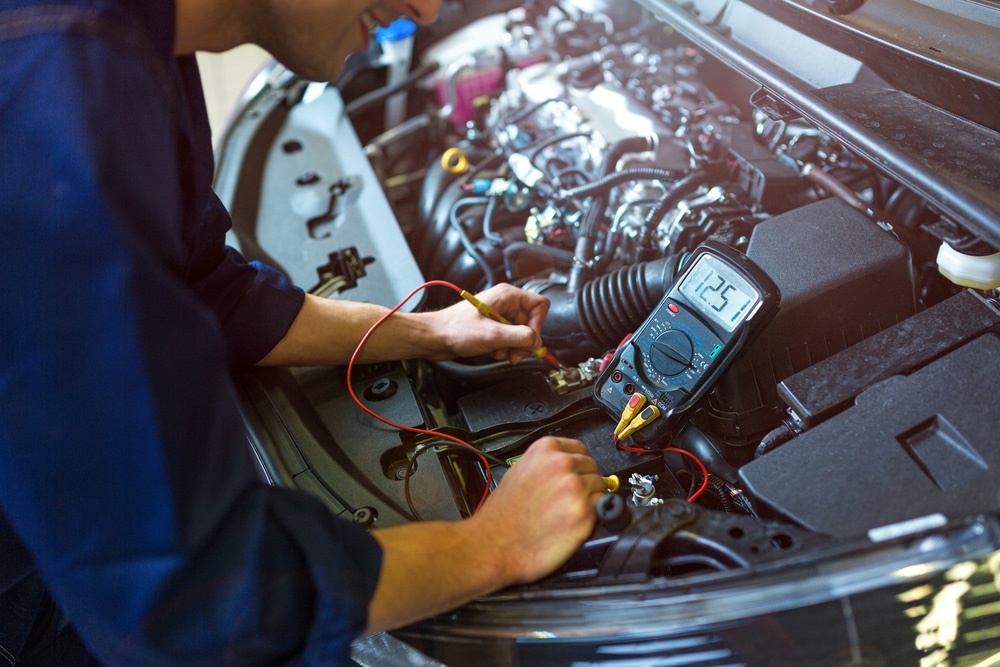 Description
Our 5th place is an all-rounder that is compatible with all vehicle models. It easily reads and deletes error codes and turns off MILs of engine, gearbox, airbags and ABS. Real-time output of data is also possible. The 2.8" color monitor is clear to read, albeit a little small.
Features
Supports Electronic Park Brake (EPB) features
Battery configuration
Recording live sensor data
Strengths and weaknesses
3 years of free updates
Very robust workmanship
The screen is a bit small
Price
Around 150 euros
Rank 4: ANCEL FX2000
Description
In addition to diagnosing the usual protocols, the FX-2000 also performs a complete diagnosis of the ECU systems (SRS, ABS and transmissions). Live data is visually appealing as a graphic. The 4" color screen allows a very good display and the buttons ensure good handling.
Features
O2 Sensor Test
Advanced scanning mode
Record and evaluate real-time data
Strengths and weaknesses
Almost all vehicles are supported
Output in eight languages possible (also German)
Free lifetime updates
Works only with 12V vehicle batteries
Price
Around 180 euros
3rd place: ICarsoft CR Pro
Description
The ICarsoft CR Pro supports around 40 car brands and is an all-in-one device for error analysis and troubleshooting. All relevant engine data, transmission data, airbag data and ABS etc. can be read and processed via the OBD interface. The 4" screen is large enough. Updates are available for free.
Features
Many manufacturers are supported
Read Life data
I/M Readiness Test
O2 Sensor Test
Evap System Test etc.
Strengths and weaknesses
Wide range of tests for many systems
Monitoring the battery
Free updates
Price
Around 250 euros
2nd place: LAUNCH CRP MOT II
Description
The launch CRP MOT II has been specially designed for the European market and includes 11 different functionalities. All major brands are supported. In addition to a Bluetooth adapter, other connection cables are included in the scope of delivery. The device can be operated excellently via the very large 7" screen with touch function.
Features
Oil reset
Electric parking brake reset
Battery Management System Reset
Calibrating steering angle sensor
Encode crankshaft position sensor
Strengths and weaknesses
Printing of the data possible
Free updates for 12 months
Instructions in German will be sent by e-mail
Also Wifi compatible
Very high price
Price
Around 890 euros
1st place: AUTEL MaxiCheck MX808
Description
The diagnostic tool from Autel convinced us completely. Diagnosis can be performed for all vehicle manufacturers. The very large 7" color display provides a good overview and the quad-core processor for a very fast processing of the data. Read and overwrite error codes, retrieve live data and many unique additional features make the Autel MaxiCheck MX808 a worthy winner.
Features
Read and delete error codes
Display ingessing live data
Vehicle search via chassis number
Support for DPF regeneration
Injector coding
And much more
Strengths and weaknesses
Great performance
Good features
Attractive menu navigation and graphics
One year of free updates
Intensive with approx. 500 Euro costs
Price
Around 500 euros
Alternatives to external diagnostic devices
To show you a concrete alternative to external diagnostic devices, we'll introduce you to three diagnostic apps that we examined in an earlier test. So here are the TOP 3 of the OBD-2 diagnostic apps for the mobile phone:
3rd place: OBDLink
This app works with a special OBD adapter. The user interface is clear and fully configurable. 90 different values can be read and processed in real time. All analyses and data can be saved as a CSV file or sent as e-mail.
2nd place: Torque Pro
The Torque Pro app has a huge range of functions. Real-time analysis is a matter of course. A special feature is the possibility of uploading his data to the manufacturer's website for in-depth analysis. Over 1,000,000 installations.
1st place: Carly
Carly users confirm that you could save up to €500 per year in maintenance and repair costs by using the app. The range of functions, especially the unique functions such as the used car test or the coding, and especially the diagnosis with the manufacturer-specific error codes, which are much more detailed than the generic codes, convinced us completely. At Carly there is a Universal app with which you can encode or read several different car brands.