If you own or regularly drive a car, you may be aware of the fact that regular diagnostic scans of its computer systems are highly recommended. But how much is a car diagnostic where you live? Modern cars have highly sophisticated and interconnected systems with over fifty control units, kilometers of wiring, and hundreds of sensors. What can a car diagnostic test tell you? Scanning the control units is the best way to catch errors before they cause major problems. Alas, this costs money. Today, we will show you how much a car diagnostic can cost, as well as provide a top tip on how to effectively secure it for free.
So, how much is a car diagnostic scan? It can range from $30 to $80, depending on the workshop, depth of scan, and whether you will perform any repairs or rectifications at the same workshop. We will also show you a way that solutions such as Carly can effectively allow you to do a free car diagnostic from home, as well as save money on maintenance costs!
GAIN MORE CONTROL OF YOUR CAR WITH THE CARLY FEATURES
Check the exact pricing of Carly for your car brand!
---
Fast International Shipping with DHL
14 days adaptor return policy
Excellent customer support
Lifetime warranty in the hardware
Firstly, before we get into how much is a car diagnostic, let's have a brief refresher on OBD, the universal protocol and interface that makes for quick, seamless, and comprehensive diagnostic scans.
What Is OBD?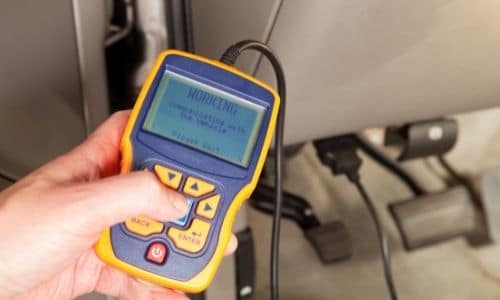 On-Board Diagnostics is an interface and protocol by which a car's myriad of computer systems can be quickly checked for any errors.
Initially born out of a need for continuous emissions monitoring, after California enacted strict emission control laws, the first iteration of OBD was rather primitive, and manufacturers chose to implement their own iterations.
This all changed in 1996, when the OBD2 standard was introduced. OBD2 is unified across all car manufacturers, with common codes for key systems, as well as provision for manufacturer-specific codes.
The OBD2 port is a standard one too, and any gasoline car manufactured after 2001, or diesel car that's post-2004 will have an OBD2 port for diagnostic scanning, as well as monitoring, customization, and other purposes.
Where Can I Find the OBD2 Port?
The OBD2 port is located inside the cabin, and will typically be within a radius of a few feet from the steering wheel. Common places include underneath the dashboard, in the driver's footwell, behind a trim piece in the area, inside a glovebox or storage compartment.
A read through your car's owner's manual will reveal the location, as will an internet search. Remember the location of your car's OBD2 port, as it's critical if you want to do a car diagnostic for free from home.
Traditional Ways of Diagnostic Scanning
The most traditional way of doing a car diagnostic scan is to take your vehicle to a workshop and have them do it for you. How much is a car diagnostic at a specialized garage? Workshops typically charge between $30 to $80, depending on the make and model of the car, whether you want to scan all control units or just the critical ones, as well as the overall positioning of the place. It's unlikely that you'll find an upmarket workshop catering to exotic supercars offering budget diagnostic scans, for example.
Manufacturer workshops will offer diagnostic scans for all models under their make, but third-party workshops will offer a varying degree of diagnostic scan capabilities, and may not be able to effectively scan rarer models, or those not meant for the North American market such as Japanese or EU-market specific models. If you're unsure, it's best to contact a workshop and inquire before taking your car round to them, to avoid wasting fuel and time, as well as money on a partial or incomplete diagnostic scan.
Will a Workshop Offer a Free Car Diagnostic and How Much Is a Car Diagnostic Scan?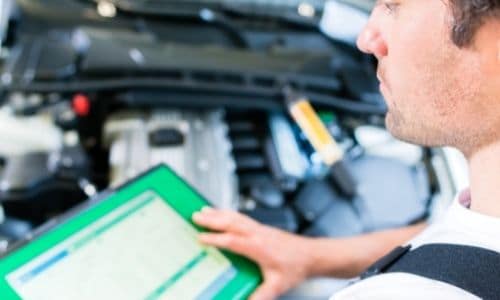 There are some instances where a workshop might offer a free diagnostic scan. Typically, if you choose to perform any repairs or rectification work at the workshop after a diagnostic scan has identified issues, they may waive off some or all of cost of the scan. Workshops may also run periodic promotions where servicing and detailing packages have a free diagnostic scan thrown in.
Manufacturer workshops may also offer free diagnostic scans at the time of routine servicing, or during the warranty period. Bearing in mind that it's recommended to perform a diagnostic scan on your car once every three months, or even once per month for high-milers, costs for diagnostic scans can rack up very quickly, and that's before you consider fuel costs, as well as time spent travelling to and from the workshop, and at the workshop. In such situations, it might be beneficial to ask your workshop how much is a car diagnostic before committing.
How Can I Do a Car Diagnostic from Home for Free?
There is a myriad of consumer-grade OBD scanners for novices through experts available on the market, ranging from $50 all the way up to $1,000 and beyond. These devices can either be stand-alone, hand-held ones, software that you install on your laptop and connect to your car with a cable, or the type that we like, a wireless device that plugs into the OBD2 port in your car and communicates with your smartphone. Let's talk about the last type.
Wireless OBD2 scanners offer fantastic versatility and portability, as they can be left plugged in with no cables running in the cabin, and they connect with a device that you carry with you all the time, your smartphone. This is how Carly works.
Introducing Carly
Carly is a two-part solution that allows seamless diagnostic scanning, as well as a whole lot more which we'll get into in the next section. Carly consists of the Carly Universal OBD Scanner, as well as the Carly app. The Carly Universal OBD Scanner is the hardware that plugs into your car's OBD2 port.
The Carly Universal OBD Scanner seamlessly communicates wirelessly with your smartphone, to the Carly app, which can be downloaded from the Apple and Android app stores. If you're unsure about Carly's support for your specific car model, the Carly lite app allows you to get an idea of what's available before purchasing the full version.
Carly is a great solution, because when the hardware and software are from the same manufacturer, they are designed to work together. The best part is, the Carly solution will cost you under $100, which means that after the first three to four diagnostic scans, you are effectively getting future diagnostic scans for free! The Carly app is regularly updated, so you don't need to worry about it becoming obsolete in a short span of time.
Carly's Additional Features Are Powerful and Valuable in Their Own Right!
In addition to comprehensive diagnostic scanning, Carly offers a suite of tools that are powerful and valuable on their own too, and you get it all with the full purchase price.
You've got the Carly Used Car Check which is a useful way to determine if a used car has undergone mileage tampering, by querying and comparing mileage across multiple control units. Then, you can utilize the coding function to customize certain aspects of your car. This varies depending on make and model, but on newer models, you can customize many aspects of lighting, infotainment, engine start-stop, anti-theft system and more.
Finally, Carly also allows you to reset service reminders and counters after you've performed some maintenance on your car by yourself, such as an oil change or battery replacement. In fact, with Carly, you can perform minor maintenance tasks by yourself, and save on much more than just workshop diagnostic scan costs.