Besides asking yourself how an OBD2 Bluetooth scanner works, you are probably wondering how is it possible to prevent expensive and unexpected car repairs from your Android devices?
Many of us who own cars believe that our vehicles are under control if the engine turns on. However, every time a warning sign appears on our car's dashboard, we realize that there is more to our vehicles than just driving from point A to point B and looking for parking spots.
GAIN MORE CONTROL OF YOUR CAR WITH THE CARLY FEATURES
Check the exact pricing of Carly for your car brand!
---
Fast International Shipping with DHL
14 days adaptor return policy
Excellent customer support
Lifetime warranty in the hardware
The next thing we know is that we must take our vehicle to a mechanic to repair the broken/damaged part and delete these OBD2 codes. And most of the time this includes an unexpected costly bill.
If this scenario sounds familiar, you have made it to the right place! Today we will help you avoid these unexpected expenses, and easily control your car's health from your Android devices. All of this with the help of one small device that fits in your pocket: a Bluetooth OBD2 scanner! (or also called an OBD2 reader)
What is OBD?
When errors occur in the system of a vehicle, the driver gets notified by an indicator light on the dashboard. These errors stay permanently stored in their respective control unit and once they're fixed, they can be cleared out.
Usually, when you take your car to the workshop, they use OBD equipment to read your vehicle's diagnostic trouble codes. "OBD" stands for onboard diagnostics. This OBD equipment consists of software (or a program) and hardware (typically a computer or handheld device). The software is in charge of collecting the information from your car, and the hardware displays the information. To start reading out data, the hardware must be connected to your car's OBD port. Additionally, depending on the model of your car you might also need to use using OBD cables.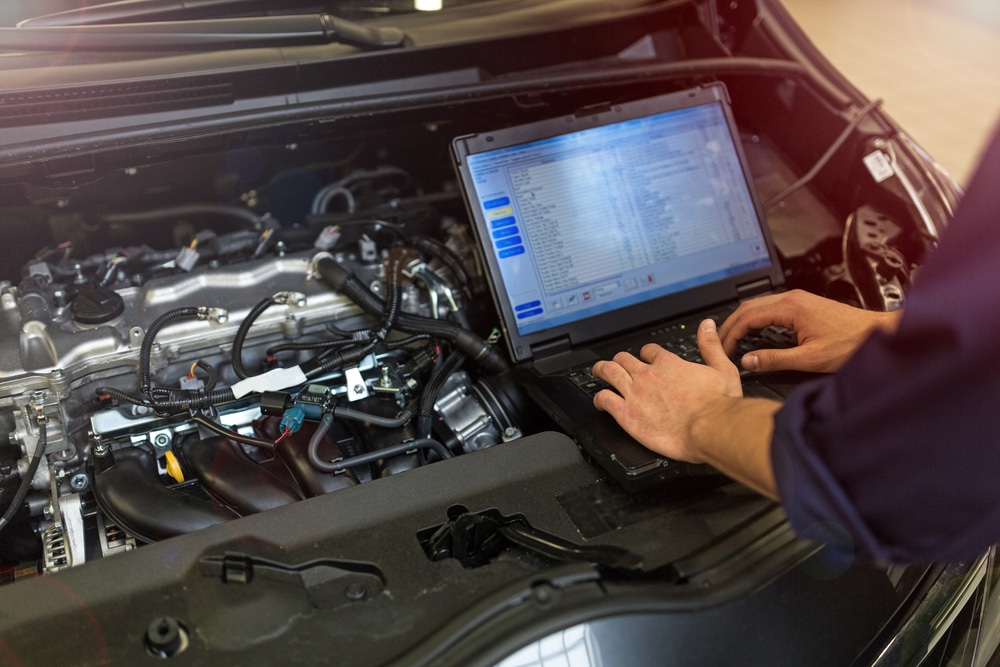 This type of OBD equipment is not practical if you want to have quick access to your car's information. You would have to carry a computer or a professional diagnostics device with additional cables if needed to perform your car diagnostics.
What is an OBD2 Bluetooth Scanner?
However, with a suitable OBD2 Bluetooth reader and the corresponding Google Play app, you can easily see this data by yourself on your Android device! OBD2 is the latest developed version of OBD technology. It does not require cables or a computer to access your car's data. Thanks to this technology, you can now buy a smaller OBD2 device that fits in your pocket. So, every time you can take the wireless diagnostic tool wherever you go!
This small device saves you time and money since you no longer must rely on a mechanic to find out what your vehicle is missing. Using OBD2 scan tools will also help you identify issues with your car months before they appear on your dashboard. This way you can avoid unexpected costly car repairs and always have your car's health under control!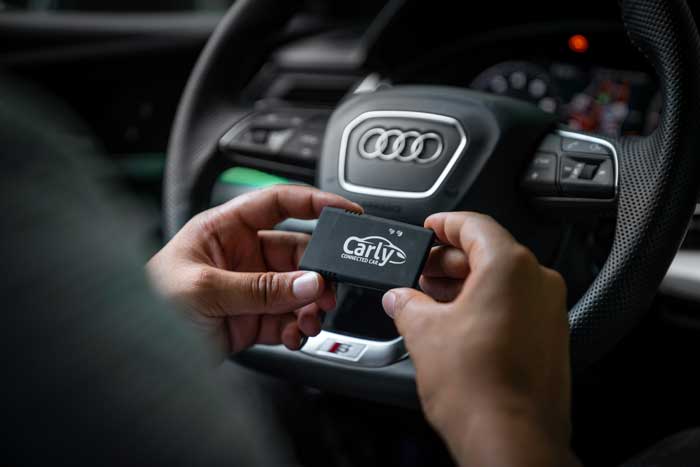 Where do I access my car's data?
A Bluetooth OBD2 scanner can easily connect to your Android phone through Bluetooth or Wi-Fi! Firstly, you have to download the application on your Android device. Finally, you just need to connect the scanner to your car and pair it with your device. As soon as it is paired, you can always access all of your car's information right away.
With Carly, you just have to plug the Carly scanner into your car and the Carly app will display an overview of enhanced diagnostics. These include your car's overall health state. Every time that you perform your car's diagnostics, the health of your car will be determined by the number and severity of fault codes. Additionally, you can also see fault codes months before the check engine light appears on your dashboard.
The Carly Universal adapter and the Carly app also allow you readout and clear OBD2 codes. For example, clearing out your 'check engine light' error. Additionally, you can see real-time engine parameters such as oil temperature and perform emission checks.
Moreover, depending on your car model, you can also access advanced features. For example, through the Carly application, you can code hidden features in your vehicle such as customizing your car lights!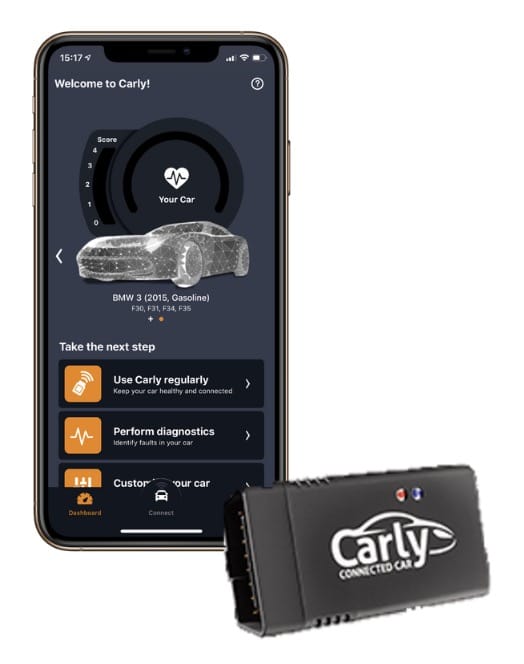 If you own a used car or wish to buy a used car, you can also perform a used car check with Carly. This feature allows you to check the real mileage of a car and access its driving history. Lastly, through the Carly app, you can also carry out your own car maintenance and save money on basic repairs.
You can decide to keep all this information stored in the Carly application or as PDFs on your Android phone. This feature is specifically useful when mechanic workshops request your car's history to carry out maintenance or repairs.
How do I connect an OBD2 scanner to my car?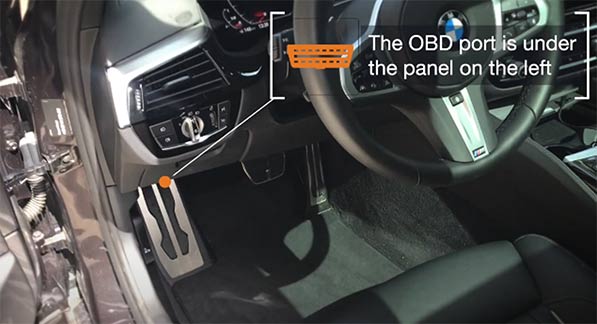 Most of the vehicles built from 1996 onwards have an OBD2 interface in the USA. You can find the manufacturing year of your car in your vehicle's registration documents.
Our Bluetooth OBD2 scanner, called the Carly Universal Adapter, can connect to all cars in the world that have an OBD2 port. Just keep in mind that you can only read your car with the adapter if it was built in 2001 or later. To read older BMWs and occasionally VAGs (from 1996 on), you need the Carly adapter and a special extension.
Typically, the socket for plugging your Bluetooth OBD2 reader is placed on the driver's side, underneath the dashboard. However, depending on your car's brand and model, the location of the OBD socket can vary.
The instruction manual of your vehicle provides information about where exactly the port is installed. You can also check your car's OBD access at the bottom of this blog post!
Can I leave my OBD2 scanner connected to my car?
Every time that you want to read out your car's data on your Android device, and perform your own diagnostics, you must plug the OBD2 scan tool into your car. Additionally, it is also completely safe to permanently leave your Bluetooth OBD2 Scanner connected to your car.
If you are using Carly, just make sure to turn on the Bluetooth on your Android device whenever you want to see your car's data via the Carly app.
Do I have to buy an iOS device?
Moreover, many OBD scan tools are compatible with Android and iOS phones. If you are using the Carly OBD2 scanner, you can easily pair it via Bluetooth to your Android or iOS smartphone. Additionally, the Carly app is also available to download in the Google Play Store and App Store.
Choosing the best OBD2 tool for iPhone and iOS devices!
There are numerous OBD2 scan tools and solutions available on the market, with different purposes and features.However, these functions depend on the conditions of your vehicle. For example, if the car does not transmit the oil temperature, the app will not be able to show this parameter.
If you are undecided about the ideal Bluetooth OBD2 scanner for Android phones, do not worry, we have done the research for you and tested the top 10 diagnostic solutions!
Before opting for an OBD2 solution, check whether your vehicle has the required interface for your OBD2 Bluetooth reader. If the OBD2 scanner that you select is compatible with your car model and interface, connecting the reader will be problem-free!
Now all that is left is to plug the thumb-sized reader into the car's socket, pair it with your Android devices through Bluetooth (Wi-Fi and mobile network works too) and download its application!
Like having your own mechanic!