You may know that you can identify and diagnose issues with your car through smartphone apps. This allows you to schedule maintenance conveniently and undertake some minor tasks by yourself if you're competent and confident to do so. But what's the best car maintenance app? There are so many car maintenance apps out there, and what else do you need apart from an app on your phone? In this article, we will explain everything you need to know about them and settle on the best car maintenance app for you.
What are car maintenance apps? These are apps that communicate with your car's computerized control units via a wireless connection and special adapter. They access the error or fault memories in each control unit, and display it for you to see. You can then decide what to do next. Some apps offer a broader range of features than just fault diagnosis. There are literally hundreds of apps out there, so finding the best car maintenance app isn't easy. But our favorite is Carly. Carly is an integrated solution that offers a powerful value proposition. So let us dive right in.
How Can Cars Talk to Smartphones?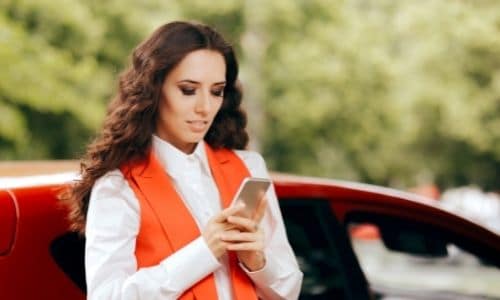 You might be thinking that it's done via the Bluetooth or USB interface in your car, and that Apple CarPlay or Android Auto has something to do with it. Nothing could be further from the truth, as these connections only link your car's infotainment system with your smartphone.
In fact, it would be downright dangerous if all the control units in a car could be accessed via the infotainment system's wireless connectivity. Unscrupulous people could potentially take over your car, and while they won't be able to completely control it, they could cause dangerous situations by interfering with the powertrain, steering, and braking control systems. Thankfully, there's another way to access your car's critical systems, and it can't be done without your knowledge. Let us introduce the OBD standard and protocol.
What Is OBD?
OBD, or On-Board Diagnostics, is a standard and protocol that first came about in the late 80s as an emissions control system monitoring interface. The OBD2 standard took over in 1996 and has become the de facto universal interface for all cars produced since 2005. This means that any car with an OBD2 port can be read by a compatible reader.
Where's the OBD2 Port?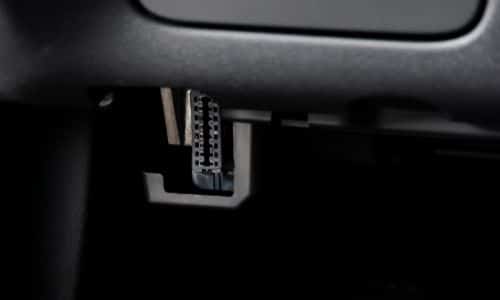 You won't find the OBD2 port in a prominent place where everyone can see it. When OBD2 came about, it was meant for technicians at workshops to diagnose cars. However, the port is located inside the cabin and typically a few feet from the steering wheel. Popular locations include beneath the steering column, where it might be pointing downwards on some models. It might also be inside the glove box, storage cubby, or behind a trim piece. Your car's owner's manual will reveal the location, or a quick internet search will put the matter to rest.
How Can My Phone Connect to This Port?
The OBD2 port looks nothing like a typical port that would be used by a smartphone, tablet, or computer. That's why you need an adapter to wirelessly send data to your smartphone and the installed app. You can buy adapters for as low as $25, but you should be aware that cheaper adapters will have limited functionality and may not work well with all apps. They may also require a proprietary app for which you will need to pay, making your total cost of ownership rather more expensive.
What's the Best Car Maintenance App?
There are multiple apps out there, so selecting the best car maintenance app isn't easy. Many of apps can work using different adapters too. However, mixing and matching adapters and apps is not recommended, as you may not be unlocking the full potential of either, and in the worst case, you may miss out on critical errors that your car's control units cannot communicate due to the mismatch. Since adapters use wireless connectivity, there has to be a degree of error correction built into the communication. This may not be in parity when mix and match solutions are employed.
What Would You Recommend?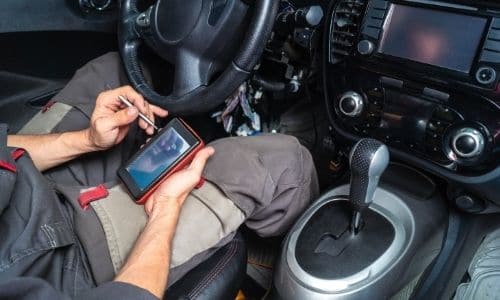 IF you're looking for one of the best car maintenance app choices, our pick is Carly — a two-part solution. Carly consists of the Carly app, and the Carly Universal OBD Scanner, which plays the part of the adapter. The Carly Universal OBD Scanner is a small and unobtrusive device that can easily fit in a storage compartment or your pocket. If you desire, you may leave it plugged into your car's OBD2 port at all times.
Carly's software and hardware have been developed hand in hand to work together in synergy, and you can be assured that swift and accurate data transfer will occur as a result. Carly is immensely popular because of the broad gamut of models that are supported, and all for an outlay of less than $100 — all essential considerations when selecting the best car maintenance app.
In fact, if you're contemplating getting on board the Carly train, you don't need to buy a ticket just yet. Simply download the free Carly lite app onto your smartphone, and select your car make and model. The Carly lite app will let you know what features are supported, allowing you to make an informed purchase decision. The Carly app is regularly updated, so you don't need to worry about it becoming obsolete, and support for new models is constantly being added.
What Does Carly Offer?
First off, there's the regular diagnostic scanning through reading of error or fault memories across your car's control units. However, Carly takes it a step further and performs a degree of interpretation for you. A simple 'traffic light system' is used, where green means everything is OK, yellow signifies there are some errors that need attention soon, and red is used when your car has serious errors that require immediate attention. No need to perform internet searches to decipher the raw error codes that other apps spit out, as Carly will explain it for you.
Next up on Carly's menu is coding. Coding is exciting because it allows you to customize your car's behavior across several systems. For example, you can customize the behavior of the turn signals and horn when locking and unlocking the vehicle, deactivate the start-stop system, set the climate control to use recirculate mode by default, customize lighting, and much more. What's neat is that you don't need to be a computer programmer for this kind of coding, as Carly allows you to do it from an easy-to-use interface, and you can always roll back any changes if you don't like it.
If you're a DIY maintenance fan, this is where Carly shines as one of the best car maintenance app choices. You can reset maintenance reminders after you've done some minor work such as an oil change or battery replacement. This allows you to save time and money that would be spent on a workshop visit for little tasks that you just performed in your garage or driveway.
The final feature is superb for those who are seeking to buy a used car. The Carly Used Car Check is a detective whose job is to find mileage tampering on vehicles. It's extremely hard for unscrupulous car sellers to trick the Carly Used Car Check; that's how comprehensive it is, and will alert you to any signs of mileage tampering, which is sadly quite common.