Payment Instructions
Please invoice us directly for your affiliate sales at the beginning of each month (for the previous month). This means that in August, you would create an invoice for your adapter sales in July. Please do this directly through PayPal. They have a simple option where you can create an invoice template, and then just change the date and payment amount each month.
We generally finalize the affiliate payout for the previous month on the first business day of the month. You can see if the payout has been finalized in the tab "Payouts". If there is no payout for the current month listed, we have not approved all transactions for the month that just ended.
Please send us your invoice by the 15th of each month. So to receive your payment for July, you should send Carly the invoice by August 15.
---
Please log in to your PayPal and follow these instructions:
On the top menu, click "Send & Request"
– On the right-hand side, you will see "Send an invoice". Click there.
– Then you should see "Use template", please select "Quantity" and "EUR"
– Verify that your full address is included by checking the box on the top right, and please make sure it is not set to "don't show on invoice". You can edit your address information by clicking "Edit Business info". You may need to add your address in your main PayPal account settings first.
– Where it says "Due" you can either select the 15th of the month or "in 10 days".
– Then click under "Bill to" and "Add new customer". List our business name as: Carly Solutions GmbH & Co KG.
– The email is: buchhaltung@mycarly.com and the country is Germany.
– Next click "Billing address" in the bottom of the pop-up window. Enter this address information:
Street name and house number: Kolpingring 8
Postal code: 82041
City: Oberhaching
– Further down, In the box "Additional information" put: USt. ID: DE315744216
– Click "Save"
– Next, CC affiliate@mycarly.com
– Under "Items" click where it says  "Item name" and enter "Carly adapters" 
– For "Quantity", enter the number of sales you made. To find this information, go to the "Reporting" page in Tapfiliate. But first, please make sure that your Tapfiliate account has the time zone set to "Europe/Berlin" so that your data matches ours. You can check this in your Profile Settings, by clicking on the button with your account initials (bottom left) when logged into Tapfiliate.
– In the Reporting page of Tapfiliate, on the left side, you will see the option to view by month. Click that, and you will see the number of approved conversions you made in a month.

– As in the example above, if you were invoicing us for January 2021, for the "Quantity" in PayPal, you would put 227.
– In the invoice, put the "Price" to €15. PayPal will then automatically calculate the amount you will be paid. If you want to make sure it is correct, you can verify that you see the same amount in the "Payout" section in Tapfiliate. Please ignore any currency signs in Tapfiliate, all payouts are made in EUR.
– If you need to include VAT/tax, enter it under the "Tax" column. Please be aware that you are responsible for the correct display of the sales tax, and taxation of your income if applicable. Please include your tax ID number if you include VAT/tax.

– At the bottom of the invoice you will see "Message to customer", please put in "Delivered in _____ "(month and year adapters you are invoicing for). So in this case "Delivered in January 2021".
– If you do not need to include any tax, please also include "0% VAT applied" in the "Message to customer".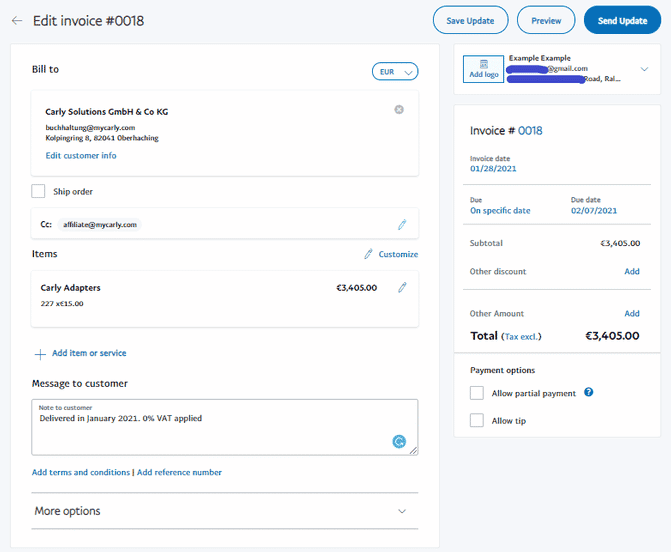 Click "Preview" and then click the little arrow next to the "Send" button to see the option "Download PDF". Your invoice should look like this: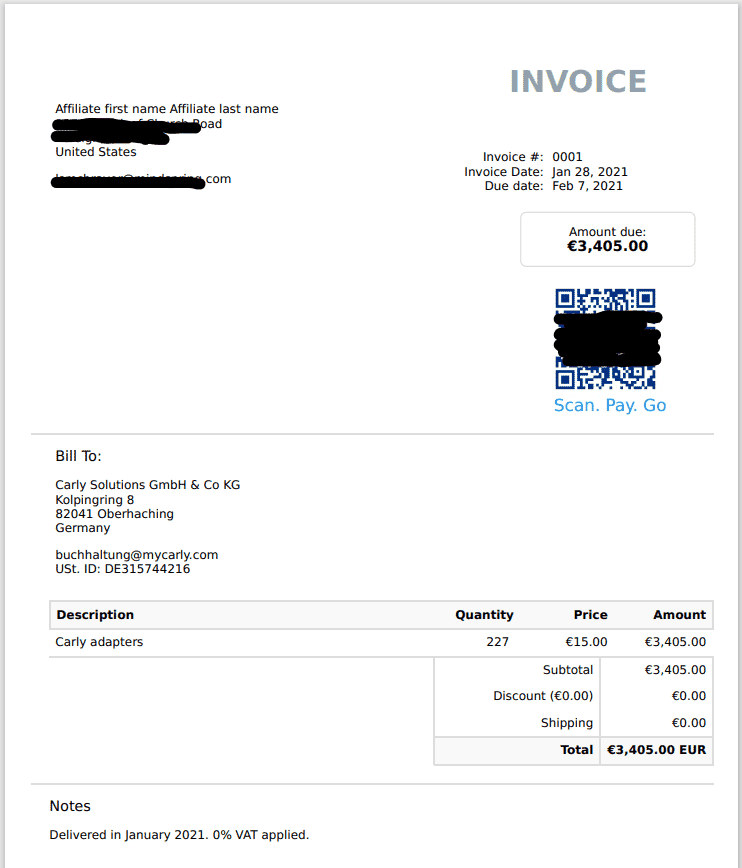 If everything looks correct, just click "Send" back in PayPal. Then our team will get the invoice, and transfer the amount.
Once you have created the invoice once, you can save it as a template, and just change the date and amount each month.
If PayPal is not available in your country, please contact us via affiliate@mycarly.com to discuss other options.
If you have questions about PayPal invoicing, please visit this page.