When you're buying a used car, it's important to find out its history. A car can look pristine on the outside and the interior can be spruced up, but the mechanicals can tell a different story. Therefore, it's always good to find a used car with a comprehensive history of proper maintenance. In this article, we'll tell you how to check the history of a car, and establish its provenance. We'll also give you a top tip on a solution that can quickly tell you the current health of the car, verify its mileage, and act as your trusted companion thereafter.
GAIN MORE CONTROL OF YOUR CAR WITH THE CARLY FEATURES
Check the exact pricing of Carly for your car brand!
---
Fast International Shipping with DHL
14 days adaptor return policy
Excellent customer support
Lifetime warranty in the hardware
How to check car history? There are many ways, including through honest questions, checking manufacturer records, service records, roadworthiness tests, and more. You can also use consumer-grade solutions such as Carly to establish if a car is hiding any faults if there's been mileage tampering done to it, and keep it in the best condition thereafter.
Why should I check the car's history?
When buying a used car, the history is the only way to ascertain if it's received maintenance and repairs in a timely manner, whether it's been in any accidents, have any recalled items been corrected, and the way it's been cared for in general. Do not rely on appearance alone for this. There are professional painters and detailers who can work their magic on a tired used car, and make it appear like it just rolled off the showroom floor. Faults can be covered up by disconnecting warning lights, mileage can be tampered with to show lower figures, and temporary fixes can be applied to hide underlying issues. This is why you should never buy a used car on impulse unless you can afford to spend tens of thousands of dollars to put it right if necessary.
How can I check the car's history?
The first way to check car history is, surprisingly, the one that many buyers overlook. Honest conversation. Have a chat with the seller if they seem genuine. Ask questions. Request to view the car's maintenance file and records if available. The direct approach can often help you identify any red flags, such as if a seller is reluctant, or turns defensive. With these signs, you know you shouldn't waste any time with the car.
If the seller claims that the car has received proper maintenance, but they don't have a complete recordset, you could ask them where the car has been maintained, and reach out to those workshops for an inquiry. This is particularly easy if a car has been maintained at an agent's workshop, as they are required to keep records. Even a third-party workshop will have some records.
You can also check if a car has received its regular roadworthiness certifications and if all road taxes have been paid, such as via the DVLA. This is a good way to ensure that the car has been kept legal, and a side benefit of it is that the mileage is typically recorded, so you can obtain a trend, and identify any suspicious lapses.
You could also use a third-party car checking service to conduct a comprehensive check on a used car that you're interested in. Of course, the seller will need to consent to this, and if a seller is reluctant, or outright refuses, that is a red flag. If a seller consents, the cost is typically shared between the seller and yourself.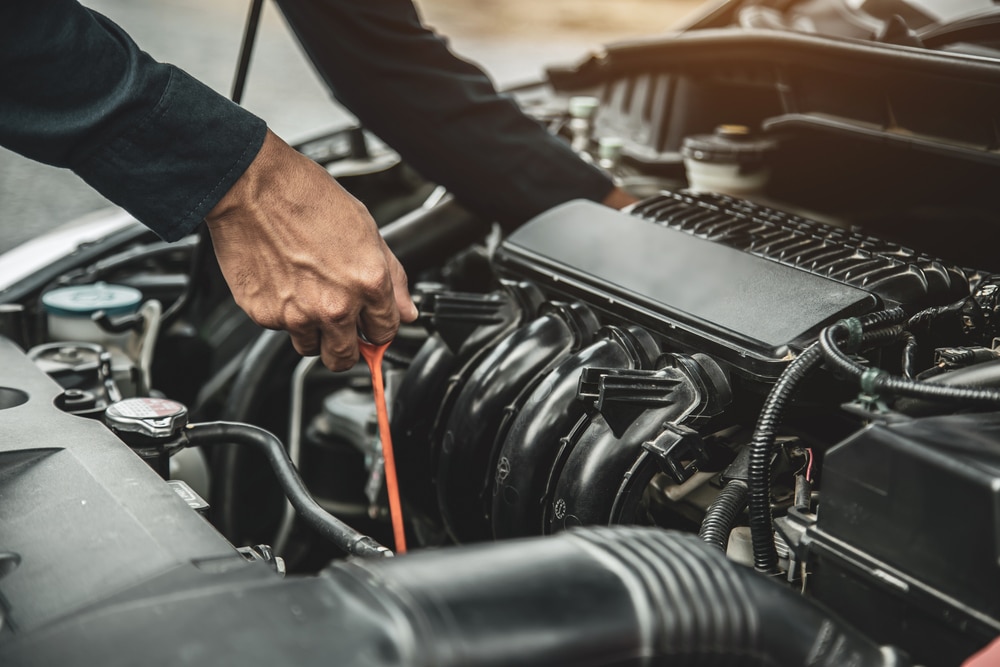 What else should I check on a used car?
Car history is only one thing out of a laundry list that you should check on a used car. The first thing on the list is the exterior condition. While there are the aforementioned professional detailers who can make a car look brand-new, it's the exception rather than the norm, especially with cheaper cars. A car's exterior condition can tell you a lot about how well it's been looked after. It can also tell you if the car has been in an accident and repaired poorly. Uneven panel gaps, misaligned head or tail lamps, visible differences in the paint between two panels, worn tires, and condition of wheels are some indicators to watch out for.
Next, get inside and sit behind the steering wheel. Pay attention to how the interior looks in terms of wear, cleanliness, and functionality of components. Check if all the gauges are functional, if the HVAC or climate control system works as intended, ditto for the radio or infotainment system, and look out for any aftermarket modifications. These aren't bad things, but they should be properly installed.
Taking a test drive is required if you are to gauge how a car drives, and you should drive it as normally as possible. Don't try to test its acceleration, braking, and handling limits, but subject it to a regular regimen of driving that's reflective of how you will use it. Keep an eye out for any gauges and warning lights, and listen for any unusual sounds too. If possible, take a knowledgeable friend or mechanic along as well, as you should conduct a check-up of the mechanicals as well, especially if that car is over ten years old or looks particularly tired for a newer model.
How can I check for faults with the onboard systems?
One of the most common things that unscrupulous sellers do to hide faults via an illuminated 'check engine' lamp, is to simply blank off the lamp within the instrument panel, or disconnect its power supply. However, the errors are still stored in the fault memory of the car's onboard computer systems and can be detected using a suitable diagnostics solution. There are consumer-grade solutions out there that range from $25 all the way to $1,000+, but you needn't spend too much or too little. $100 is sufficient to purchase a competent solution that will cover all your current and future needs.
Can you recommend a solution?
We recommend Carly, as a comprehensive two-part solution that will cost you under $100 in total. Carly consists of a hardware component in the shape of the Carly Universal OBD Scanner, as well as the software component, which is the Carly app. The Carly app supports Android and iOS devices and can be installed from the relevant app stores. There's also the Carly lite app that's free to use and helps you determine if Carly is suitable for your car before purchasing.
Simply plug the Carly Universal OBD Scanner into your car's OBD2 port, fire up the Carly app on your smartphone and you're good to go. Carly can conduct a comprehensive analysis across fault memories of all the computer control units in your car, and present the results in an easy-to-decipher format. This allows you to identify issues quickly and seamlessly, which is crucial when checking out a used car.
Can Carly help with detecting mileage tampering?
Carly includes a powerful and versatile function called the Carly Used Car Check. This conducts a comprehensive analysis of all the control units in a car that you're checking out and can detect mileage tampering to a great degree of accuracy, even if the seller has taken extra efforts to hide it. With Carly in the palm of your hand, you can be sure that you won't be taken for a ride on a disguised high-miler.
What else can Carly do?
In addition to diagnostics and mileage tampering detection, Carly allows you to customize aspects of your car via the coding function, as well as perform maintenance counter resets and re-initialization after you've performed some DIY maintenance such as engine oil changes or battery replacements. Carly truly is a wonderful solution.