Saving money on car maintenance with an OBD2 scanner is easier than you think! Once you know how to save money on your car, you can save up to $500 per year on maintenance and repairs.
There are two simple things that you can do to cut down on or avoid unexpected maintenance costs.
Know the health status of your vehicle at all times.
Know which warning signs are not worth a visit to the auto repair shop.
This might sound difficult, however, we have some tips to make it easier.

Below, we will dive deeper and show you four tips and tricks that will help you save extra money on vehicle maintenance. And of course, we will show you how to do this using a budget-friendly and easy-to-use Bluetooth OBD2 scanner.
4 tips that will help you save money on everyday scenarios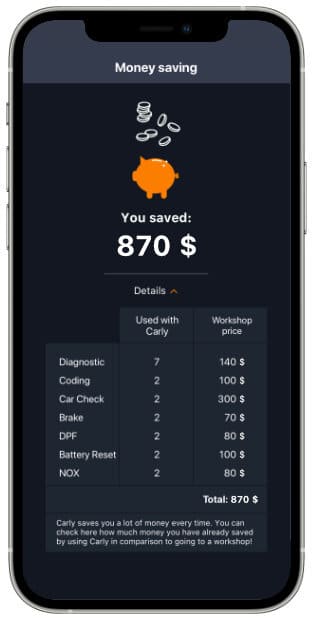 In our day-to-day, there are many scenarios where we end up spending much more money on our cars mainly because we don't know what they need. We have to rely on mechanic shops, and oftentimes these visits result in unnecessary maintenance fees.
However, with the Carly OBD2 scanner and app you should never have to pay more than necessary for car repairs. And you'll even be able to perform some fixes yourself if you like!
The first step before getting started is to set up your Carly equipment. Setting up the Carly OBD2 scanner is very quick and easy!
All you have to do is plug the scanner into your car's OBD2 port, open the Carly app and pair it to your car! Below, we have detailed instructions to guide you through it.
1) Know when the "check engine" light actually requires a visit to the auto repair shop
The check engine light is a warning light that worries most people. This is because the engine is one of the most critical systems of a car and an engine repair is typically expensive.

Nevertheless, the "check engine" light can be triggered by something highly critical or by something simple that doesn't require a trip to the mechanic. A common example of a minor problem is leaving the gas cap loose after fueling the tank.
However, whenever the "check engine" light turns on, the best thing to do is turn off your car and run a diagnostics check with your OBD2 scanner. This is the easiest and cheapest way to find out the potential problem.
A diagnostics check will also help you save money in the case that:
Your car has a serious problem that you can now act on in time before it becomes an expensive major repair
The "check engine" light was triggered by something minimal that can be quickly fixed without a car technician.
How to check if there is an issue with the engine using the Carly OBD2 scanner
With the Carly app and OBD2 scanner running a diagnostics check is simple! Just go to "Health" and click on "Check for issues". Carly will scan every system in the car for OBD2 error codes, including the engine.
After running the diagnostics check, it is possible that old errors are also detected. This is normal, and it happens when an older issue was fixed but never cleared out from the system.
Here is the trick: to figure out the actual problems, clear all of your car's faults, and run a diagnostics check again. Ideally, we recommend you run the second diagnostics check three days later. This helps your car to process the information in every system.
If there are fault codes detected in the engine after the second diagnostics check, it means that there is a current issue with the engine.

Depending on the type and severity of the issues found, the health status will be color-coded from "Good" to "Average", to "Bad" and "Very bad".
Non-critical Issues
Some fault codes are less critical than others and only entail minor repairs. For example, the code P044 indicates a loose gas cap and you can quickly fix this on your own.
Don't worry if you don't know what every code means. By clicking on it, you will be directed from the Carly app to a search for the fault code meanings on Google.
Critical Issues
Moreover, there are other faults that are highly critical and need immediate attention. For example, these can be related to an engine misfire or an electrical circuit oversupply. Here you can review the most critical fault codes.

If you are not sure whether a fault is critical or not, check your car's behavior. As a rule of thumb: if there are unusual sounds, shaking, or surging we advise you to stop driving your car and call a tow truck to take your car to the mechanics.

If you can't notice any strange behavior, your car will most likely be safe to keep driving. However, this doesn't mean that there aren't any critical problems in your car.

When it comes to the engine, the best way to save money is to prevent problems from becoming severe and expensive repairs.
Therefore, take your car to get checked as soon as possible regardless of the severity level of the faults.
Important note: If during the three-day "waiting period" in-between the first and second check your car begins to present abnormal behavior, stop driving your car immediately and call a car technician or tow truck.
2) Uncover hidden problems in time and prevent costly repairs!
The easiest way to avoid thousands of dollars in vehicle repairs and maintenance is to simply know the health status of your car. By doing this you can:
Avoid unexpected repair fees. If your car needs maintenance, having to spend money on repair costs won't take you by surprise.
Plan more in advance for repairs and include them in your budget.
Prevent little issues from becoming costly problems. With Carly's health check feature, you'll be aware of any issues early on instead of ending up stranded on the side of the road.
So, instead of facing a severe problem and paying hundreds of dollars for repair costs, you can take care of these problems while they are small and cheaper to repair.
In order to save from $500 to $2,000 per year on car repairs, we recommend you perform a health check every two months.
With the Carly app, you can perform a health check as often as you want, and it will only take you a couple of minutes. Additionally, you can also clear fault codes in order to focus on current problems only and not on old issues that are already solved.
How to conduct a health check with the Carly app
There are many OBD2 scanners that provide a "health check" feature. However, most of them only provide information regarding the engine, and there are many more systems that are also critical to your car!
Carly's OBD2 scanner will review ALL of your car's systems. So besides the engine, you will also have complete information about every critical and non-critical system of your car.
However, only some car brands are compatible with this feature. This is because every car uniquely built.
To perform a health check go to "Dashboard" on the Carly app. Then go to "Health" and click on "Check for issues". Your screen will look similar to the image below.
After running the health check, the Carly app will evaluate the overall status of your car based on how many error codes there are and their severity.
If the car's health is defined as "Good", that is great news! Your car's health is in good shape and you know that there is no need to take it in for maintenance.
However, if the overall health status of your car is "Bad" or "Very Bad" you should pay attention to which faults were detected. Some systems may require more attention than others.
If the faults are in less crucial systems, such as the rearview camera, you can decide to repair them in the near future or not.
However, if the fault codes are in more crucial systems, such as the engine, then you need to take action. Other crucial systems include the transmission, the ABS (Anti-lock Braking System), and the airbags.
If you are not sure about what the displayed fault codes mean, we've got you covered! In the Carly app, after conducting the health check, you can directly find information about each fault code by clicking on it.
As seen below, you will be redirected to Google with the error code automatically copied to find out more about it.
3) Know if a mechanic or auto shop caused an issue with your car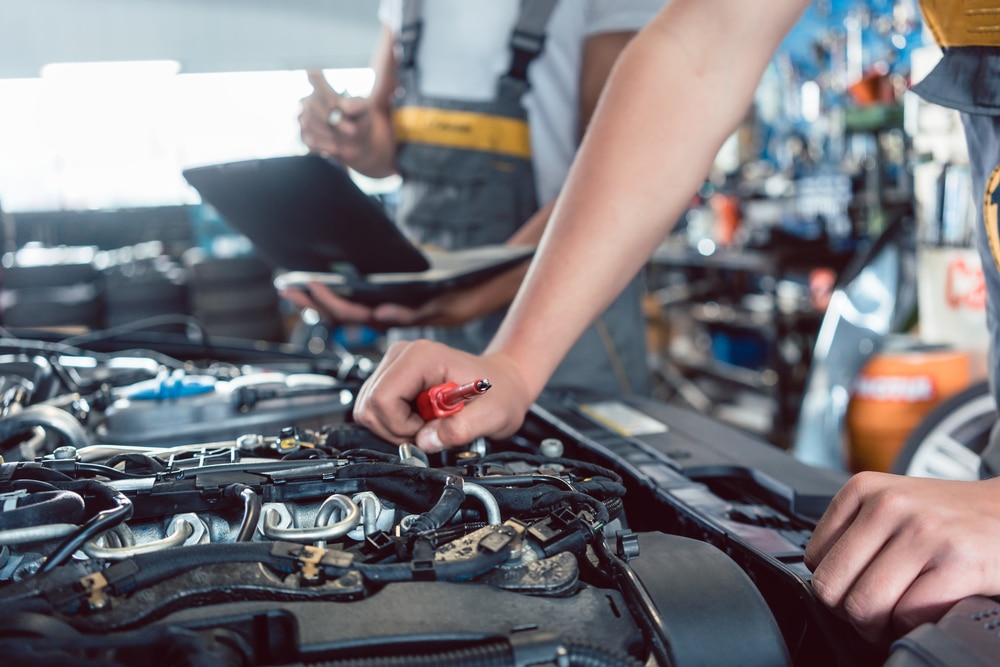 It is possible that a few days after taking your car for maintenance or repair, there might be a new issue present in your car.
Normally, you might assume that this issue was already present but just hadn't shown up. And even professional mechanics might tell you that the issue was already there (before the car repair) but they did not notice it.
So, you would have to take your car again to get repaired and possibly pay another expensive fee to fix any issues.
However, the truth is that even an honest mechanic might have mistakenly or unknowingly caused a new issue with your car during a car repair. And if this is the case, would you want to pay for this costly issue yourself or be able to show when the issue actually happened?
How see if a car mechanic caused a new issue during maintenance
In order to know if new issues were caused during a repair, all you need is a diagnostics report of all the fault codes detected by the Carly app before AND after the car repair.
This is very easy to obtain — all you need to do is to run a car diagnostics check before and after taking your car to the mechanic shop.
With the "Digital garage" feature from the Carly app, you can easily save your diagnostics reports as a PDF. To do this all you need to do is run a diagnostics check. Afterward, the report should be saved automatically and you can access it through your Digital Garage.
Additionally, you can also share a PDF version of your diagnostic reports by email. For this, just click on "send files", and then choose the "diagnostic report" that you want to send.
It's as easy and quick as that! And it could save you the car repair fee, as you can use these documents as proof to show that the problems started after the car maintenance or repair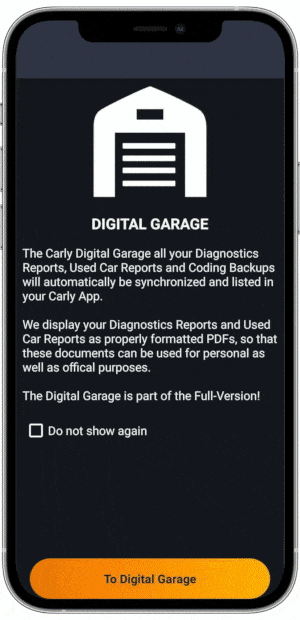 4) Do your own basic maintenance and save money on car repairs!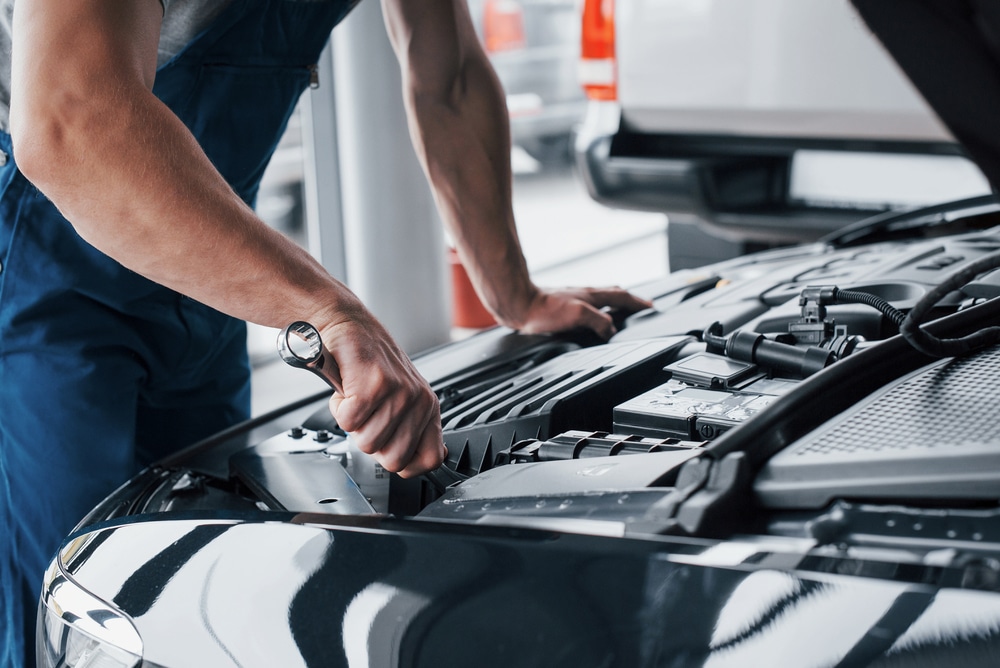 If your car requires maintenance, did you know that you can actually conduct many basic repairs yourself instead of having auto mechanics charge you money for it?
These type of repairs are very easy to undertake, so don't be worried about messing up or damaging a part of your car.
If you follow Carly's step-by-step guides, it is very straightforward and easy to do your own car repairs!
Some of the repairs or maintenance that you can carry out with your Carly OBD adapter are:
NOx
Checking DPF critical values
Requesting DPF regeneration
Reading and resetting transmission values.

And if you are handy with tools, Carly also helps you with:
Service resets
Battery registration
Electronic parking brake
How to do your own car maintenance with Carly
In the Carly app, we will give you clear instructions on how to undertake your own maintenance based on your car model.
All you have to do is go to "Maintenance" and there you will see all the available DIY services for your car model.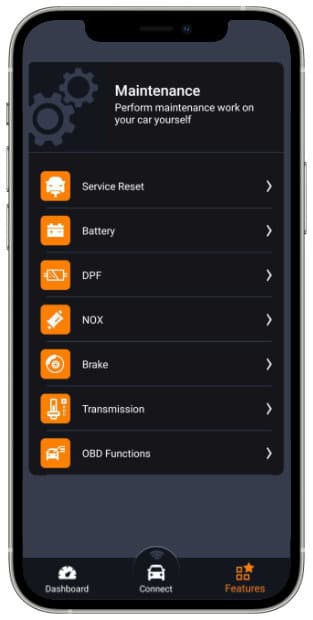 Why choose Carly to save money on car repairs?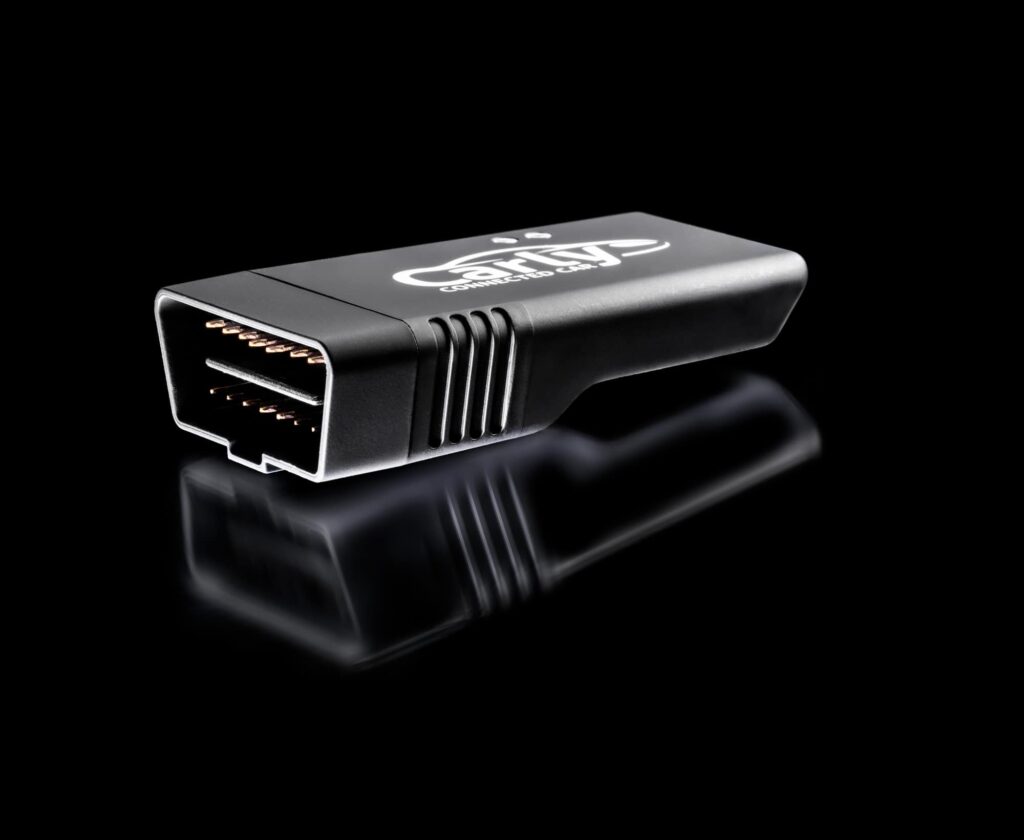 The most affordable and practical way to monitor your car's health is to use an OBD2 scanner and app. It's important to be aware that most scanners and devices on the market only give you access to OBD level diagnostics.
Here are other features that scan tools can provide:
| | | | |
| --- | --- | --- | --- |
| Features | Carly OBD2 scanner | Other OBD2 Scanners | Diagnostic devices |
| Ease of use | 5/5 | 5/5 | 3/5 |
| Type of equipment | Scanner + mobile app | Scanner + app or computer software | Standalone diagnostic device or OBD cables + computer software |
| Recommended for: | Anyone | Beginners | Professionals |
| Manufacturer-level diagnostics | ✔️ | Some | ✔️ |
| DIY maintenance | ✔️ | Some | Some |
| Live parameters | ✔️ | Some | Some |
| Car coding | ✔️ | Some | ✔️ |
The Carly OBD2 scanner provides the kind of advanced insights that you'd normally need a $3,000 professional diagnostic device for. But unlike those devices, the Carly OBD2 scanner is portable and can fit in your pocket. And additionally, you also get a lifetime warranty with Carly.
How to set up your Carly OBD2 scanner and app
The Carly OBD2 scanner is compatible with most car brands in the world. If your car was built in 2001 or later, Carly's basic features (engine check, emissions check, live data) will be available for your car model. This applies to both diesel vehicles and gasoline-powered cars.
However, an exception is BMW vehicles. If you have a BMW built between 1996 and 2001, you can still use the Carly scanner if you also have a 20-pin adapter.
Carly offers additional features beyond those listed above. Just keep in mind that since every car's electronics are unique, Carly's premium features are only supported by certain car brands. Here you can check which features are available for a specific car model!
Once you have your Carly OBD2 scanner and app license you are ready to perform in-depth inspections.
Before performing a used car check you must first set up the Carly equipment. And luckily this is very easy!
STEP 1) First, open the Carly app on your phone.
STEP 2) Next, plug the Carly scanner into the car's OBD2 port and turn on the engine. The car's OBD2 port can usually be found under the steering wheel on the left side.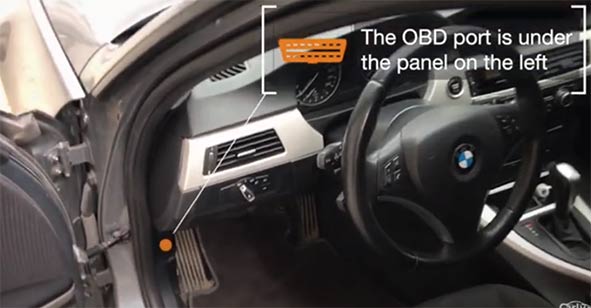 Here you can find the location of the OBD port for your car model. Otherwise, you can also ask the car seller where the OBD port is located or find it in the car's manual.
STEP 3) Turn on your phone's Bluetooth and click the orange button that says "connect" in the Carly app.
As seen in the image below, Carly will establish a connection between your phone and the OBD scanner. Afterward, you will immediately have full access to the car's information in the Carly app.
Start to save money on car repairs
Having an OBD2 scanner is the easiest and best way to save money on car repairs and maintenance.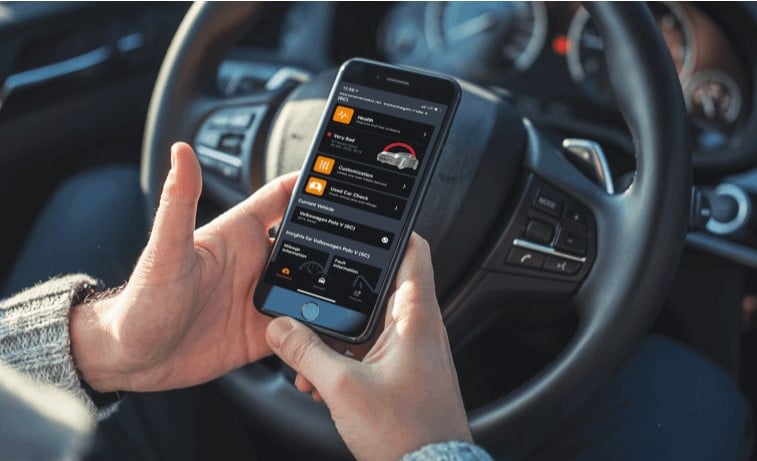 With the Carly OBD2 scanner, you can save money on car repairs immediately by:
Knowing if you actually need to go to the repair shop
Preventing problems from becoming severe and expensive
Seeing if an issue was caused by a car technician's actions
Doing your own basic car maintenance
Additionally, you'll be able to avoid unexpected repair fees since you can always review your car's health status.
By simply conducting a "Health Diagnostics" check every month with the Carly app, you can save up to $500 on repairs fees per year. And, performing routine maintenance with Carly can also help you budget for future repairs, and take action as soon as your car requires it.
Now that you know how to save money on car repairs, are you ready to get started?