What is an OBD2 Scanner?
Many who are looking to access their car's diagnostics, live data, or even code their car, know that an OBD2 scanner is the best tool for this!  
With an OBD2 scanner, you will be able to have full control of your car and know its health state at all times.
GAIN MORE CONTROL OF YOUR CAR WITH THE CARLY FEATURES
Check the exact pricing of Carly for your car brand!
---
Fast International Shipping with DHL
14 days adaptor return policy
Excellent customer support
Lifetime warranty in the hardware
The best part is that you can save thousands of dollars on maintenance and repair fees! An OBD2 scanner with advanced features can even let you access hidden data that only a professional scanner provides.
So let's go back to the start and discover what exactly is an OBD2 scanner (aka, OBDII scanner)? How does it work? And what can do with it?
What is an OBD2 scanner?
OBD stands for "onboard diagnostics" and OBD2 is the most advanced version of the "OBD" technology. This technology lets you access your car's information and in some cases even control back your car through coding.
There are many different types of diagnostic scanners and tools that let you access your car's OBD systems.
Mainly there are 2 different types of OBD2 scanners: with a physical screen and with an app. Both of them can offer similar functions but are meant for different uses.
OBD2 scanners with a screen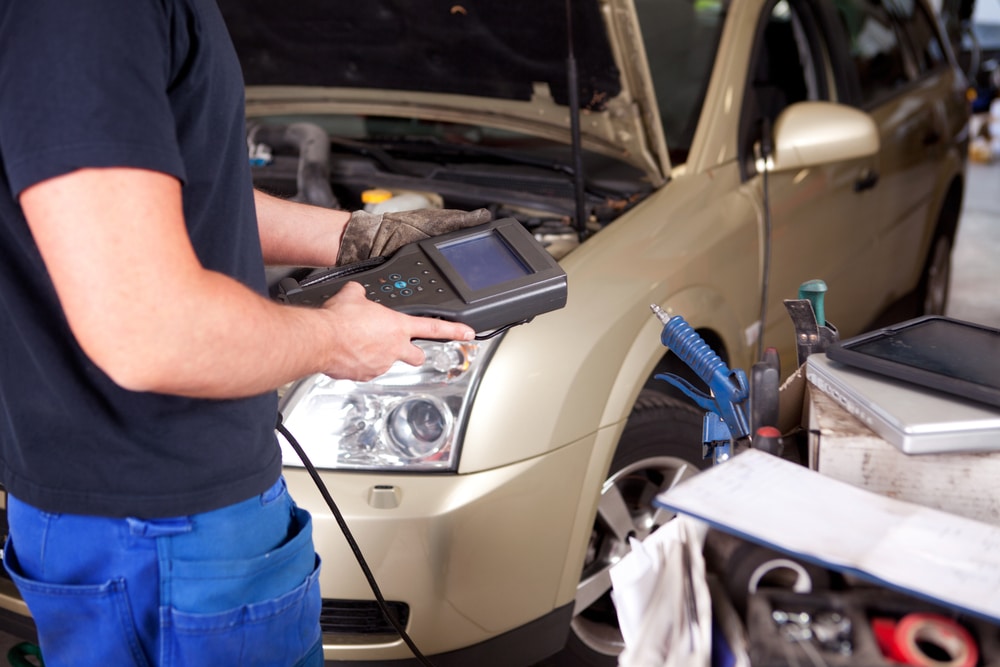 Most of these scanners, also known as diagnostic devices, offer the basic functionalities that a scan tool does. These are diagnostics and live parameters.
However, they mainly only show the raw data and you then have to find out more information about it on your own.
The prices for a diagnostic scanner can range from cheap to hundreds of euros, depending on the features offered. Moreover, since the device has its own screen, they tend to be a bit clunkier. So they are not convenient if you are looking for a portable tool.
OBD2 scanners with an app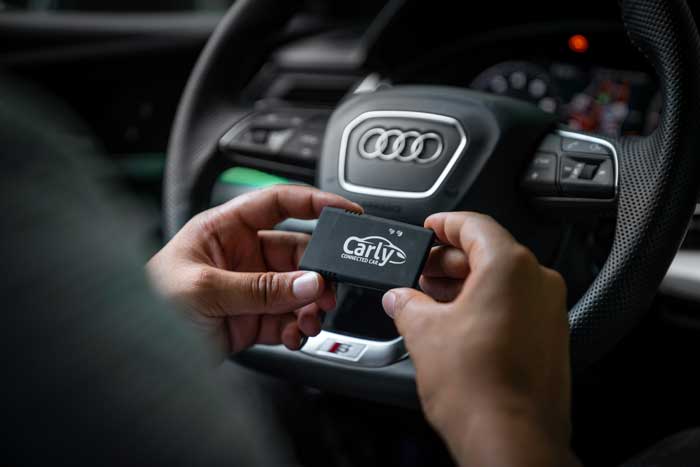 An OBD2 scanner is a small pocket-sized device that you can plug into your car.  They work with apps so that you can access all of your car's information from your phone. 
They can be slightly more expensive than diagnostic devices because it includes a Bluetooth connection (to make it wireless) and the mobile app must also be purchased separately.
However, a big advantage is that some scanners provide even more information than a diagnostic device. For example, besides just diagnostics and live data, you can also code your car.
Additionally, OBD2 scanners interpret what this information means and give you deeper insights. This can be especially important for less modern cars where not all vehicle data can be read out via onboard electronics.
Why choose Bluetooth OBD2 scanners?
OBD2 scanners are the most convenient tools since they are small, have advanced functions, are affordable, and are wireless scanners!
It is important to note that every OBD2 scanner is different since they can differ in:
Features offered (basic vs. advanced functions)
Compatibility with car brands
Compatibility with smartphones (iPhone & Android)
What does an OBD2 scanner do?
OBD2 scanners can let you access a lot of data about your car. Nevertheless, the available data depends on the scanner and app that you select.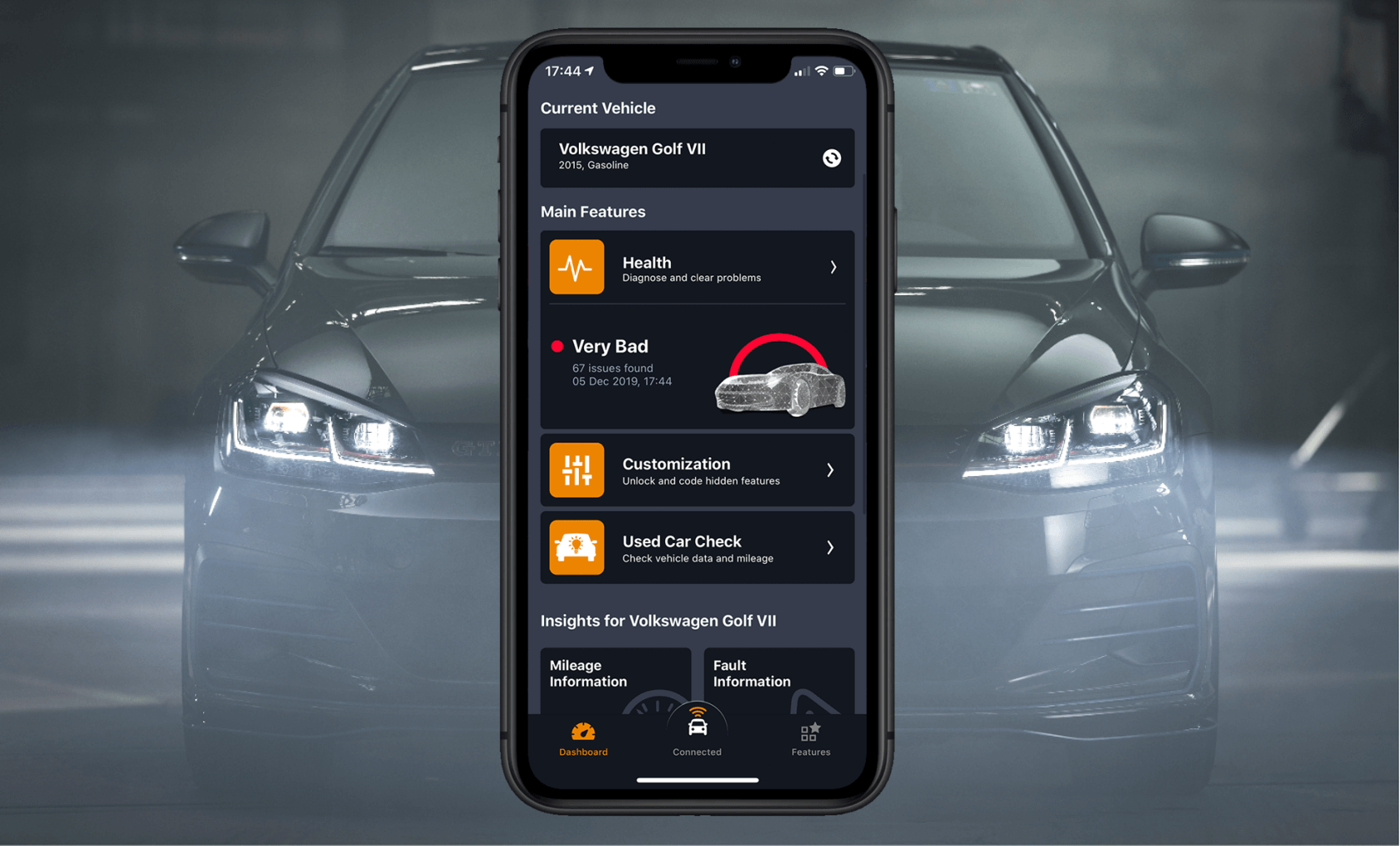 The most basic functions that scanners provide are OBD diagnostics and/or OBD live parameters. And some only give you this data related to the engine, and not to other systems.
However, there are many more features that an advanced OBD2 scanner can offer. And the best part is that "Advanced" does not mean expensive.
Below we will list all the features that a scanner can let you access! In the case of the Carly scanner tool, you can get all of them.
Diagnostics (OBD + manufacturer trouble codes)
The diagnostics function lets you read out and clear fault codes (aka, diagnostic trouble codes) that are present in your vehicle.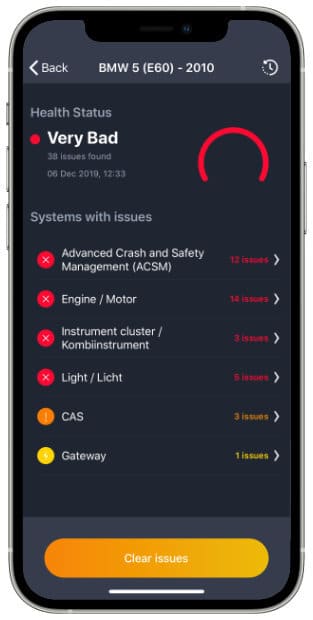 OBD diagnostics are generic fault codes related to the engine only (i.e. check engine light). Manufacturer-level diagnostics are fault codes related to all of the other vehicle systems, such as the airbag, transmissions, brake, ABS codes, etc.
Having access to the diagnostics features lets you have an overview of your car's health and find out potential issues that can become critical. Some OBD2 scanners such as Carly can even let you access both generic and manufacturer-specific trouble codes.
Live data (OBD + manufacturer-level)
Having access to a live data feature lets you see the real-time parameters of your car! Here you can monitor the oil temperature and turbo boost pressure.
Similar to diagnostics, some scanners let you access only OBD live data and others also let you access manufacturer-level live data.
OBD live data is only engine-related, and manufacturer lives data gives you access to real-time parameters about other systems.
Example of default Values That Can Be Retrieved via OBD2
The values that can be read out with an OBD2 scanner are mainly determined by vehicle manufacturer and the available features of your scanner. Some of the common real-time values that you can read out are:
Engine load in %
Cooling water temperature in °C
Speed in RPM
Fuel consumption in l/100km
Location
Car coding
Car coding is one of the most exciting features for every car fan! With coding, you can customize a wide variety of features in your car.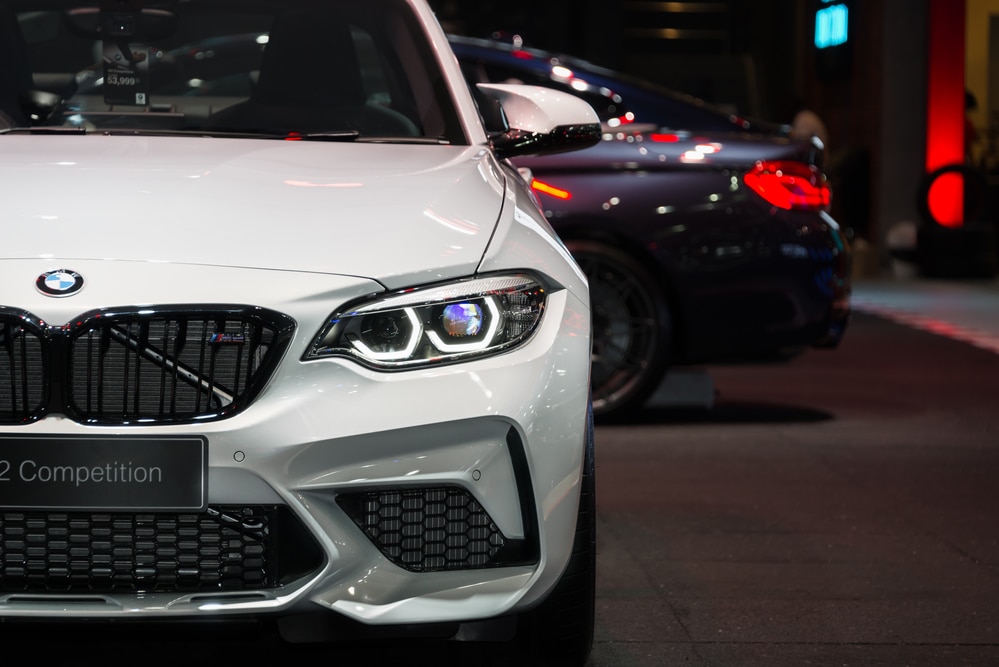 For example, you can deactivate the automatic start/stop system, personalize the welcome lights, show the speedometer digitally, and much more!
Used car check
The used car check is one of the most useful features if you are planning to sell your car or buy a used car. With this feature, you can detect car scams by uncovering mileage fraud, stolen cars, and knowing the real health of the car.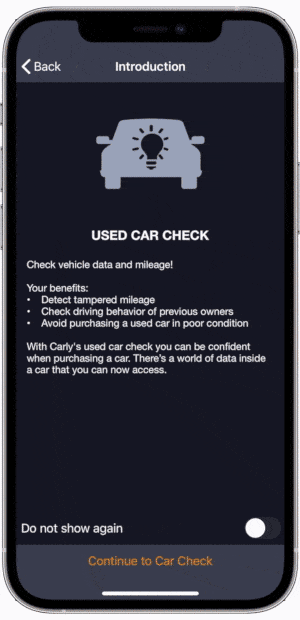 So as a seller, you can prove that the car is worth the value, and as a buyer, you can have peace of mind that you are purchasing a good car.
Emission tests check
In many states, if you fail the emissions test you might be prevented from driving your car until all of the issues are fixed. However, to avoid this scenario, you can conduct your own emissions check beforehand.
If there are issues present, you can fix them before taking the actual emissions test and assure that you will pass it!
DIY Maintenance
There are many basic car repairs or maintenance that are extremely easy to perform on your own. Typically, we get charged an (expensive) fee for these basic repairs that are a no-brainer.
With detailed step-by-step guides, even if you are a beginner, you can save a lot of money and perform basic maintenance on your own. For example, a battery registration or a service reset.
Digital Garage
Having all of your car's health reports is important when:
Car mechanics need more information about your car
Your car worked perfectly before taking it to a repair shop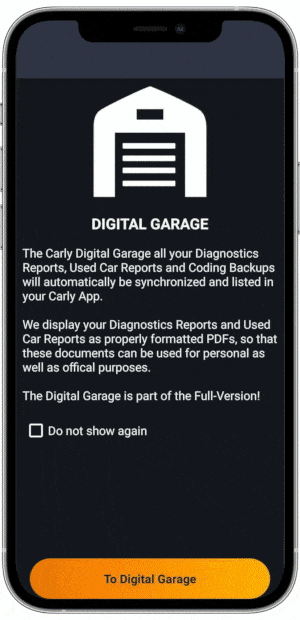 With this feature, you can have all of your car's diagnostic reports on your phone and even save them as PDFs to email them to your mechanic.
What should I look for in an OBD scanner?
In essence, what you should look for in an OBD scanner depends on what you want and need.
For example, if you are only looking to read and clear engine trouble codes (such as the check engine light) then a simple code reader will do! And, if you are looking for other features such as coding and live parameters, a complete OBD2 scanner such as the Carly adapter works best.
However, regardless of what you are looking for, we have a checklist of recommendations that you should look for before buying your scanner.
Lifetime warranty
There are many scanners that only offer a 1-year warranty or a 3-year warranty. However, scanners are meant to last longer than that, and you should be covered for your entire lifetime. Therefore, one of the best recommendations that we can give you is to ensure that your scanner includes a lifetime warranty.
Wireless, Bluetooth scanner
If you are looking for a scanner that you can carry around without additional cables, we highly recommend you to get a Bluetooth OBD2 scanner! This option is the most convenient and will barely take any space in your car.
Compatibility with your vehicle manufacturer and phone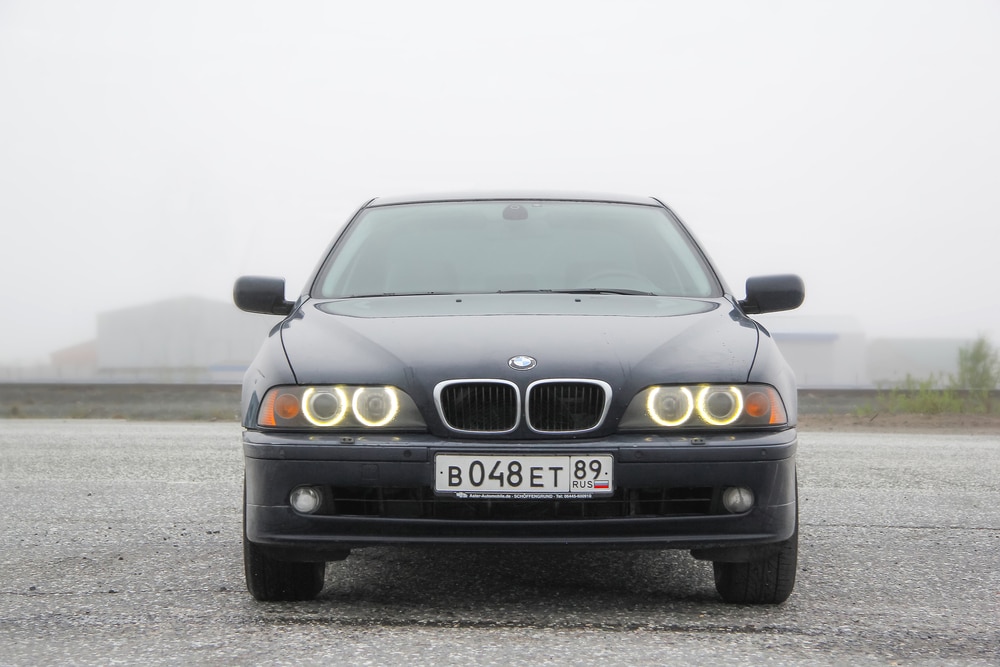 This might be one of the TOP factors when searching for a scanner. Make sure that your scanner will be compatible with your vehicle brand and model. Here you can check all the available Carly features for your car model.
Additionally, make sure that the scanner's corresponding app is also compatible with your phone. Some diagnostic apps are only available for Android or Apple devices.
The best scanners have their app available for both iPhone & Android devices in the case that you switch to a different smartphone.
If you decide to go for the Carly Universal Scanner you can ensure that both iOS & Android devices are compatible with the app.
Ease of use and ratings
A great way to know if you are purchasing a great scanner is by taking a look at the user ratings. Additionally, you will want a scanner that has a diagnostic app that is easy to use and navigate.
Some apps give limited information about diagnostics and fault codes, whereas others allow you to understand at a deeper level what every fault code means.
For example, the Carly app color codes every fault based on how critical this error is for your car's health. This makes it easy to understand the overall health state of your car, Additionally, it lets you know if you need to take immediate actions to fix any issues.
What is the best OBD2 scanner?
There are many available OBD2 scanner models that can work great for your car. However, picking the best scanner comes down to value for money.
Even if your scanner meets all of the points mentioned in the checklist above, it might only let you access basic features. So we believe that the more features included in the price, the best deal you get!
Our team of car experts and technicians tested 25 scanners and narrowed it down to the best 10 scanners. However, the best scanners always came down to value for money.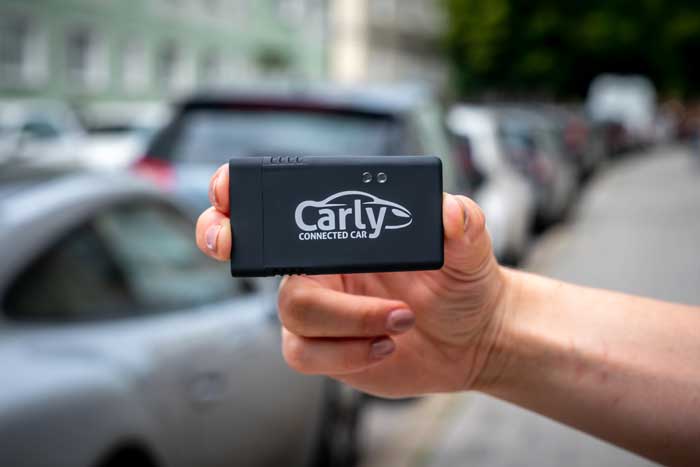 In the case of the Carly Scanner, you will get advanced functionalities that only a professional and expensive scanner would offer. So you don't need to spend thousands of dollars to get all of the advanced features that we mentioned above!
Are cheap OBD2 scanners any good?
Moreover, when looking for scanners, it is possible that you come across a budget scanner. However, we strongly advise you to be careful about purchasing a cheap diagnostic tool.
In many cases, they are not reliable or require extremely expensive control software. And additionally, software updates or additional functions are only available for a fee. So in the end, you end up spending a lot of money.
Where to plug in an OBD2 scanner?
Most cars manufactured after 1996 are equipped with a diagnostic port, and cars manufactured after 2001 come with an OBD II port.
You can usually find this OBD II port underneath the steering wheel by the pedals. You can also find the exact location of this port in your car's manual.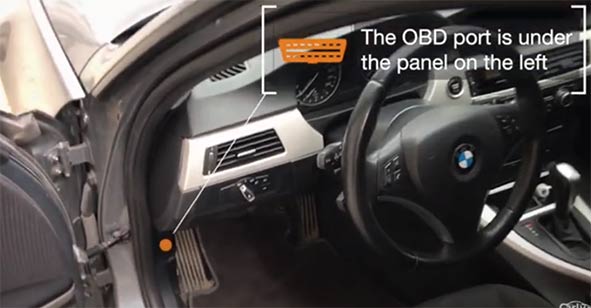 All you have to do is plug your OBD2 scanner into your car's port, open the scanner's app on your phone, and pair your phone to your car!
Can I leave an OBD2 scanner plugged in?
Once you connect your scanner into your car's OBD II port, it is safe to leave it plugged in. So whenever you want to access your car's data all you have to do is open the diagnostics app and pair your phone to your car.
This is another reason why wireless OBD2 scanners are so convenient!
The OBD2 Standard
Before, each manufacturer used to have its own system, meaning you needed a different auto scanner for each car brand. Afterward, the OBD2 standard (Regulation No 715/20072001) was introduced for gas engines in Europe in 2001 and in 2004 for diesel vehicles.
In America, all vehicles have been equipped with them since 1996. In Europe, the exact specifications are set out in standard SAE J2012 or ISO standard 15031-6.
The On-Board-Diagnostics system has been designed in particular for the monitoring of emission-relevant data. For example, the efficiency of the catalytic converter, the function of the lambda probe, or even combustion dropouts are monitored.
These days, an OBD2 scanner can read, monitor, and process all of the vehicle's control units, which can be around 100 in newer vehicles.